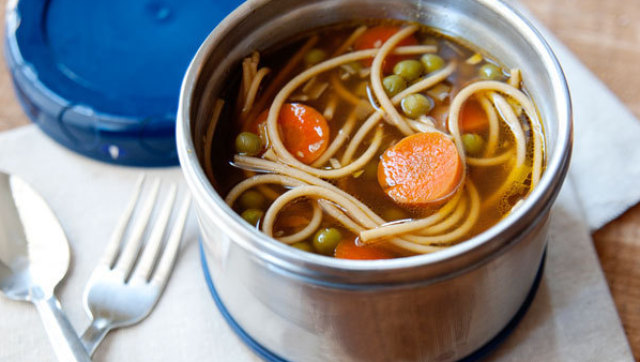 What kinds of thoughts come to mind when I say, ramen noodle soup? Late-night college snack? In-case-of-emergency shelf stable food? How about a staple in many school cafeterias?
If you frequent Asian restaurants or live overseas, you know that real noodle soup tastes nothing like the pre-packaged ones in styrofoam cups or plastic wrappers. Unfortunately, what most of us know as ramen soup (regardless of the brand) are dehydrated tasteless noodles that come with a flavoring pouch.
When I think of ramen noodles, I can't help some of the melancholic memories that come to mind. For starters, my Junior High offered a "snack" window where one could purchase a hot cup of ramen noodles for $1. While the line in the cafeteria was short (the food was horrible), the line for the snack bar took most of lunch to get through.
My mom made my lunch every day, but sometimes I would forget it at home and indulge on a steamy "cup of noodles." Years later, I found myself eating them out of necessity while living my "poor grad student" lifestyle. At that time, I didn't know how to make a meal for $0.36 per serving.
Here I am a years later still talking about ramen noodles! A few months ago, I asked my MOMables subscribers to email me food ideas they would like made-over into healthier recipes. Hands down, ramen noodle soup was one recipe my members begged for.
A little Google search will show you healthy remakes of many ramen recipes; but what my community wanted, was a recipe with pantry staples that would not break the grocery budget. After a lot of testing and several conversations with one of my contributors, Alison and I decided to "go back to basics" and create a recipe kids would love, with the familiar taste and much healthier ingredients.
This recipe yields six to eight school-lunch-sized thermoses. To pack in the lunch bag, preheat the thermos, heat the soup, fill the thermos and close. Remember to send a spoon or a fork and be prepared to make this soup often.
Healthy Ramen Noodle Soup Recipe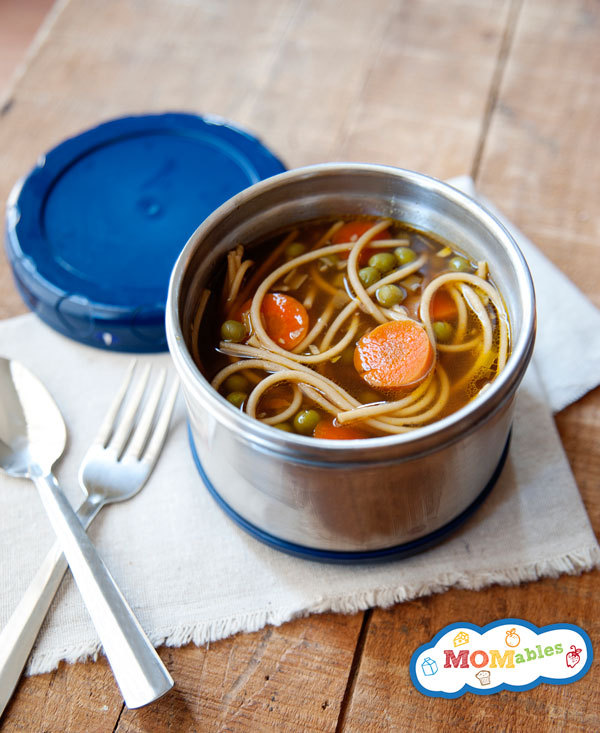 Recipe courtesy MOMables.com
Yields 6-8 Lunch sized portions
I
ngredients:
• 2 tablespoons Extra Virgin Olive Oil • 3 cloves garlic, minced • 1/2 inch ginger, minced (optional) • 2 medium carrots, sliced • 1 medium leek or 2-3 green onions (white part only), sliced • 4 cups vegetable broth • 1 cup water • 2-3 tablespoons low sodium soy sauce • 1 cup frozen peas • 1 lb package whole wheat angel hair pasta
Directions:
In a large pot, over medium-high heat, warm olive oil. Sauté garlic and ginger until fragrant. Add carrots and leeks (or green onions, if using). Continue to sauté until leeks/onions are translucent. Add in vegetable broth, water and soy sauce. Bring to a boil, then reduce to a simmer for five minutes. Add in frozen peas and continue to cook on a low simmer until peas are no longer frozen. Season to taste with salt and pepper.
In a separate pot, bring water to a boil and add angel hair pasta. Cook until al dente and drain. Pasta remains separate from soup to keep it from getting soggy during cooking and storage.
To serve, place a small serving of pasta in soup bowl and ladle Ramen soup over pasta. Serve immediately.
Busy parent tip:
If you don't have fresh ginger, substitute ¼ teaspoon ground ginger. You can use chicken or beef broth for that nostalgic ramen taste. If you are going to substitute fresh carrots for frozen, use 1 ¾ cup of the peas and carrot mix in your freezer isle. Feel free to add extra veggies if you like.
Gluten free option: use gluten free soy sauce or tamari and substitute angel hair pasta for rice noodles.
Vegan/vegetarian: the recipe is vegan and vegetarian when you use the vegetable broth.
Follow Laura Fuentes on Twitter