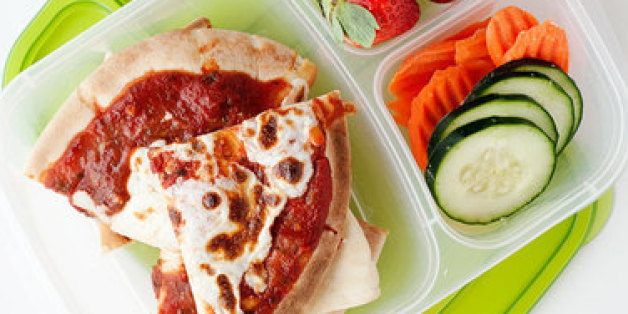 What kid doesn't love pizza? I mean, really. It gets no better than melty, creamy cheese on top of a sweet and savory tomato sauce and crisp but chewy crust, right? Of course right!
When my kids want pizza (and when I'm pressed for time and need to make a quick dinner with leftovers that can be used for lunch the next day), I turn to these Easy Pita Pizzas. They're delicious, quick, convenient and perfect to use for lunches too.
In my household, like many, we have varying tastes and dietary needs so pitas are the perfect size for us. We can each customize our own little pizza with whatever meat, veggies and level of cheesiness we prefer. We just use whatever I already have available in the fridge. As for my little one who requires a gluten free option, I always have some gluten free pizza dough at the ready, but there are some brands making gluten free pitas now so do some investigating or plan ahead and prep some dough on your own. It's not as hard as you think, I promise.
As for how these hold up in a lunchbox for school, they're perfect. Packed in a container, they'll stay cool enough to keep and my kids love them straight out of the box, no microwave required. And, if you make these to your child's specific dietary needs, you can easily pack them as a substitute for the traditional pizza all the other kids are having on those unavoidable 'pizza days' at school. Your child will feel less deprived and fit in with his pizza eating peers a bit better with a pita pizza in hand, don't you think?
Just remember, these are supposed to be quick and easy but the sky is the limit so slice up that pineapple for a Hawaiian variation and feel free to top yours with leftover breakfast sausage if that sounds good. Have fun and let the kids help too!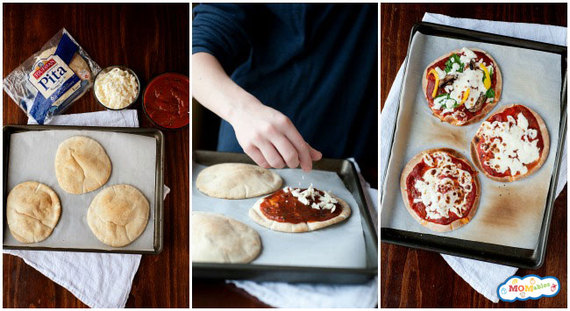 Easy Pita Pizzas
Yields 6 mini-pizzas
Ingredients:
6 Toufayan Pitas
1¼ cups pizza sauce
1½ cups grated mozzarella
Favorite pizza toppings
Directions:
Preheat your oven to 400F and position your oven rack in the lower ⅓ of the oven.
Meanwhile, line two baking sheets with parchment paper and place 3 pitas in each baking sheet.
Spread 3-4 tablespoons pizza sauce onto each pita, top with toppings and cheese.
Bake one tray at a time, 7 minutes, until cheese is bubbly and melted.
MOM Tip: If you'd rather have a homemade pizza crust, go for it with my traditional pizza dough recipe!
Follow Laura Fuentes on Twitter: www.twitter.com/supergluemom