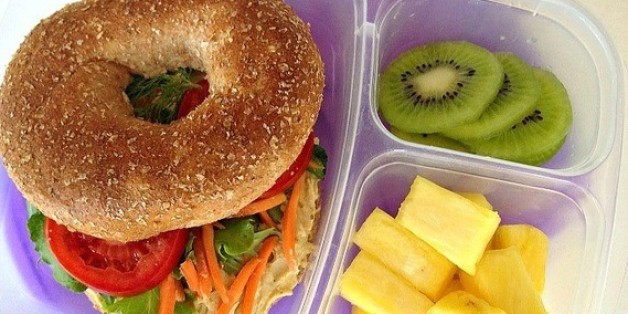 Bored of bread, are you? Kids are tired of sandwiches, are they? Looking for something fun and different for lunch that's savory, filling and delicious? Aren't we all!
As usual, I've got you covered. In my quest to conquer all things kids' food, I've put together a recipe that you can tweak yourself to make filling, delicious, healthy sandwiches that both you and your kids will love.
These hummus bagel sandwiches are in regular rotation in my household. I'm not talking boring old chickpea spread on a lame plain bagel now. By changing up the flavor bagel and the variety of hummus (companies like Sabra, for example, offer ten flavors of hummus!), I keep lunches fun and flavorful for everyone.
Hummus is known for its health benefits since it includes both fiber and protein, of course. Its base is usually pureed chickpeas with olive oil but, really, with all the varieties available today, there are incredible possibilities for flavor combos with bagels, inside a wrap, or as a dip!
Speaking of bagels, since they're typically more hefty than bread, hummus bagel sandwiches will keep you feeling fuller for longer. And if you need a lower carb option, you can use whole-grain mini bagels or thin bagels available at most supermarkets.
One of the things I love about this sandwich is that I can pack it for school or summer camp lunches and I don't have to worry about it tasting 'off' at lunch time due to temperature fluctuations. With an ice pack inside the lunch bag, I know it won't spoil if not refrigerated for the morning, nor will the taste change as it warms up a bit.
Have I convinced you yet? Good! Try the recipe below and feel free to share the combinations of flavors you try that make you (and your kids, of course) happy with lunch again.
Hummus Bagel Sandwiches
Recipe: MOMables Meal Plan
 
Yields 1 serving
Ingredients:
1 whole wheat bagel, split
2 Tablespoons hummus
1 lettuce leaf
1/4 medium tomato, sliced
2 Tablespoons shredded carrots
Directions:
1. Spread hummus on one half of bagel.
2. Top with lettuce, tomato slices, shredded carrots, and other bagel half.
3. Wrap in foil to best preserve texture of bagel.
MOM Tip: If you're up for the challenge, consider making homemade hummus. It's inexpensive and very easy to make. Check out the MOMables Greek Hummus recipe for my take on the classic.