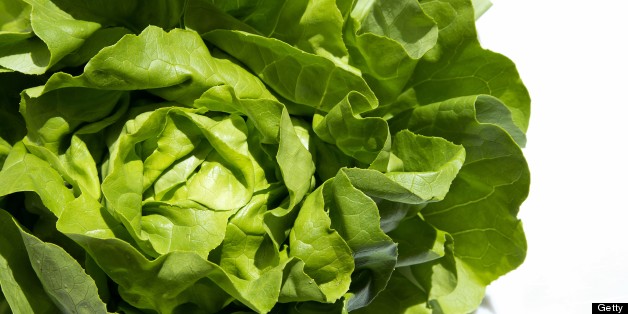 Surely I can't be the only one here who loves Chinese food leftovers, right?
Whew! Thank goodness you do too!
As the end of the school year approaches, I'm becoming a lot more practical when it comes to planning my dinners. I mean, I was practical before; but now I want every single meal to work for me and yield leftovers for the next day.
Chinese food take-out is nearly impossible to order at my house. With gluten intolerances, specialty diets, and picky eaters, someone always finds something "yucky" in the noodles. Needless to say, I've become a fan of recreating our favorite dishes with ingredients everyone will love.
My daughter doesn't complain about the rubbery mushrooms and my son can eat this recipe by simply using gluten-free noodles and substituting the soy sauce for coconut aminos. My two-year-old is learning how to use chopsticks because of this fun recipe. It's a win-win for me.
You know what I love more than the recipe itself? It's the fact that I can double it and pack leftovers in these lettuce cups or inside a thermos.
To keep your child happy and excited about his or her lunch, and to keep the child in you happy, why not create your own takeout lunch of lo mein lettuce wraps!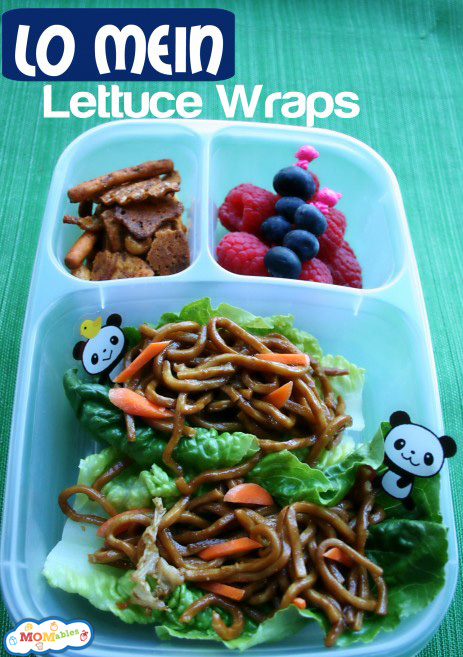 You'll make your child happy by sending them something to eat that isn't the average peanut butter and jelly sandwich. On top of this you'll be satisfied knowing that your children are eating something way healthier than the mystery noodles served at school!
What's even easier about this idea is that it can be served hot or cold! Don't have time to heat up the food and thermos after a hectic night and morning? No problem! Just pop the noodles into a thermos and serve at room temperature. Kids love it either way! For how long it is safe to keep food hot in a thermos, click here.
We usually have either a Thai or Chinese themed dinner once a week, so I am constantly dealing with leftovers of my homemade Vegetable Lo Mein.
This recipe will take just as much time, if not less, to order and pick up food from your local Chinese Restaurant. However, it's MUCH healthier AND cheaper!
The Lo Mein Dinner Transformed Lettuce Wraps are a fun way to use up any leftover you have, while adding a bright crunch of fresh greens! My girls absolutely love these in their lunch!
You can have fun with this recipe. Add different vegetables if the ones in the recipe aren't your favorite. Sometimes I don't have cabbage, so I'll add mushrooms. Forgot to pick up the bean sprouts? Celery is a great substitute. Love broccoli? Add an extra cup. It's a very flexible recipe... so have fun!
The best part? Any leftovers can be re-used the next day in lettuce cups! These are the type recipes we suggest in our MOMables menus! Cook once, eat twice.
Lo Mein Lettuce Wraps
Recipe: MOMables Menus by Corey Valley
Yields 4 servings
Ingredients:
• 8 ounces spaghetti or angel hair pasta
• 3/4 cup chicken broth (or vegetable broth to make this vegetarian friendly)
• 1/4 cup soy sauce
• 2 teaspoons peanut oil
• 1 tablespoon cornstarch
• 2 tablespoons vegetable oil
• 1 cup chopped cabbage
• 1 cup chopped carrots
• 1/2 cup thinly sliced red onions
• 1 cup broccoli florets
• 1 cup snow peas
• 1/2 cup bean sprouts
• 3 cloves of minced garlic
Directions:
1. Cook pasta according to package for al dente. Drain and set aside.
2. Next, in a small bowl, whisk together the chicken broth, soy sauce, peanut oil, and cornstarch. Set aside.
3. Heat the vegetable oil in a wok or large frying pan over medium-high heat. Stir in onion,garlic, carrots, cabbage and broccoli. Cook for about 3-4 minutes. Add the broth mixture, bean sprouts, and snow peas. Stirring often, continue to cook for about 5-7 minutes, or until vegetables are tender but still a little crisp.
4. Combine the vegetable mixture with the cooked pasta, toss and serve.