Have you ever had your kids go nuts for a dish you thought wouldn't go over so well? You know what I mean -- you decide to try a new recipe from a cookbook, Pinterest or your favorite blog and everyone loved it!
If you don't have picky eaters, you are very lucky. Some of us have a picky eater that would eat mac and cheese every day if given the choice, like my five-year-old son.
For me to try a new recipe isn't out of the ordinary, since I make a living planning school lunches for thousands of parents. Having him eat something totally new and out-of-the-blue... that is HUGE.
Apparently, I'm not the only one. Daniela Devitt, co-founder of Yumbox, has a similar story.
One day, my daughter (who was four-years-old at the time) walked over to her dad's sandwich grabbed it and took a huge bite of it. The sandwich was loaded with pesto and all kinds of good-for-you things. As a mom of a picky eater, my jaw dropped. She absolutely loved the taste of pesto and came back for more.
If this happens to you, hold the urge to jump up and down regardless of how exciting the moment might be. Make this an opportunity to use this new flavor to introduce other foods. For example: pesto pizza, pesto pasta, pesto crusted fish or chicken... the possibilities are endless.
From that day forward, Daniela began using pesto inside her daughter's Yumbox lunch. She figured, how bad could it be if there was pesto on it?
One of the things I love about pesto is that it can be made quickly with fresh ingredients. You could buy basil at the store or grow it fresh at home. Basil is very easy to grow either in your garden or a small pot on your windowsill. By growing your own, you can get your kids involved in meal making while saving money on groceries.
The recipe below is very versatile. If you can't find pine nuts or are on a tight budget, you can substitute them with walnuts. A nut-free option would be using sunflower seeds. Want to sneak additional veggies into your recipe? Try making MOMable's broccoli pesto.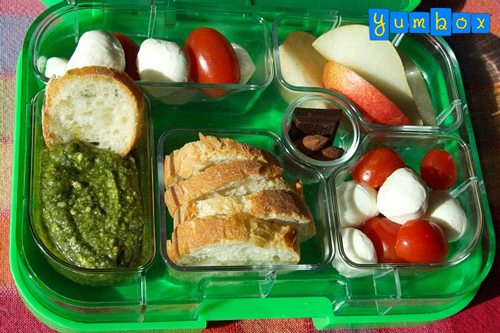 Pesto Tray Lunch
Lunch idea by Yumbox
Ingredients:
• ½ cup extra virgin olive oil
• 2 cups of fresh basil leaves (tightly packed)
• 1-2 cloves of garlic
• ⅓ cup of grated Parmesan cheese
• 1 Tablespoon toasted pine nuts
Directions:
1. Using a food processor, add half of all ingredients and pulse 5 or 6 times.
2. Add the remainder and extra olive oil until you achieve the consistency you like.
3. Pulse again until smooth. Serve immediately.
4. Pesto will keep in refrigerator for one week to 10 days.
For Yumbox pesto tray:
• 2 Tablespoons pesto in one of the compartments
• ¼ cup cherry tomatoes
• 2-3 Tablespoons mini mozzarella balls (optional)
• 3-5 slices fresh baguette
• 1 apple, sliced
Assemble all ingredients inside the lunch box compartments. Close lid and pack in lunch bag.
Want more lunch box ideas? Get them delivered to your inbox.