Have you ever wished those store bought fruit cups were made with fresh fruit?
Parents often want to know how to get their kids to eat more fresh fruit and how to pack it in the lunchbox.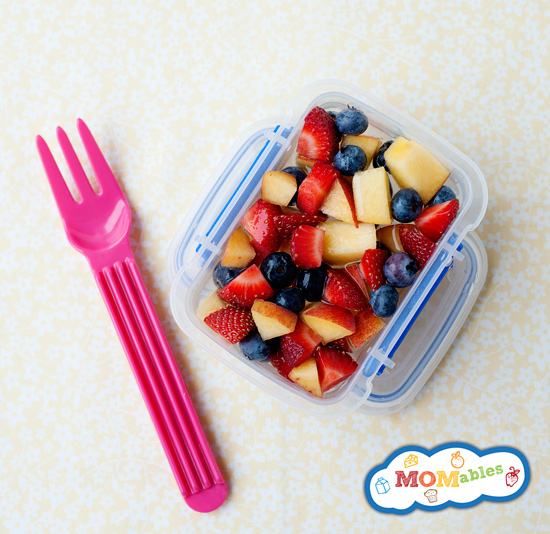 I make sure every school lunch menu includes a side of fresh fruit and veggies. Sadly, for many parents fruit is either an afterthought or a pre-packaged, shelf stable cup (yes, something is better than nothing).
Mixed fruit, peaches, tropical fruits, baby oranges... I can really see the kid appeal.
From the lunch packing perspective, they are genius. Individually packaged, disposable cups, long shelf life... just high in sugar. The cups are convenient but just not that good (for you).
I know many of you purchase them and dozens have emailed me asking for a homemade recipe your kids will love.
The idea of homemade fruit cups isn't a new one.
Based on my subscriber emails this is what they wanted to see in the MOMables version:
• No high fructose corn syrup
• No lemon
• No added sugar
• Must use fresh fruit
• No cooking the fruit
• Easy to adapt to any "in-season" fruit
• All natural ingredients
• Packed in re-usable and leak proof containers
• Must be able to pack ahead
Is that all?
Hardly. But this was a good enough list to help me get started.
Of course, I immediately began to think of ways that I could "preserve" the fruit, so that it wouldn't brown by lunch while making sure I wasn't adding sugar or lemon juice to it.
Since we are at the peak of fresh fruit season, finding awesome fresh fruit for these cups was really easy. Of course, you know that I would stay true to the MOMables philosophy of packing ahead and using reusable containers.
The biggest issue for this recipe was how to pack ahead and prevent the fruit from browning.
And then... it hit me. I still had one of those HonestKids drink pouches in my garage fridge from my daughter's birthday party... the lemonade ones! Those have vitamin c (perfect to preserve the fruit), they are very low in sugar, taste great, and my kids love them.
After a short trip to the store to get more pouches and a large family sized bottle, I was off to test away! After a couple of attempts and some not-so-carful measuring at times, I came up with an easy recipe my family loved.
This week, I am thrilled to share with you a healthy version of the beloved fruit cups.
But you know... that's not all I came up with! Remember I mentioned those not-so-careful tests? Well, I froze them and made... lemonade popsicles. Essentially the same recipe just depends how you want to make it. Either way, it's a winner.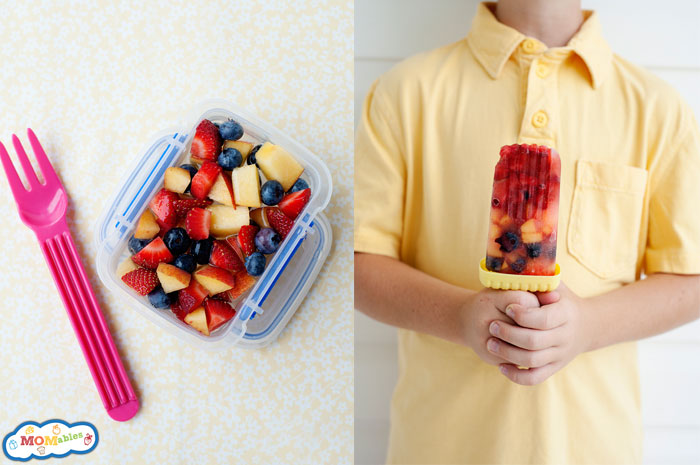 Homemade Fruit Cups & Popsicles
Recipe Courtesy MOMables
Serves 4
Ingredients:
• 2 cups fresh fruit, washed and diced
• 6 oz low sugar Berry Lemonade
I used HonestKids Berry Berry Lemonade
Fruit cup directions:
1. Divide fruit into 4 water tight, lidded lunch containers.
2. Fill each container with enough lemonade to almost cover the fruit -
You might need more liquid depending on the container size.
3. Close the lid and give it a quick shake to coat all fruit with lemonade.
MOM Tip:
Make these up to 48hours ahead of time and store in the refrigerator.
Popsicle directions:
1. Divide fruit into 4 - 6 popsicle molds (number varies by size).
2. Fill each popsicle mold nearly to the top with lemonade.
3. Freeze 6 hours or overnight and enjoy.