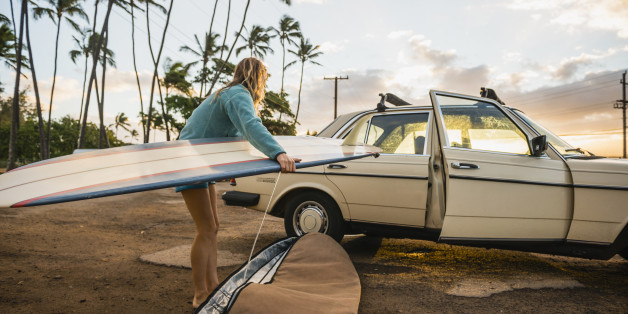 One night in college I met a cute boy at a party. It turns out he was in Army ROTC, preparing to commission as a 2nd LT before heading to FA BOLC. In English, this means the government was paying for him to go to college in exchange for years of service as an army officer, beginning as a second lieutenant. After graduating he'd be sent to his first training, Basic Officer Leadership Course (BOLC) with a concentration in Field Artillery (FA), which basically means he'd learn about cannons.
My head was spinning immediately, partly because I was smitten right away but mostly because my military knowledge was nonexistent. The constant acronyms and confusing terminology left me lost. They still do, though we've been dating since that night, living together for months, and are recently engaged. Joe -- the fiancé -- gave me the most beautiful ring after learning his next post will be Hawaii, which is a little far from our east coast roots. In a tiny box of diamonds, the man of my dreams offered me a life with him in paradise. I said yes, of course, even though I'm only 22. Even though we just graduated from college mere months ago, and I went to school to get my BS and start my career. I never expected or even acknowledged the possibility of getting my MRS and starting a marriage, let alone with an army officer. The course my life is taking is something I never could have imagined. But being with Joe is like being able to breathe again, and I didn't even realize I'd been holding my breath.
I daydream constantly about moving to Oahu. Amazing fresh fish, tropical climate, endless beaches, the aloha spirit! But as the fantasy becomes more and more real, fears creep in and my mind whirls with questions:
1. How big of a deal are sharks?
Joe and I both love the water. The first summer we were dating, we went kayaking on the Long Island Sound. After paddling for a while, we dragged the boat to shore and ran back into the water with our life vests still snapped tight. We bobbed there weightlessly, peacefully, hand in hand. His eyes sparkled against the ocean water and I knew right then that this was for real. This was forever. And I couldn't stop smiling. If we float blissfully in the Hawaiian seas, do I risk having my foot bitten off? We want to swim and kayak and surf. What am I supposed to do if we come face to face with a shark?
2. Will I live under the constant fear of devastating storms?
Well, I suppose I already do. We live in Oklahoma right now while Joe completes his pre-Hawaii training, and we moved here just after Moore was crushed by a tornado. My anxiety level was mighty high and I still get nervous when the sky is anything but its normal royal blue. Is anyone paranoid like this in Hawaii about hurricanes or tropical storms? What's the storm response? How do you evacuate an area when that area is an island? And speaking of tropical weather, will the humidity make my hair completely unmanageable?
3. How bad are the bugs?
In my online apartment hunting, I've read complaints of places in Hawaii being swarmed with ants. Other reviewers say it's just a reality of life there. How much of an infestation is normal? Is it ants, or scarier creatures too? My reaction to larger critters is somewhat unpredictable. Once a scorpion wandered into our apartment and I shrieked until Joe declared the area safe. But sometimes I manage to keep my cool. We went on a hike once, up a rocky mass in a wildlife preserve here in Oklahoma, and the bushes rustled with bouncing grasshoppers and we saw lizards, some small and brown, others larger and turquoise with spots. Then I saw a tarantula. It was off to our right, as big as my palm. My eyes widened in horror but I silently veered left and picked up the pace. I'm glad I didn't demand we turn around instantly because when we got to the peak of the mountain, the view was gorgeous and the sun was warm on our backs and Joe proposed. So should we put some serious Tupperware on our wedding registry to defend against Hawaiian insects in the kitchen? What about one of those electric fly swatters?
4. Is the food safe to eat?
One of the main things I daydream about is the food. A new culture brings new food delights, and I drool thinking about the dishes in my future, particularly fresh fish. I've been a pescetarian for 12 years and am accidentally turning Joe into one as well. Here in Oklahoma I have a part time internship, so mostly I play supportive wifey and do domestic things like cook dinner. I try hard to make meals we'll both enjoy, which often means some kind of fish dish. We both can't wait to try fresh mahimahi. So what's with the radioactive water leaking in Japan? Is that heading towards Hawaii and making the fish high in cesium? What is cesium, anyway?
5. Are we going to go totally broke?
The cost of living in Hawaii is high. Rent will be more than double what we pay now and we should expect a sharp increase in the cost of living. Money is definitely going to be tight, and we're not making it easier for ourselves by waiting to get married. If we rushed down to city hall and got married before the move, Joe would be compensated for uprooting his family. He would get more money for moving expenses and housing in Hawaii. The army would pay for my plane ticket, and Joe's salary would increase because he would have me as a dependent. But we don't want to get married yet. We want to be engaged for a while, because we only ever plan to be engaged this one time. We want to have the romantic wedding ceremony in front of our friends and family, and that takes time to plan. Hopefully our decision to have the wedding in a year won't lead to bankruptcy.
These Hawaiian mysteries keep me up nights. I'm struggling to reconcile my image of a vacation destination, sandy beaches and sunshine, with the annoyances and realities of everyday life. But Hawaii, here we come. Ready or not.