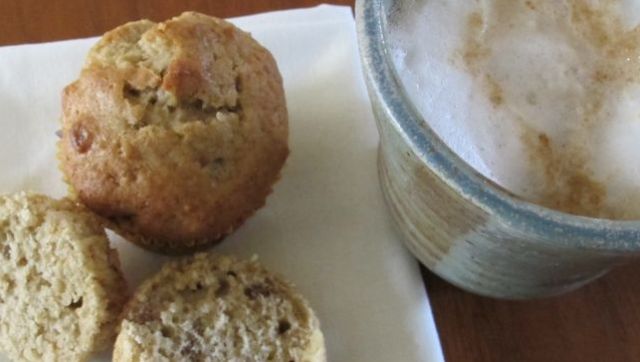 When I saw leftover applesauce in my refrigerator, my thoughts turned to applesauce muffins. It seemed like a good idea, but within a few minutes I realized that this was not a well-trod path. I couldn't find a recipe in any of my cookbooks or online for applesauce muffins, nor could I find one that would easily accommodate my key ingredient. After all, applesauce is not quite liquid or solid, so you can't easily substitute it for a liquid ingredient like milk, or a solid ingredient like dried fruit or chocolate chips.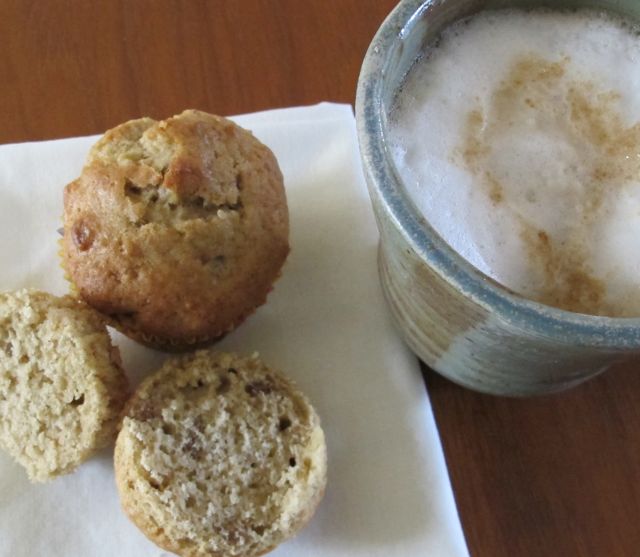 I suppose I could have gone for a banana bread muffin recipe, figuring that mashed bananas and applesauce aren't too different in texture. Or I could have taken a cue from Liam, turning my banana bread recipe into muffins with applesauce instead of bananas. But I was in a more adventurous mood after all that searching through recipes.
As I gathered ingredients for my experiment, I considered texture, taste and size. The muffins should be generous enough to enjoy singly, but not so big as to be intimidating. They should have a hint of apples and cinnamon, but not an overwhelmingly fruity or sweet taste. And finally, I aimed for a muffin that is firm enough to cut, but still moist.
My first attempt was too moist and not tasty enough -- not disastrous, but disappointing. Although I was prepared to go for several more rounds, I got it right on the second try. Homemade muffins are usually best soon after they are baked and many recipes recommend re-heating them if you're serving them later. But I tried one of these muffins the next day, cold and it was still good – quite good I'd say.
Applesauce Walnut Muffins
Serving – 12 muffins
Cost - approximately $4 for 12 even if you have to buy the applesauce and use expensive flour and (cage free) eggs
Ingredients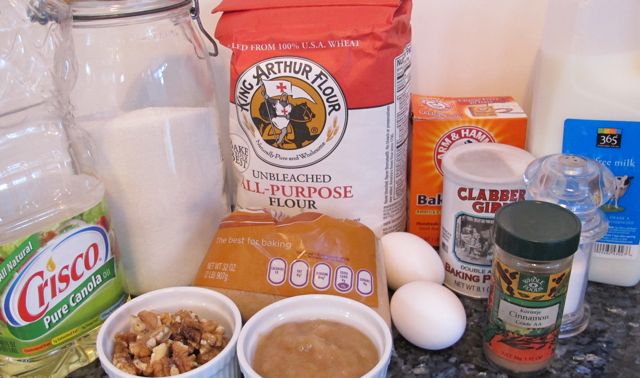 2 cups all purpose flour
¼ cup white sugar
½ teaspoon cinnamon
½ teaspoon salt
2 teaspoons baking powder
¼ teaspoon baking soda
2 eggs
⅓ cup milk (I use skim. Whole or low fat are fine too.)
⅓ cup applesauce (unsweetened)
⅓ cup canola or other oil without strong taste (not olive oil)
½ cup firmly packed light brown sugar
½ cup chopped walnuts
Equipment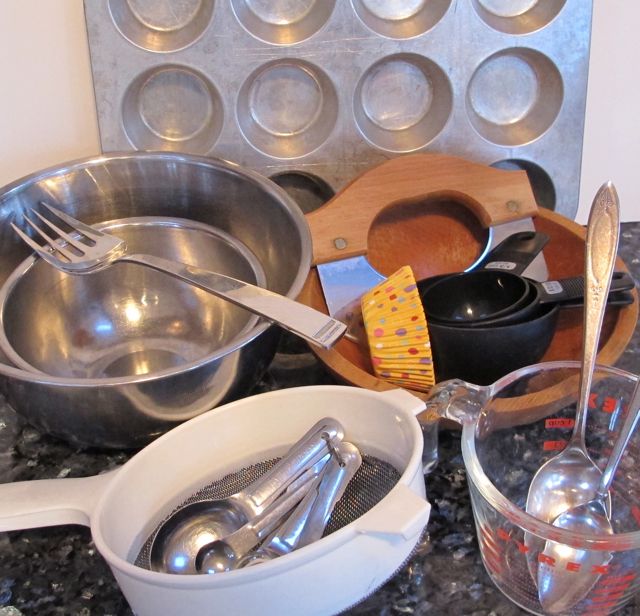 2 bowls
Sifter (I use wire colander with small holes)
Knife or other straight edge (not pictured)
Fork
2 spoons
Measuring cups for solids
Measuring cup for liquids
Measuring spoons
Bowl/chopper or cutting board/knife (to chop nuts)
12 cup muffin tin ("regular" size muffins)
Muffin cup liners
Preparation
For step-by-step directions, including photographs, click here.