Don't be put off by the name of this appetizer. Although the words caviar and pie may seem incongruous, in this case they meld beautifully together. Think elegance and home-cooking goodness, joined in the best kind of edible yin-and-yang. The recipe comes from my friend Jamie, who has served it for years on special occasions and passed it onto me.
The elegant, colorful layers display at the beginning only on the outside of the pie. But as you cut into it, they show all the way through. The presentation is lovely, but that's only part of the package here. In each small bite of pie, you get tastes of each layer that are distinct, complementary, and addictively combined all at the same time.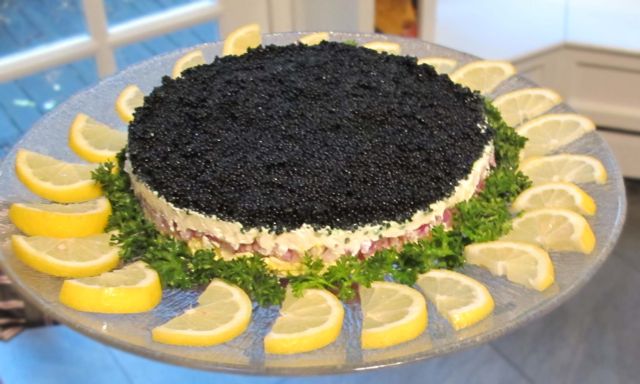 I worried momentarily about overselling this dish. Then I remembered that on a recent Saturday night when I brought it to a potluck, I couldn't get any good pictures because of the crowd around it. In a flash the pie was gone, and all I had was an empty plate and friends asking me for the recipe.
Are you intimidated by caviar? Don't be. You can find lumpfish caviar in ethnic food stores catering to Eastern Europeans and online through Amazon or other sources. The instructions below for handling it are not difficult. I used 5.5 ounces, which worked just fine. While the cost of this appetizer is higher than most you might prepare, it is not outrageous on a per serving basis and it is quite an impressive contribution for a special occasion potluck or as the main appetizer at a large party.
The preparation is easy, but does require patience and at least 3 hours for chilling the first 3 layers before you can put on the final (caviar) layer. Although leftovers are delicious the next day, the pie is looks best if finished shortly before you present it. For an evening party, start in the morning or early afternoon and finish it off at the last minute when you add the caviar layer, remove the outside of the springform, and place it on the serving plate.
This recipe requires a special type of pan called a springform pan. If you don't have one, check with friends or family members who bake frequently. I used to borrow my friend Jamie's springform to make this appetizer, and only recently bought one of my own.
Caviar Pie
Servings – Many (10-15 perhaps) Total Cost - $20.45 (for entire pie)
Ingredients (besides crackers or bread slices to serve it on)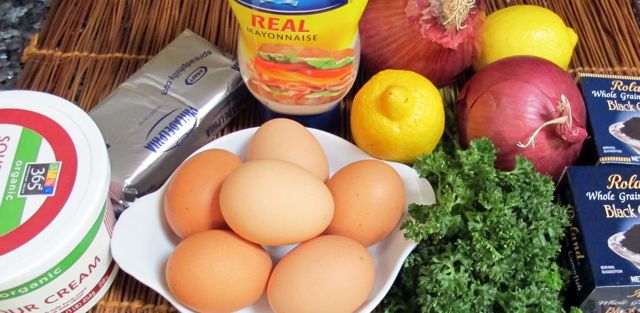 6 hardboiled eggs, chopped
3 tablespoons mayonnaise
1 ½ cups of Bermuda (red) onion, chopped very small (about 1 large or 2 medium onions)
8 ounces cream cheese, softened
⅔ cup sour cream
4 – 5.5 ounces of black or red lumpfish caviar, rinsed and drained well
Oil or cooking spray for pan and small knife
Optional garnish – parsley and lemon
Equipment
Pot
Cutting board
Medium knife
Small sharp knife
Small strainer with wire mesh and paper towels
Large and small spoon
Spatula
Fork
Measuring cups
Measuring spoons
2 medium bowls
8 or 9 inch springform pan
Foil or plastic wrap
Optional – hand-held or standing mixer to combine cream cheese and sour cream
Preparation
For step-by-step directions, including pictures, click here