Whether it's a holiday buffet, a pot luck, or simply a winter's afternoon when baking a seems like a great idea, these bars hit the spot. I created them for an evening when I hosted my book group, but they have since become a "go-to" home-baked snack.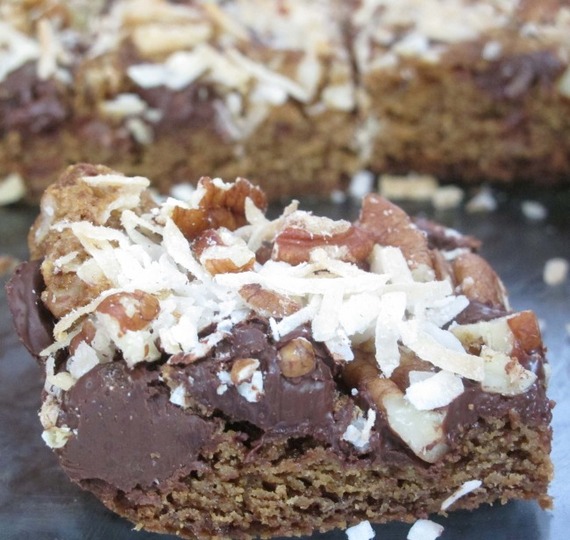 The bars began as a concept, rather than a fixed idea. When I searched my (numerous) cookbooks for something chocolately , but not a brownie, sweet, but not overly so, I did not find exactly what I had in mind. Just as I was about to give up, I found inspiration in Judy Rosenberg's All-Butter Fresh Cream Sugar-Packed No-Holds-Barred Baking Book. 
I've had Judy Rosenberg's first cookbook since the early '90s and it is thoroughly sugared and buttered up. In fact, you could easily find my favorite recipes in the book, merely by looking for which pages stick together and have the most stains on them. In my world, the best cookbooks are the ones you go back to time and again, with recipes you enjoy making as written, or which inspire you to go off on your own frolics and detours. By my own criteria, this book is one of my all-time favorites. And this turned out to be a delicious frolic and detour indeed.
With Judy as my guide and a pantry full of bits and pieces of leftovers from previous baking projects, I found this satisfying combination.These bars are simple to make and pretty, light but packed with flavor. The base is chewy and reminiscent of butterscotch; the ingredients that adorn the top -- dark chocolate, coconut, and pecans -- provide satisfying zip as you bite into a serving.
Although the bars don't take long to make, they require a bit of lead time. The butter should be at room temperature before you combine it with the sugars and vanilla, a common requirement in baking. You'll be ahead of the game if you take the butter out of the refrigerator an hour or more before you actually begin mixing the batter. Also, the bars will cut more easily and taste best if they are completely cool before you cut them. While it may be difficult to resist taking a taste as they cool, try to leave the pan on a cooling rack for at least 90 minutes. Small pieces work best, so one pan makes enough for a crowd. 
Chocolate Coconut Pecan "Book Group" Bars
About 32 small rectangular servings   Cost - $5
Ingredients
1 ½ cups all-purpose (white) flour
½ teaspoon baking soda
½ teaspoon table salt
8 tablespoons (1 stick) unsalted butter at room temperature
¾ cup light brown sugar, lightly packed
¾ cup dark brown sugar, lightly packed
1 teaspoon vanilla
2 large eggs
¾ cup of chopped pecans
¾ cup sweetened coconut, flaked or shredded
1 cup of bittersweet (60% cacao) chocolate chips
Cooking spray or additional butter for greasing pan
Equipment 
13" by 9" pan, preferably glass
Measuring cups
Measuring spoons
Large fork
Spatula
1 small and 1 large bowl (large one from stand mixer if using)
Mixer  - either stand or hand-held (or wire whisk)
Wire rack (for cooling)
Preparation
For step-by-step directions, including photographs, click here.