As a child, I avoided pudding-like desserts. The only exception was chocolate pudding, which I considered to be a kissing cousin of chocolate ice cream, rather than a relative of rice pudding or vanilla custard.
Decades later, when I discovered crᅢᄄme caramel and crᅢᄄme brᅢᄏleᅢᄅ, I realized what I'd been missing. Thanks to those two delightful French desserts I'm now a confirmed believer in non-chocolate, creamy concoctions.
This adventure into creamy dessert-land started when my friend and neighbor Jamie (sister of Lanie, the creator of my favorite pasta and garlic, tuna with capers) gave me three egg yolks leftover from an eggwhite omelet. I know what to do with egg whites --ᅡᅠmeringue something or other -- but egg yolks had me stumped for a moment. Then I thought of the crᅢᄄme cousins.
Like its Hispanic relative the flan, French crᅢᄄme caramel is a custard with a soft caramel top. Crᅢᄄme brᅢᄏleᅢᄅ has a hard shell of caramel on the top, typically made with a blow torch or by broiling a sugar coating after baking the custard underneath. If we're doing a custard family tree, there is also pot de crᅢᄄme, but I digress. For more information check with my friend Jenni Field (PastryChefOnline); she has a great description of the differences among the traditional versions of these three French desserts.
I really wanted to do a crᅢᄄme brᅢᄏleᅢᄅ, because I love the crunchy top. But my blowtorch, a long ago gift from my kids, is currently in the basement, buried under piles of stuff. And besides, that seemed rather a stretch for a foodblogger whose specialty is making food accessible to novice cooks; how many of you happen to have a blowtorch at the ready, just in case you get a hankering for a brᅢᄏleᅢᄅd dessert? While there is the broiling option for the crᅢᄄme brᅢᄏleᅢᄅ topping, I am never quite sure that my ramekins will survive, especially as I have a ratherᅡᅠbad record when it comes to fires.
So I glanced through my cookbooks, and happened upon an idea in a book, appropriately named Crᅢᄄme Brᅢᄏleᅢᄅ, that includes a version with a separately carmelized top that requires neither a blowtorch nor a broiler. Eureka! Well, not exactly, as it turns out that the specified proportions and method didn't work -- at least for me. But it was a start.
After two more tries and a lot of dirty dishes, by Jove, I think I got it. (Cue the My Fair Lady music!) A caramel disk-topped custard that takes the best from the traditions I love and twists them just enough.ᅡᅠ
This version is not as heavy as Jenni's crᅢᄄme brᅢᄏleᅢᄅ proportions because I use whole milk and half heavy (whipping) cream. It also contains one of my all-time favorite sweets, candied or crystallized ginger.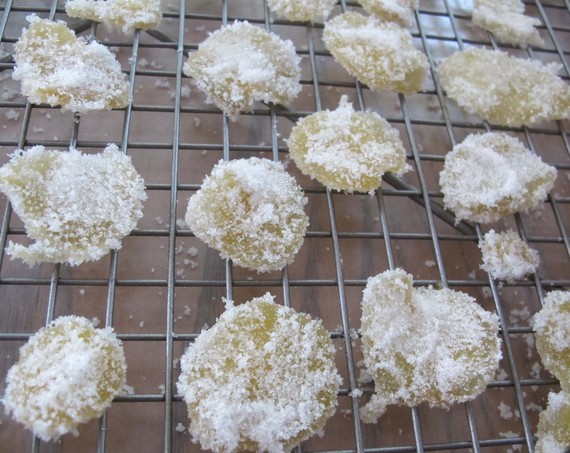 If you're not a ginger lover, just leave it out or substitute another flavoring. With a light caramel sauce it reminds me of flan, but unlike "normal" flan, the sauce is on the bottom, not drizzled over the custard. Topped with a crazy looking but tasty no-blowtorch, no-broiler caramel disk, this dessert is anything but traditional.ᅡᅠᅡᅠ
Ginger-Flavored Crᅢᄄme Brᅢᄏleᅢᄅ -- The Easy Way
Servings -- 3 ramekins of about ᅡᄑ cup (4 ounces) eachᅡᅠ Cost -- $4 for 3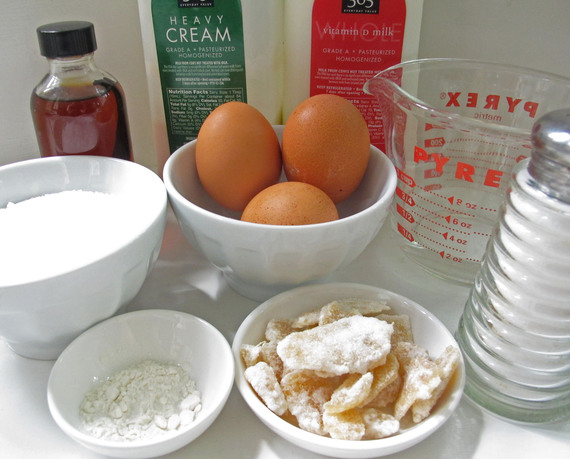 Caramel -- for top and bottom of each ramekin
ᅡᄑ cup white (granulated) sugar
ᅡᄐ cup water
tiny amount of oil (tasteless, such as canola or safflower)
Crᅢᄄme
3 egg yolks (Save whites for another use --ᅡᅠmeringue cookiesᅡᅠin my house)
2 tablespooons plus 1 teaspoon of white sugar
ᅡᄑ teaspoon vanilla
ᅡᄒ cup whole milk
ᅡᄒ cup heavy (whipping) cream
1 tablespoon finely chopped candied or cystallized ginger
ᅡᄐ -ᅡᅠᅡᄑ teaspoon flour (just barely enough to coat the chopped ginger)
pinch of salt
Equipment
Small, heavy pot
Aluminum foil
A pencil or pen
Cookie sheet
Small pastry brush or spoon
Cutting board
Small knife
Medium size pot
Measuring cup for liquids
Measuring spoons
Spoon
Whisk
Bowls for separating the eggs
Medium mixing bowl
Three smallᅡᅠramekinsᅡᅠor other oven-safe single serving cups - 4 ounce size
Oven safe dish large enough to hold all 3 ramekins
For step-by-step directions, including photographs, click here.