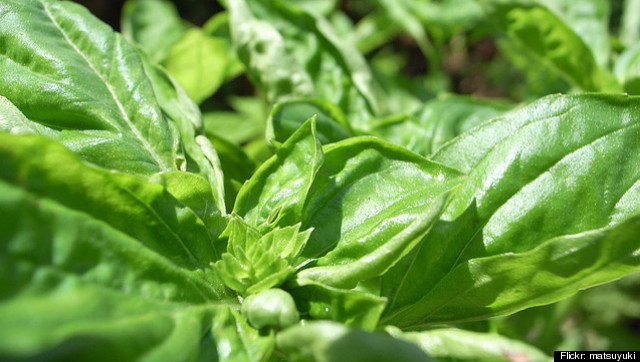 I know you can whip this up in minutes because I did it one recent Sunday afternoon. We had out-of-town visitors and were enjoying a late-morning sightseeing trip when it became clear that lunch was in order. Everyone else was being polite about how hungry they were, but my stomach was not.
Yikes -- I had been having such a good time, I hadn't planned a lunch for five! During a quick stop at a farmers market for bread and fresh tomatoes, I realized that the basil plants growing on our back deck and the boundless supply of pasta in the pantry were my best bet. After cutting the fresh basil, I set to work on the pesto, and was finished in the time it took the pasta to cook. Not bad for a last-minute lunch!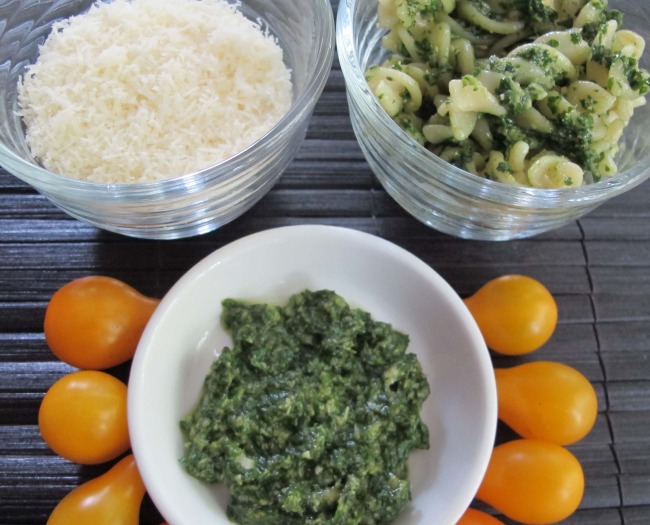 3 Tips on Using Fresh Basil 
Basil leaves don't all taste the same. A number of different types of basil are used in cooking. Growing conditions and the point at which the leaves are picked also affect taste.  I use common sweet basil for this recipe. Pick your leaves before the plant flowers, as the flowers indicate the plan is aging, and in my experience, the older leaves are more bitter-tasting.  
Pick leaves at the top of the plant by pinching or cutting them off at the stem.  The more frequently you harvest the grown leaves, typically the bushier and better the plant will grow. 
Do not refrigerate fresh basil leaves because it will darken them. (Even once the pesto is made, the chopped fresh basil will darken slightly, though less so because it is immersed in oil.) If you are not ready to make the pesto immediately, put them in a vase or cup of water until using them.
Easy Pesto for Pasta
Serves 5 (on 1 - 1 ½ lbs of cooked pasta)  Cost: $3.50 if you have basil, $6 if you buy it
Ingredients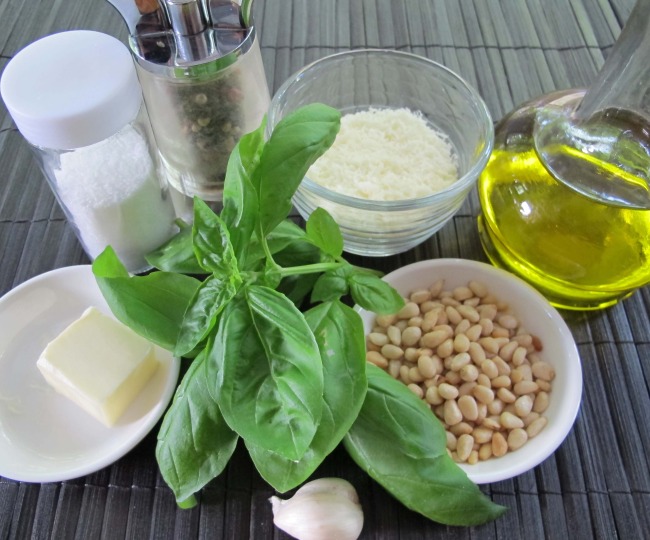 1 cup of clean, dry basil leaves, firmly packed
¼ cup olive oil
1 tablespoon of pine nuts or walnuts
1 clove of garlic, minced 
½ teaspoon salt (preferably kosher)  
freshly ground pepper to taste
¼ cup freshly grated Parmesan or Romano cheese
1 tablespoon butter 
Equipment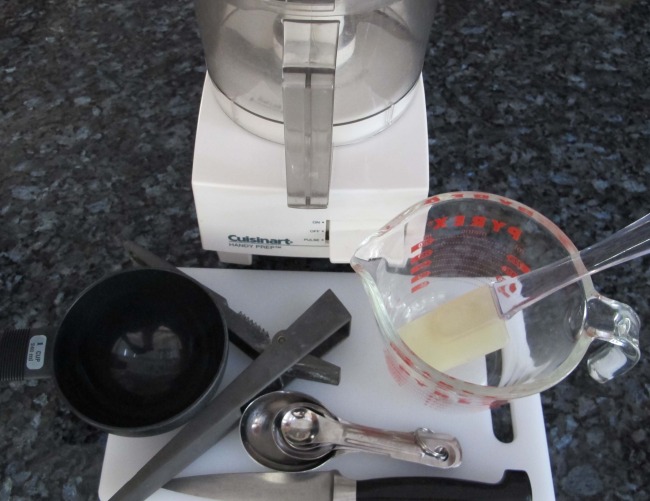 Small food processor, immersion blender or another way to chop ingredients into a paste
Cutting board
Knife
Garlic press (optional)
Cup for measuring liquid (weight)
Cup for measuring solids volume
Measuring spoons
Spatula
Preparation
For step-by-step directions (including pictures), click
here.