My Grandpa William immigrated to the U.S. from Romania when he was about 18 years old. He died when I was less than 10 years old, so my memories of him are mostly tied to childish delights, like his card tricks or how he cut the skin of an orange in one long, swirly piece. Grandpa was a great cook. Mom says he cooked "out of self-defense," in an age when a home kitchen was generally a woman's preserve. Grandma's idea of dinner was boiled chicken and limp vegetables. I remember watching him add ketchup to that dish in a valiant effort to give it taste and I'm betting that wasn't his only trick to make her food just a bit more edible.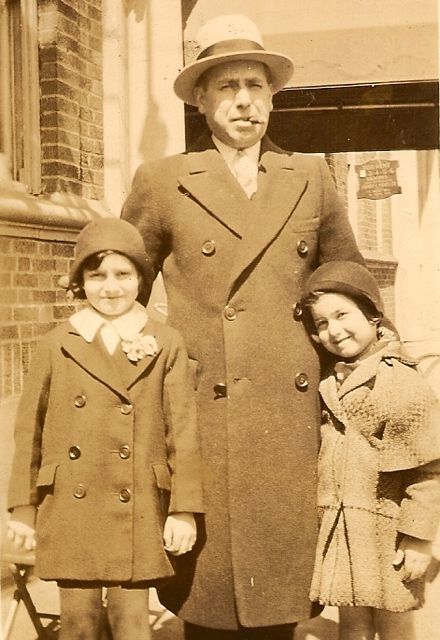 My mom taught me to make Grandpa's Greek salad - a simple, but delightful salad, perfect as tomatoes come into season. The only secrets to success with the recipe are great summer tomatoes and letting the salad "steep" for at least 1 hour, preferably longer. The salad creates its own juice if the tomatoes are good, so plan to serve it with excellent, crusty bread, such as a French baguette, sour dough, or peasant-type black bread.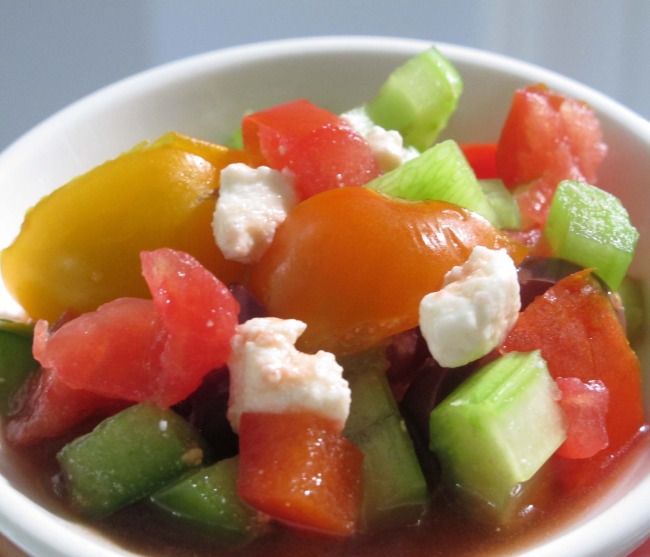 The origins of Grandpa's Greek salad recipe remain a mystery, and I have no idea who named it. When I was growing up, the salad had only 3 main ingredients – tomatoes, green pepper, and celery. I have asked my mom why the salad doesn't include feta and olives, typical ingredients in "standard" Greek recipes. Her answer was that she and her sister disliked them, so when they were kids, Grandpa took feta and olives out of the recipe. I put them back in, smiling as I do – for all the parents who bent to the culinary wishes of their kids and wondering what my Grandpa would have done in the age of Stay at Stove Dad.
Greek Salad – 2 servings Total cost - $4.12 (just over $2 per serving)
Ingredients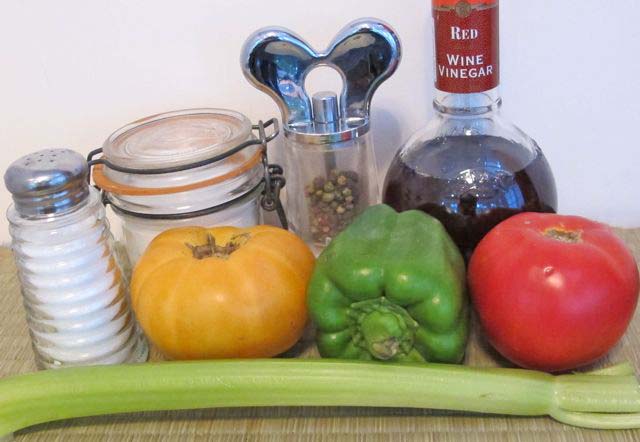 2 tomatoes, chopped
½ to ¾ green pepper, chopped
½ stalk of celery
½ teaspoon sugar
Salt and freshly ground pepper to taste
1 ½ teaspoons red wine vinegar
¼ cup (heaping) of chopped or crumbled feta cheese
¼ cup chopped or sliced olives, preferably Kalamata (Greek, oil cured) Note: Whole olives with the pit still in are cheaper, but believe me, use pitted unless you are a glutton for punishment or have an obsession with carving bits of olive off a pit.
Equipment
Of the 2 serrated knives in this picture, the large one is better to use but if you don't have it, a steak knife like the other one is fine. A straight edge knife won't work well on tomatoes.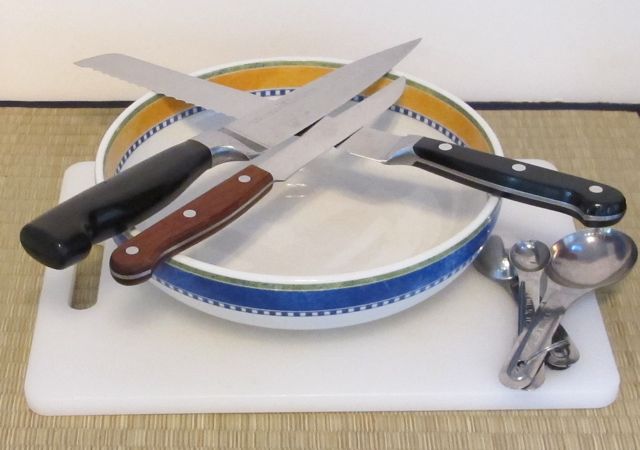 Cutting board
Knives (serrated edge for tomatoes, straight edge for green pepper, olives & cheese)
Bowl
Measuring spoons
Preparation
For step-by-step directions, including photos, click here.