The secret ingredient to some foods is elbow grease. I mean real pounding of the kind that gives you, or at least your arm, a workout. Make them the easy way, using an electric-powered appliance, and you ruin the texture, not to mention the taste.
I used to make guacamole by mashing the ingredients with a food processor or a fork, or both. The results were OK, but frankly nothing worth crowing -- or blogging -- about. Recently, my friend Carole gave me a tip -- use a mortar and pestle. I thought her suggestion would be a modest improvement, but I was wrong. The difference between my fork or processor-made guacamole and her pounded method version was light years. Like many converts, I'm now a missionary for my newfound cause -- mortar and pestle guacamole.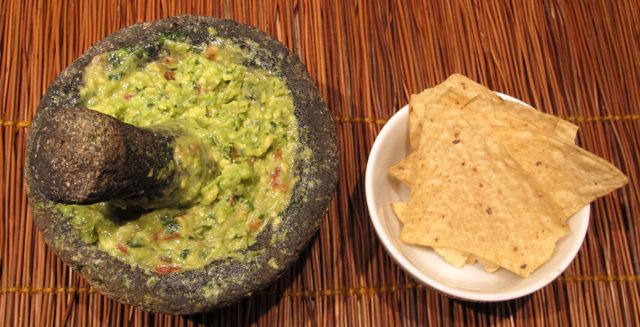 If you've never made guacamole with a mortar and pestle, you're in for a treat. Get into it and you'll be able to pound away frustrations if you're upset or grind ingredients to the beat of good music if you're in a good mood.
Carole and her husband Mark have a great recipe for guacamole too. (They shared it with me and generously allowed me to share it with the world.) Serve it as an appetizer -- with carrot, celery, pepper or cucumber sticks or tortilla chips -- or use it as a component for a Mexican-style meal. Either way, it's quite tasty and you can ramp up the "heat" with additional jalapeno or with a dash or two of hot sauce, one of my favorite condiments.
If you don't have a mortar and pestle, you can make the guacamole by crushing the ingredients in a unbreakable bowl with a sturdy wooden spoon or similar implement. But honestly, if you love guacamole and will make it with frequently, it's worth the investment to buy a mortar and pestle. You can find a decent one for $30-40 and it is handy for grinding spices and any other chore that requires mashing or pounding ingredients. Plus it is cool looking, sitting on your kitchen counter or a shelf.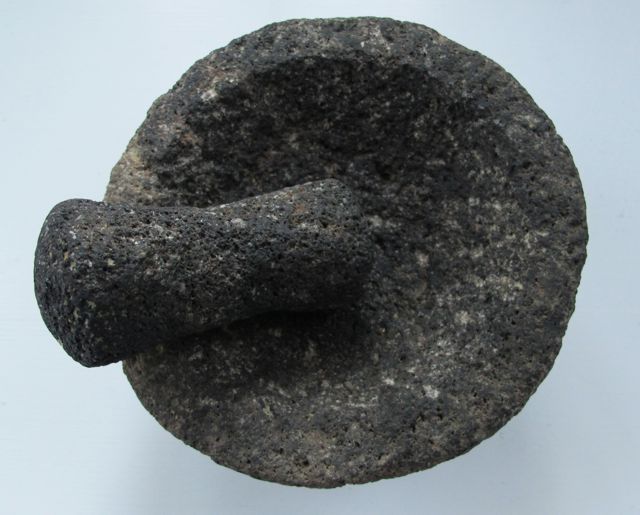 Carole and Mark's Guacamole
Servings - about 1 1/2 cups or 12-16 ounces Cost - $4.53 per bowl
Ingredients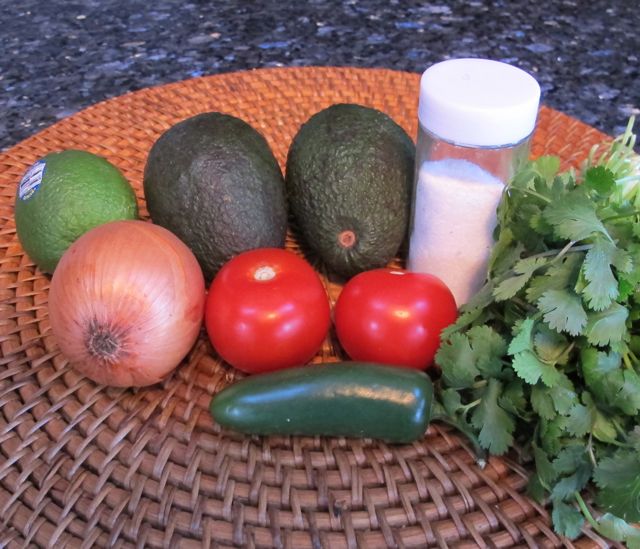 2 avocados - The avocados should be slightly firm but not hard. If you can only find hard ones in the store, leave them on the counter for a couple of days to soften. Refrigerate only if they are getting soft to the point where you would make a dent if you press them with a medium touch.
1/4 cup finely chopped onions
1/2 tablespoon finely chopped jalapeño pepper. (If you include the pepper's seeds & membranes, the guacamole will be quite hot. I remove them to keep the guacamole spicy, but not crazy hot.)
1/4 cup finely chopped cilantro leaves. When you shop for cilantro, by sight alone you may confuse it with Italian or flat leaf parsley.

Sometimes, there is a label on the bunch of green leaves with stems, but if not, the best way to make sure you've got cilantro is to smell it. Cilantro has a distinctive smell that will remind you of Mexican food, while parsley does not have a strong smell. Clean the cilantro stems by running them under water, then dry them with a paper towel before chopping the leaves.
1/4 cup of seeded, finely chopped tomatoes or approximately 2 Campari-sized tomatoes. The tomatoes don't have to be totally seeded, but you don't want all the juice either, or it will water down the guacamole.
1/2 teaspoon salt
Juice of 1/2 or whole lime (the amount depends on desired taste and texture)
Equipment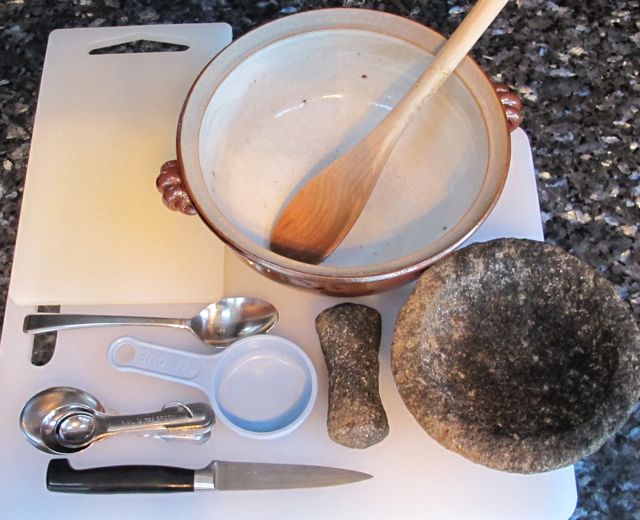 Cutting board(s) - I prefer 2 so I can cut the jalapeño pepper on a separate board
Knife
Measuring cup (1/4 cup size)
Measuring spoons
Soup spoon or teaspoon for scooping out avocados
Mortar and pestle or medium-sized bowl and a mallet or other implement that will mash food
For step-by-step directions, including pictures, click here.