Brunch should be fun and relaxing for the host, as well as for the guests. It isn't if the host has to wake up early to get food ready and scurry around with last minute preparations. I can't help you set the table (except to suggest that you do it the night before) but this dish will take the stress out of brunch cooking. You can make it the evening before, put it in the refrigerator, and slip it in the oven in the morning right before your brunch guests arrive.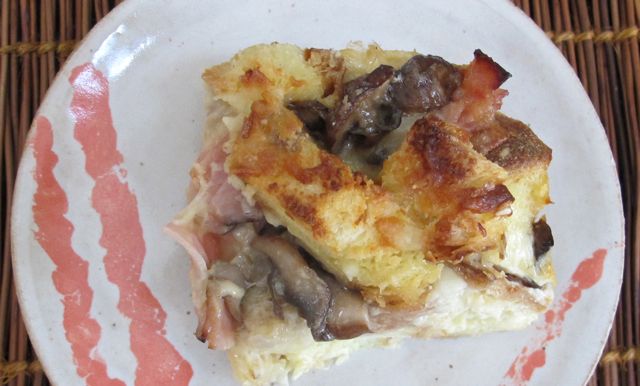 Strata is a savory cousin of bread pudding, using the same egg and milk base, but with cheese, vegetables and/or meat instead of sweets like raisins and chocolate. Like bread pudding, strata comes in many variations. Mine includes ham and cheese, with sliced mushrooms added just because I like them. I think of it as a baked casserole-mushrooms-added version of a Croque Monsieur, the classic French ham-and-cheese sandwich favored by Julia Child.
Ham and Cheese Strata
Servings -- 4 large/6 medium servings Total Cost -- $12.95/less than $3.25 per serving
Ingredients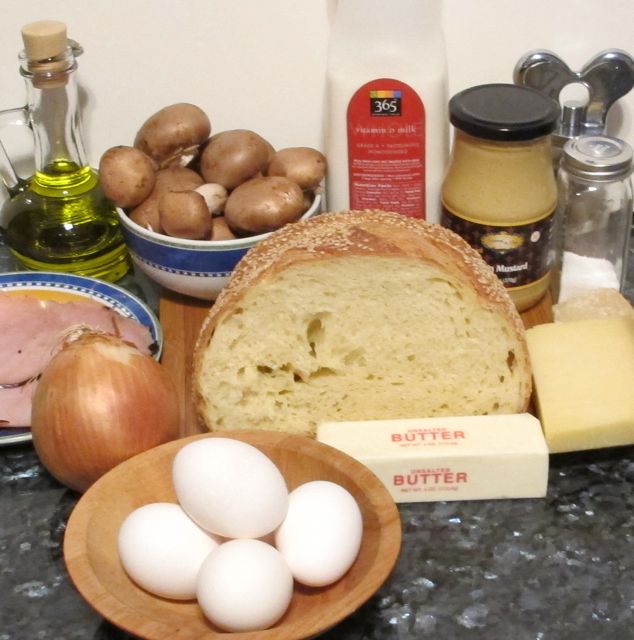 5 eggs
2 cups of whole milk
¼ teaspoon salt & several good dashes of pepper
2 teaspoons of Dijon-style mustard
¾ - 1 cup finely chopped onion (about 1 medium-large onion)
8 ounces small-medium mushrooms (preferably portabella) rinsed, dried and thinly sliced
2 tablespoons olive oil or butter or combination of the two for sauté, plus more for greasing casserole
6 cups of cubed bread, preferably good French, Italian, sourdough, or another type that is not too soft. If the crust is thick and hard, cut it off, or at least the thickest parts of crust. The cubes should be about 1" (from the tip of your thumb to the first joint). Stale bread is great for this recipe. If the bread is fresh and soft, let it slowly get a bit harder, to the point where it seems almost stale by baking it in a 300 degree toaster oven for about 10-20 minutes. This will allow the bread to absorb the egg-milk custard mixture better.
¼ pound thinly sliced deli ham
4 ounces (about 1 cup pressed firmly down) grated hard cheese, preferably Gruyère
2 ounces (about ¾ cup not pressed down) grated Parmesan cheese
Equipment
(Not pictured below -- a cookie sheet to place the strata casserole on while baking. The cookie sheet will catch any overflow and prevent it from dripping onto the bottom of your oven. Take it from me, you don't want hot eggs and cheese sticking to the bottom of your oven. Besides creating a most unpleasant situation just as you were relaxing with your guests, it's not fun to clean up afterwards. But enough about that -- and back to the fun brunch you're planning.)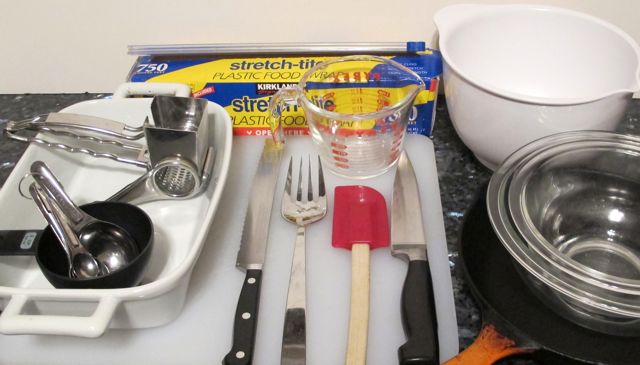 1½ quart casserole with sides no higher than 2½ inches. Mine is 10" x 7¼" x 2¼" (If you are unsure of your casserole's capacity, measure how much water it holds -- 6 cups of water equals 1½ quarts.)
1 cup liquid measure
1 cup solid measures
Measuring spoons
3 bowls
Large fork (for stirring custard)
Cutting board
Knives for cutting onion and bread
Pan for sautéing the onions and mushrooms
Spatula
Plastic wrap to cover casserole
For step-by-step directions, including pictures, click here.