Maybe anyone can be taught to grill, but some people are naturally "to the grill born" and I do believe that my husband is one of those. He didn't always grill. In fact, when I met him there was no grill in sight, and he managed quite fine. But once we moved into a house and got a grill, there was no stopping him.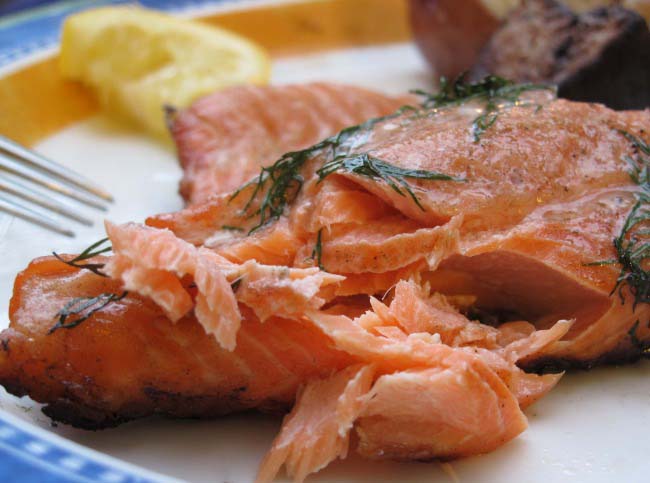 As far as I'm concerned, one of the keys to marital happiness is finding the right balance in how two people divide their household responsibilities. Whether there are many tasks to be done or just a few, whether there are children, pets, and/or aging parents to care for or not, there are always household responsibilities.
And it is almost impossible to avoid parceling out tasks related to food. Sure you can have food delivered, but someone has to make the shopping list. You can go out to eat a lot if you have the financial resources, but how many people never ever eat a home-cooked meal? I recognize that too many people do not sit down together to eat often enough, but humor me by assuming that virtually everyone eats home-cooked meals, even if they rarely do so.
There are many aspects of my marriage that are not traditional. But when it comes to food preparation, we might as well be an ad set in the America of the 1950's - I rule over the "inside kitchen" and my husband is the grill man. We do make exceptions, but they mostly prove the rule. We're both satisfied with the division of labor, and I'm particularly fine with the results that come off the grill.
When I married my husband, he had a few "tried and true" recipes. Linguini and clam sauce, burritos, and scrambled eggs were his mainstays.  He has expanded his repertoire a bit in the decades since, thanks mainly to our Weber kettle. The imperial "we" use the barbecue year round, even in the rain and occasionally when it is snowing. It's not a fancy grill and our backyard is a postage-stamp, but he doesn't need expensive equipment or glorious surroundings to work his magic.
Although his burgers are amazing, my absolute favorite husband-prepared dinner is grilled fish and vegetables. When it comes to grilling at our house, I am the sous-chef. Scampering around to find ingredients or to fetch the right size plate, I watch with admiration as he moves the coals, places the food on the grill, and watches over it.
Recently I asked the grill-master to distill his salmon-grilling techniques into a few useful tips. The result is this 5-step guide.  Although I can't promise that your salmon will taste as good as his, you'll have a good start toward making an incredible and healthy grilled dinner.
5-Steps to Incredible Grilled Salmon 
Start with good quality salmon filet. A filet is a long, thin piece from one side of the salmon that has the skin left on its outer side. It has no bone, unlike thicker individual salmon steaks that are cut through the fish horizontally. We prefer wild-caught (as opposed to farm-raised) salmon, for environmental and health reasons, but cook ethically farm-raised fish when wild salmon is not available. The most common types we find are Sock-eye, Coho, and King or Chinook salmon - I like them all. Check this description of the various salmon varieties. We buy our filets at Costco and find that store's quality and price to be unbeatable in our neighborhood. Whole Foods and our local fish market also have good quality salmon filets, but their prices tend to be higher, so it's worth the trip to Costco. Although it may be heresy, we do sometimes cut and freeze a portion of a large filet and find the quality of the defrosted filet, grilled later, to be fine.
For steps 2-4 click here.