In my husband's Irish-American family, there is more reverence for food than for persnickety accuracy. And so it turned out that one of the family favorites, soda bread, may not be quite what we thought. We've always assumed that the slightly sweet version with dried fruit was the "real deal, right off the boat." I adore it and have usually made the rich and currant or raisin-filled bread each year as St. Patrick's Day rolls around.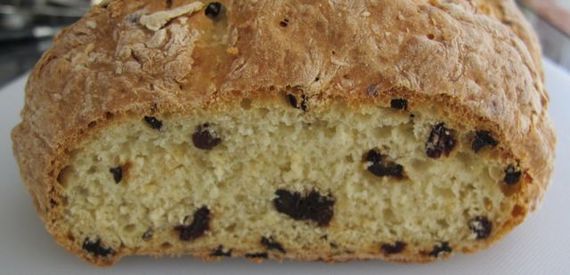 We call it Sister Mary's Irish Soda Bread and for decades I have treasured the card on which our cousin wrote me out the recipe. But I recently learned that the Sister Mary version is not Irish, it's Irish-American. Since learning that shocking fact, I haven't given up on it -- I'll bake at least one loaf next week and probably several more.
So if that's not authentic Irish soda bread, what is? It turns out to be the earthy, unsweetened brown bread I remember eating when my family traveled to Ireland about 15 years ago.  We called it "brown bread" and let it go at that.  I had no idea that the thick hand-cut slices I devoured in every pub, restaurant, and B&B we visited is, in fact, traditional, 4-ingredient Irish soda bread. 
My newfound understanding is courtesy of Steve Webb and his delightful American Food Roots essay on making traditional soda bread.  After reading his essay, I found lots of recipes and references for the traditional type, and from now on, I won't mistake the Irish-American version for traditional soda bread.
While they are wholly different in texture and taste, both types are easy to make and quick to bake, with no yeast, rising, or prolonged kneading required in either case. When I raise a glass of Guinness Stout or Harp Lager this weekend on St. Patty's Day, I'll toast them both -- Viva La Difference!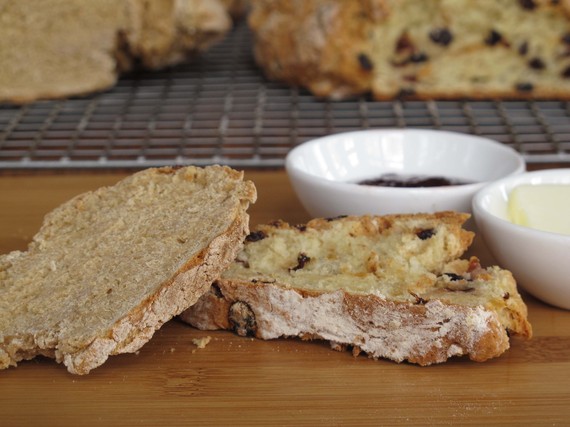 I've already given you my husband's family recipe (Sister Mary's) for Irish-American soda bread.  Here is my take on the traditional Irish version.
Because it has only 4 ingredients (whole wheat or white flour, baking soda, salt, and buttermilk), there are limited variations on the traditional Irish soda bread.  I used King Arthur "white whole wheat" as a compromise between whole wheat, which I find too heavy, and white flour, which seemed like a cop-out to me.  The result was quite pleasant, wheaty but not overwhelmingly so.
Ingredients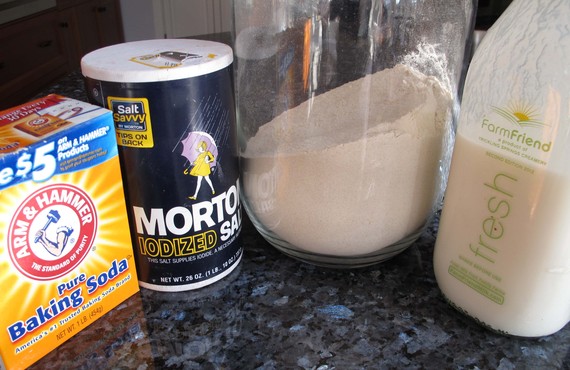 3½ cups white / whole wheat flour 
¾ teaspoon table salt
1 teaspoon baking soda
1¼ cup (10 ounces) of buttermilk
Equipment
Baking sheet
Medium-large mixing bowl
Wire whisk
Sharp knife
Measuring cups 
Measuring spoons
Dinner knife (for leveling off dry ingredients)
Sharp knife (for cutting cross in bread before baking)
Pastry mat (optional)
Large fork for mixing (not pictured & optional) 
Preparation
For step-by-step directions, including photographs, click here.