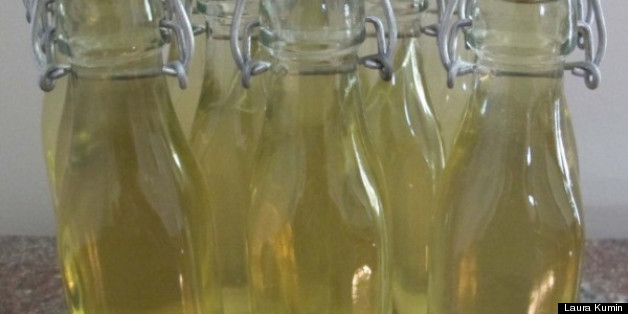 It was love at first sip.   Last year my friend Steven gave me a taste of limoncello, an Italian liqueur traditionally served chilled.  I dreamt about limoncello for weeks afterwards, even though I don't usually drink hard liquor, much less fantasize about it.
Fast forward to another gathering, months later.  My friends Rachel and Jay served me Jay's homemade version, and again I was in heaven.  With Jay's recipe, his permission to use it, and his guidance on supplies, I set to work on my own batch.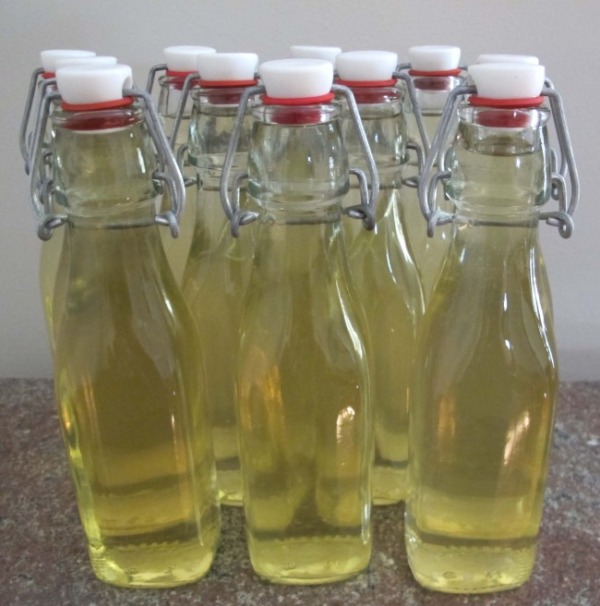 Although limoncello requires patience and attention to detail, the process is simple and does not require special skill. If you are into immediate gratification and find scraping carrots tedious, don't bother with this recipe.  But if you can peel 10 lemons and remember to do a daily task that takes 30 seconds, you'll be rewarded with an incredible treat at about ½ the cost of the least expensive commercially available versions.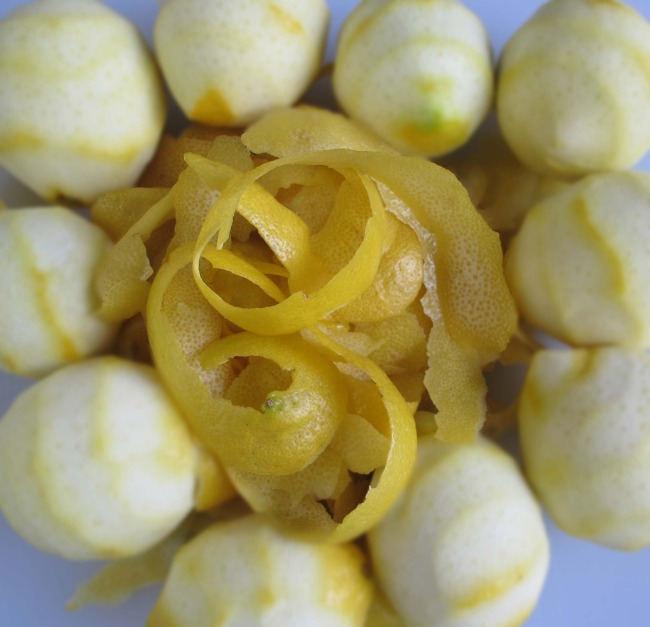 The first step in making the limoncello is the only one that is vaguely labor-intensive: peeling the lemons. The second step occurs 40 days later when you make a the simple syrup and the limoncello is finished about six weeks later, after it steeps.
Jay's Famous Limoncello 
Yield - approx 10-10 oz bottles    Cost - $25 (see note below) total/$2.50 per 10-oz bottle
Ingredients 
10 organic lemons (The peels are a primary ingredient in this recipe and you don't want to use lemons that have been sprayed with long-lasting pesticides.  Jay has delicious Meyer lemons growing on a tree in his backyard - that lucky duck, so he mixed a few of them in with the organics from the store.  I had to use all store-bought.)
2 liters of vodka (Any vodka 80 proof or higher works.  See note on cost below.)
3 cups sugar
4 cups water
Equipment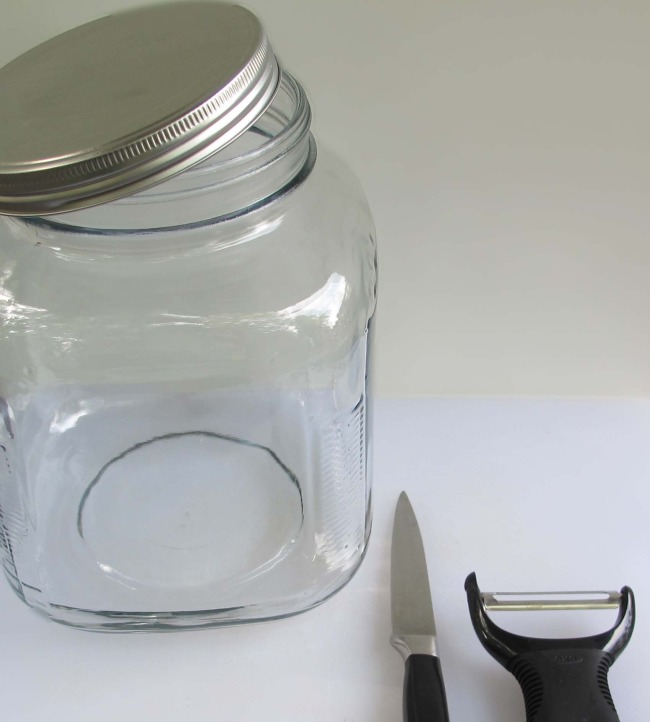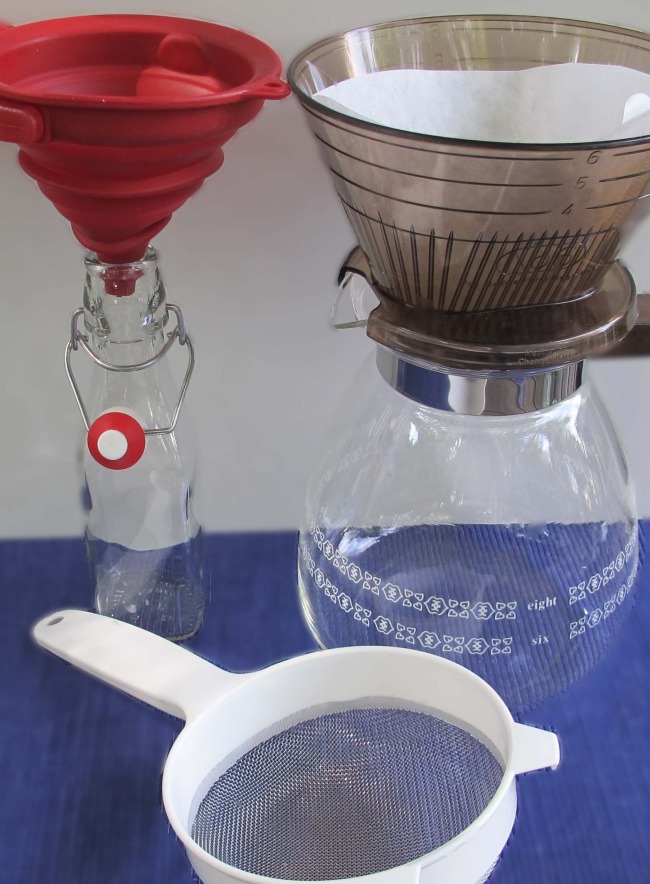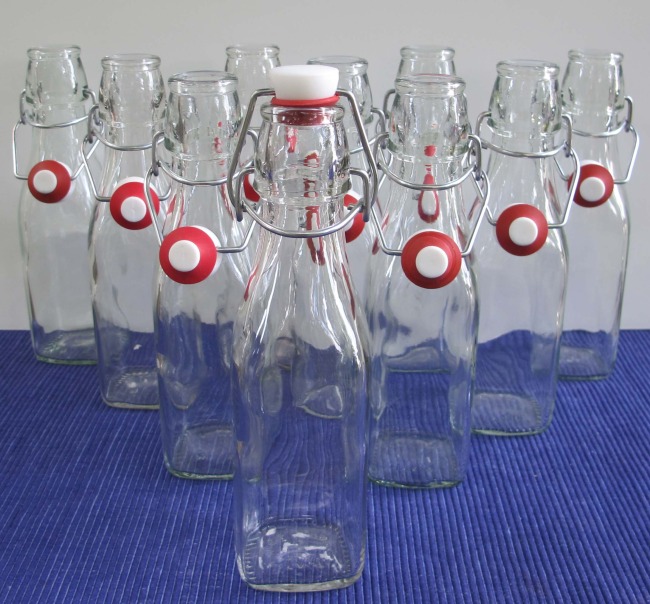 Cutting board
Vegetable/fruit peeler
Small sharp knife
1-gallon glass container (or 2 half-gallon containers)
Metal mesh strainer
2 coffee filters and filter holder (either 2 paper or 1 gold/metal coffee filter and 1 paper filter)
2-liter container that can hold the filtered vodka (the coffee pot pictured above)
10-11 small bottles  (I bought these at Sur La Table, on sale of course.)
Funnel 
Ladle - optional (not pictured)
Cost - Jay used Tito's vodka, a highly rated, relatively expensive brand.  I consulted a couple of knowledgable souls on whether it was worth the extra cost to use Tito's when the flavor is basically that of the lemon peels. The majority suggested that it was not, so I bought the house brand sold by my local liquor store, Paul's Wine & Spirits, and saved approximately $10 over the cost of Tito's. 
Preparation
For step-by-step directions, including pictures, click here.