During Passover, Jews do not eat the grains from which matzo may be made: wheat, barley, oats, rye, and spelt, (collectively called "chametz") except limited ways that involve making sure they don't rise, nor do we use yeast. In addition, some Jews do not eat rice, seeds or legumes. I'm quite fond of granola.
So when Passover arrives and I have to give up my favorite granola for a week, I'm not a happy camper. I can give up pasta, and I'm alright substituting matzo and Passover rolls for bread, but abstaining from oat-based granola had been a sacrifice, at least up to now.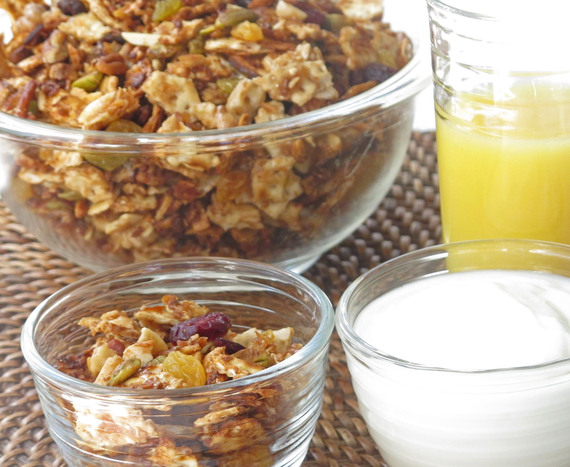 This year I decided to create a matzo granola that would go well with my morning yogurt during the 7-day observance of Passover. My daughter (visiting for the holiday) pronounced my new recipe a success. Coming into the house just after a batch came out of the oven, she asked what the lovely aroma was. When I answered that I had just made some matzo granola, she grabbed a spoonful to taste, then went back for more to eat as an afternoon snack. This recipe makes 2 pounds, which I'm betting won't last through the week.
This matzo granola is easy to make and the recipe is versatile, in that you can make it with just matzo and nuts or add dried fruit, as I did. Some matzo granola recipes call for what is called matzo farfel. If you're a cheapskate like me, don't buy it. Farfel is more expensive than an equivalent amount of matzo (particularly if you bought a multi-carton pack of matzo), and it is just broken up pieces of matzo. So why not save some money and break the matzo yourself? It's not hard work and takes just a few minutes. You can even do it while talking to your mother on the phone. (Just kidding - you should pay full attention to your mom while conversing with her :) ᅡᅠ.)
Makes 2 pounds or about 7 cups with dried fruit.ᅡᅠ Cost - $5-6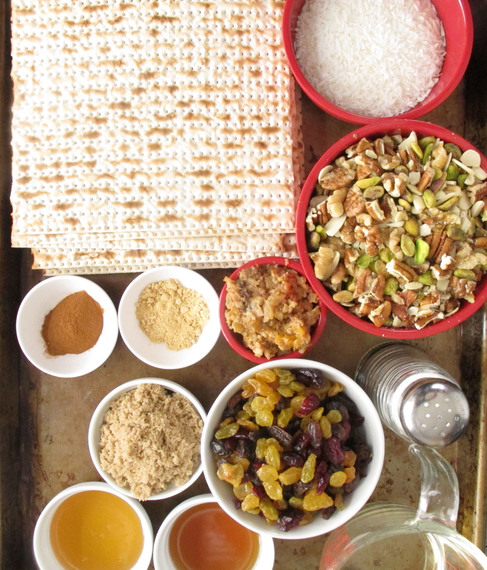 6 sheets of matzo
2 cups of roughly chopped nuts (I mixed almonds, walnuts, pecans and pistachios)
3/4 cup unsweetened coconut, shredded or small flakes
3 tablespoons maple syrup
3 tablespoons honey
1/4 cup tightly packed light brown sugar
1/4 cup charoset or peeled and finely chopped fresh apple
3/4 teaspoon cinnamon
1/2 teaspoon dried ginger
1/2 teaspoon salt
1/4 cup canola or other flavorless oil (not olive oil)
2 -3 cups of dried fruit (I used 2 cups of dark and yellow raisins and cranberries. If you are using larger fruits, such as apricots, cut them into bite-sizes pieces.)
Large Bowl
Measuring cups for solids and liquids
Measuring spoons
Large spoon or rubber/silicone spatula
Small pot
Spoon or rubber/silicone spatula
2 cookie sheets with rims
Metal spatula or pancake turner
For step-by-step directions, including photographs, click here.