When the temperature plummets and the winds pick up, I think of soup. No, actually I dream, obsess, and need soup. Although I love chicken soup, my all-time favorite cold weather soup is mushroom barley.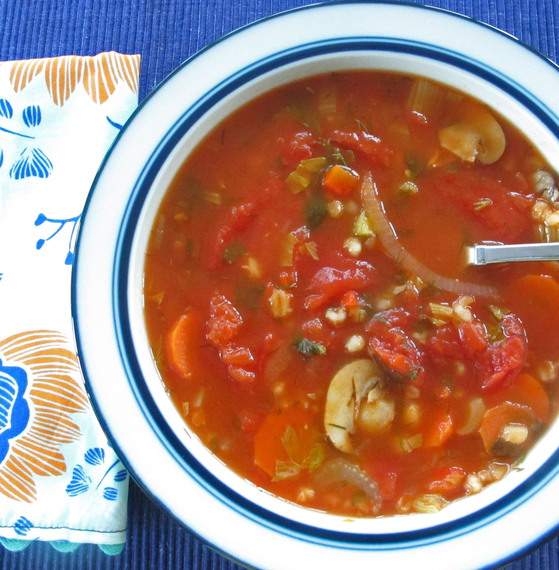 This recipe is inspired by one from Joan Nathan's Jewish Holiday Kitchen, but I took a number of liberties with her basic concept and ended up with an almost stew-like version that will warm the cockles of your heart and your cold fingers and toes as winter hangs in long after it should be gone.
Making this main-course-hearty soup requires lots of chopping, but not much in the way of culinary skills, except for the knife skills necessary to keep yourself safe, of course. It's a great way to use up those pesky leaves in the inner part of celery stalks and if you have a few stray green beans or parsnips, add them too. Keep the vegetables chunky and use fresh dill and good quality canned tomatoes for the best result. 
If you've never had barley before, you're in for a treat. It is tastier than rice and provides wonderful texture and substance. It is also nutritious, with a good amount of fiber and protein. This recipe calls for pearled barley, which has the outer husk and bran layers of the grain removed. Hulled barley or barley groats, still has the bran layer and so it is more nutritious than the pearled type, but it also takes longer to cook. In any event, pearled barley is still nutritious, with plenty of fiber and vitamins.
Although the soup needs to simmer for about 2 hours, it does not require much tending. If you follow the rules for mise en place (check out my Meal Planning Rule #6), the soup takes virtually no effort after you start the first of the 2-step cooking process. 
Mushroom Barley Soup
Servings - 6  Cost - $10
Ingredients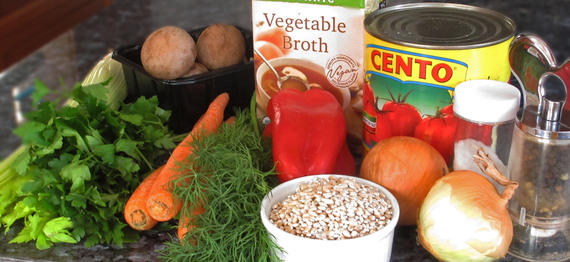 1 - 28 ounce can of whole tomatoes, with their juice
4 cups vegetable broth
1 large or 2 small onions, cut into half moons (about 1 cup)
2-3 stalks of celery chopped, including the leaves of inner stalks
2 tablespoons chopped parsley
1/2 red, yellow or orange pepper, chopped into ½-inch pieces
1/2 cup of pearled barley
3 small carrots, cut into coins
2-3 tablespoons fresh dill, chopped
8 ounces (1/2 pound) button (white) or baby portobello mushrooms, sliced
1 teaspoon salt
Freshly ground pepper
Equipment
Cutting board
Knife
Measuring cups for liquid and solids
Measuring spoons
Strainer
Large pot
Large spoon
Ladle
Preparation
For step-by-step directions, including photographs, click here.