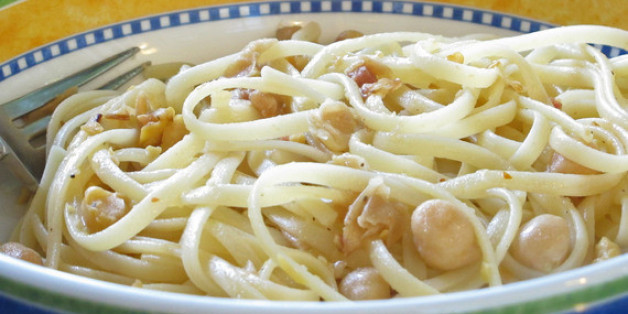 Especially in summertime, dinners should be quick and easy. Whether you want to catch those last moments of daylight for a walk or you're rushing home from work or kids' activities, you need a meal that comes together in minutes.
Pasta with chick peas, or pasta e ceci in Italian, is the perfect solution. This dish can turn a stressful day into a relaxing evening with barely any effort at all.
Even if you can't imagine the combination of pasta and chick peas or garbanzo beans, trust me -- it works. Paired with a green salad, or followed by fruit (or both), you've got a full dinner without fuss. This is not fancy food, but if you're looking for coq au vin on a weekday night, don't come to my house. For ambiance, pull out a couple of cloth napkins and serve an accompanying glass of red wine (or grape juice) in a small, thin glass without a stem, the type used in the red-checkered tablecloth Italian restaurants of my childhood.
The traditional versions of pasta e ceci that I have seen are vegetarian and use short pasta or torn pieces of lasagna noodles. I added hard salami and used linguini because I had those ingredients. This is a great recipe to adapt to your own tastes and to what you have on hand. While the purists may complain about the shortcut of using canned chick peas or garbanzos, they are a great pantry staple and taste just fine used this way. If you don't have hard salami or pancetta, substitute well-cooked and crumbled bacon -- or leave out the meat entirely. Dried red pepper flakes provide a spicy edge; use more or less of them to turn the heat up or down.
I wish I had known about pasta e ceci as my kids were growing up. While other parents complained about how their kids wouldn't try new foods, my kids were game for almost anything I served them. They ate tons of hummus, along with raw fennel and lots of other "grown-up" food. Spicy foods delighted them and I'll bet they would have gobbled up this dish. It would have been a welcome addition to our pasta rotation, which used to lean heavily on red sauce and pesto. 
Pasta with Chick Peas (Pasta E Ceci)
2 large servings or 3 medium  Cost -- $4
Ingredients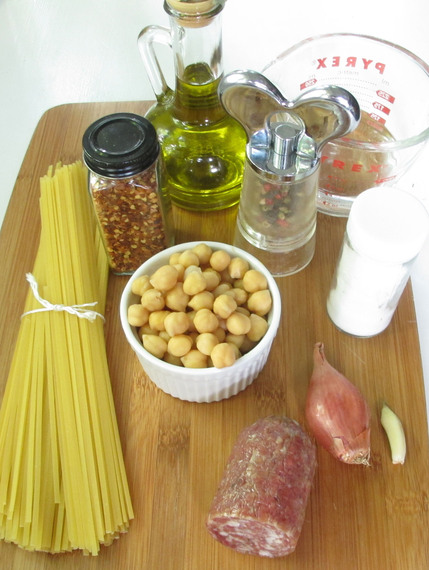 8 ounces of linguini or spaghetti
5-8 ounces canned or cooked chick peas (garbanzo beans), rinsed and drained -- about 3/4-1 cup. Do not use weight on a can as guidance because that includes the water in the can.
1 small clove of garlic, minced (about 1/2 teaspoon)
1 small shallot, minced (about 2 tablespoons) or onion, preferably sweet or Vidalia
1/4 cup hard salami or pancetta, cut into tiny cubes
1 tablespoon olive oil
1/2 cup water + more from pasta water if necessary
1/8 teaspoon (1-2 pinches) dried red pepper flakes
salt (preferably Kosher or sea) and fresh ground pepper to taste
Equipment
Cutting board
Knife
Spoon
Measuring cup
Measuring spoon
1 pot
Colander
1 medium-large pan
Preparation
For step-by-step directions, including photographs, click here.