In recent years, it seems as though the variety of Chinese restaurants has expanded exponentially. From "dives" in shopping centers with fabulous cooks and authentic recipes to "white tablecloth" restaurants in fancy parts of town, I have my pick of all types of province-specific eateries.
But when I was growing up, my family went to only one local Chinese restaurant in our town. The menu selections there did not come from any specific area of China, if they came from China at all. Preparation at "our" 1960s Chinese restaurant was designed to please American palates, leaving out spices and other ingredients that might be too exotic for people used to frozen vegetables and Kraft American cheese. Lo-mein noodles and sweet-and-sour pork were popular and all the drinks came with small paper umbrellas, which we loved. Don Draper and his family would have been very comfortable "eating Chinese" with us.
I can't imagine eating most of that food today. There is, however, one dish from that era still gets me every time -- Dan Dan noodles. Originally a classic from Sichuan province, it remains a staple at Chinese restaurants in the U.S., including some that concentrate on cuisine from other provinces.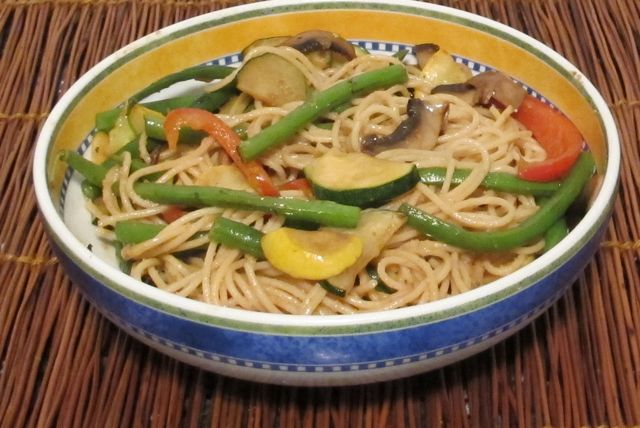 I'm all about home cooking and this dish is a great one for making yourself. I don't know whether my version would be recognizable to a Sichuan food connoisseur, but that isn't an issue when my family is helping themselves to huge portions of these noodles. They are a great hot weather main course with toppings or a cold side in a multi-dish meal.
If your pantry contains a few Asian condiments, noodles and peanut butter, you're in business. The recipe is easily doubled for a crowd and it keeps well for eating over a couple of weekdays when you don't have time to make complicated meals. Hint -- the condiments are typically cheaper at Asian markets than at big grocery stores and often those ethnic markets have more brands and sizes to choose from.
My recipe is a melting pot version -- Japanese buckwheat noodles or Italian spaghetti work fine instead of Chinese noodles and good old American peanut butter is the base for the sauce. The end result can be as spicy as you like and you can add veggies or shredded chicken. You can even cook ground pork or turkey and add it into the sauce. Any way you like them, peanut noodles are a simple side dish that you can make in a hurry and eat right away.
Peanut (Dan Dan) noodles - 4 servings Total cost - $2 for 4 servings ($.50 per serving)
Ingredients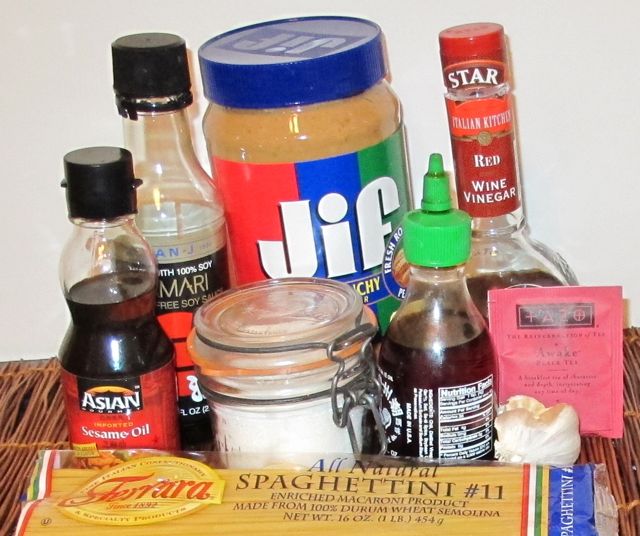 8 oz. noodles - I prefer thin spaghetti. Other types of thin noodles work, as do Japanese buckwheat noodles (soba).
¼ cup peanut butter, preferably smooth
1 teabag of black tea or enough black tea to make about ¼ cup - Use it to make 5 tablespoons of brewed black tea. (Look for tea labeled as black or use standard types such as Lipton's or Tetley. Don't use tea that has a strong flavor, such as Earl Grey or an herbal tea.)
4 ½ teaspoons soy sauce
1 teaspoon chili oil (or more to taste). Chili oil is also called pepper sa té oil. It is light red and transparent, often sold in a bottle with a pouring tip such as the green one pictured above.
2 teaspoons sesame oil. Sesame oil is sold in light and dark versions. I use dark for this recipe.
2 teaspoons wine vinegar (not balsamic)
2 teaspoons sugar
1 large or 2 small garlic cloves (approximately 1 teaspoon)
Equipment
Pot
Large bowl
Small bowl
Colander
Large fork
Large spoon
Measuring spoons
¼ cup measuring cup
Chopping board
Preparation
For step-by-step directions, including pictures, click here.