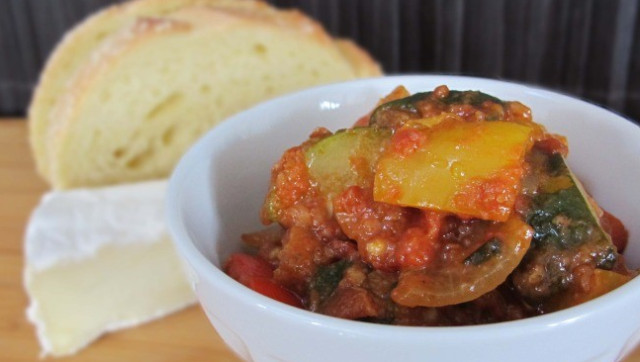 I love ratatouille, a French vegetable stew typically made with garlic, yellow summer squash and/or zucchini, onions, peppers, eggplant and tomatoes.  The vegetables are cooked in several stages, so it is a bit time consuming to prepare, but the reward is a fragrant and delicious vegetarian dish that you can serve hot, at room temperature, or even right out of the refrigerator.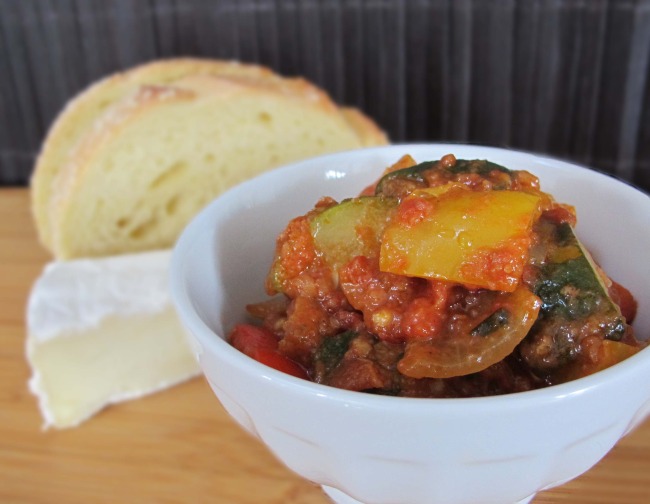 Because its flavors meld over time, ratatouille is an ideal dish to prepare in advance, then re-heat the next day, or bring to room temperature standing on the counter for an hour or two as you prepare dinner, a holiday brunch, or an open house table. 
Juicy, ripe tomatoes are essential for ratatouille, both for flavor and the liquid in which the vegetables simmer. Until mid-November, I can usually get wonderful tomatoes at local farmers' markets and even sometimes at grocery stores. As winter approaches, good fresh tomatoes are hard to find, so I normally put thoughts of ratatouille aside. Recently, however, when I had a hankering for ratatouille, and no decent fresh tomatoes on hand or easily obtainable, I decided to substitute good quality canned tomatoes. 
That change put me in the mood to experiment further.  Instead of using them in either of my "go-to" ratatouille recipes -- one from my ancient New York Times Cook Book, edited by Craig Claiborne (1961 edition), and the other from Chef Patrice Olivon through my friend Rachel -- I worked out a "mash up" recipe that takes elements from each of those, with my own twists.  My official taste tester proclaimed this version delectable and just as good as those I previously relied upon.
 
Easy Winter Ratatouille  (Approximately 4-5 cups)
Servings - 4-6   Cost - $4.50/less than $1.25 per serving 
Ingredients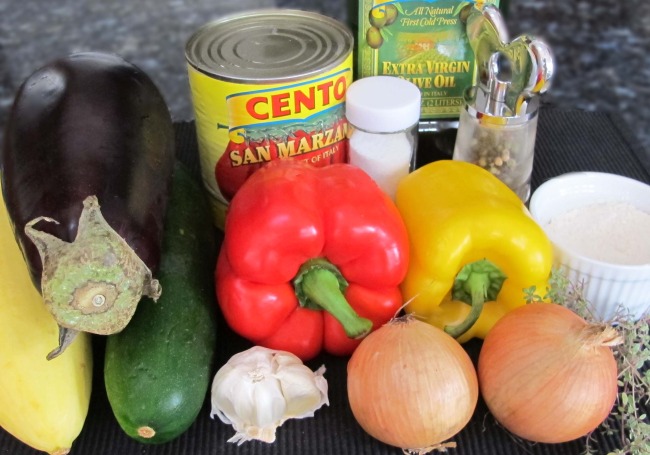 2 cloves garlic, mashed or finely chopped
1 cup yellow onions, cut into small but not tiny pieces
2-3 cups zucchini or zucchini mixed with yellow squash, cut into small chunks 
2 cups eggplant, peeled and cut into small chunks
2 peppers any color, cut into small chunks
2 tablespoons flour
1½ cups good quality canned tomatoes and their juice
1½ teaspoon fresh or ½ teaspoon dried thyme
Salt and pepper
5 tablespoons olive oil
Equipment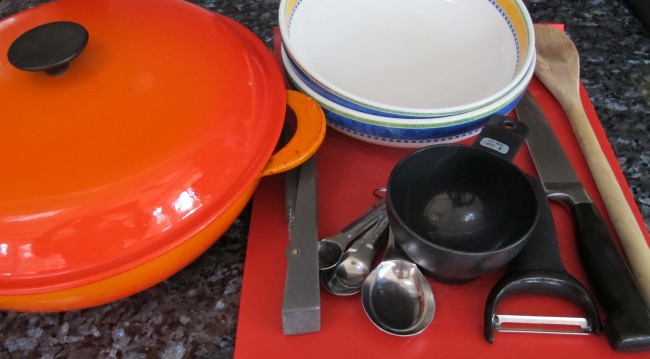 Knife
Garlic press (optional)
Vegetable peeler (optional - you can peel eggplant with a small knife if you are careful)
2 bowls
Measuring spoons
1 cup measure
Wooden spoon (this isn't just a pitch for wooden spoons, which I do love; objectively wood works better than metal to scrape - and save - the delicious bits on the bottom of the pan without ruining your pan.
Large, heavy skillet (pan with high sides) with a cover that fits tightly.  The pan must be large enough to allow the squash and eggplant cubes to cook in a single layer. 
Preparation 
For step-by-step directions, including photographs, click here.