Rosh Hashanah (the Jewish new year) at my house means sweet kugel on the table.  Wishing family and friends "a sweet new year," a traditional greeting on this holiday, takes on literal meaning with this Ashkenazic-style noodle and cheese dish.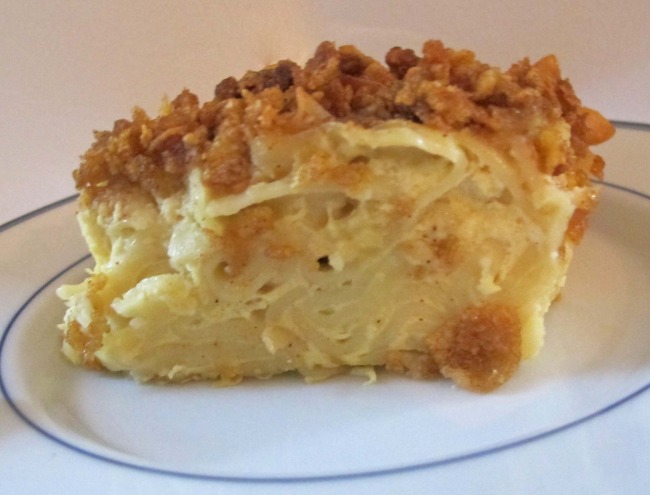 Although it is traditional at this time of the Jewish year, kugel, a generic term for pudding, is a year-round food, with variations for every taste and occasion. There are sweet and savory versions, kugels made from vegetables and even versions using matzoh at Passover.  Some kugel eaters are partisans -- they like only one type or have a favorite recipe and other versions or anyone else's recipe is just not as good as that one, perfect, kugel-of-their-dreams.
Unlike those folks, I appreciate many different kugels.  My tastes do run to the sweet over savory, but I'm game to try new ones.  This one is a time-honored recipe from my friend Gail Wides.  
Every Rosh Hashanah we host a pot luck dinner for 10 families who have been celebrating Jewish holidays together for about 15 years.  Gail always brings this kugel, based on a recipe from her mother-in-law, Louise.  Sweet without being cloying, crunchy on top and soft underneath, fragrant without being over powering, this is a sure-fire crowd pleaser. Plus it freezes well.  What's not to like?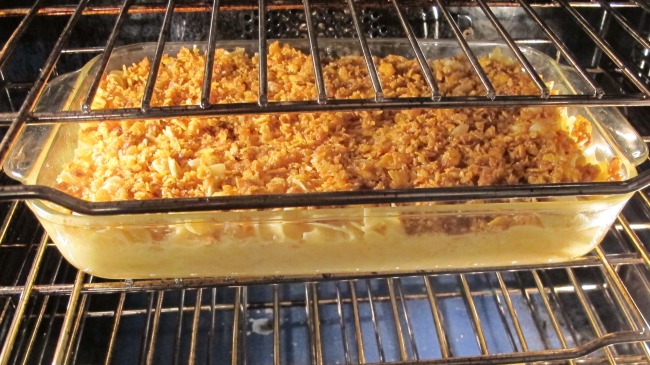 Except as noted, the ingredients provided are Louise's version via Gail.  The directions below vary slightly from Gail's, but the end result is the same.  Many thanks to both of them for letting me (and you) in on their kugel tradition.
Wides Family Noodle Kugel
Serves 12  Total cost - $8.50/less than $.75 serving
Ingredients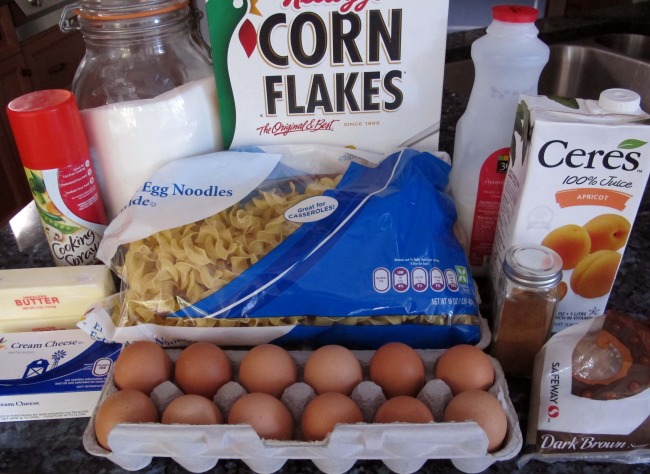 For the Base (Noodles and Cheese)
1 package (12 or 16 ounces) of extra wide egg noodles. For 16 ounces of noodles, add more liquid, and if you want, another egg, as noted.
6 tablespoons of butter cut into 6 pieces, plus butter, oil or spray for greasing pan
6 ounces cream cheese, preferably at room temperature
½ cup granulated white sugar
6 eggs (if 16 oz. noodles, can use 7 eggs)
1 cup of milk, preferably whole milk, but 2% will work (1¼ cups if using 16 oz. of noodles)
1 cup of apricot juice (1¼ cups if using 16 oz. of noodles) - You can substitute another type of 100% juice (i.e. no added sugar)
Topping 
3 cups crushed cornflakes (measure after crushing)
1 teaspoon cinnamon
¼ cup dark brown sugar, firmly packed (Gail uses granulated white sugar)
6 tablespoons of butter, partially or completely melted
Equipment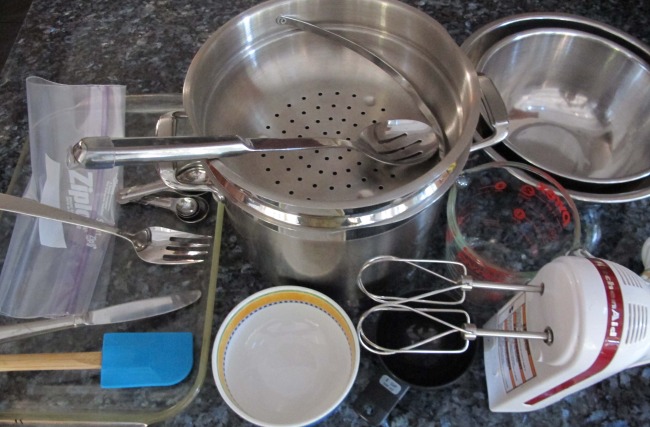 9" x 13" baking pan, preferably oven-proof glass
Mixer - hand or stand
Pot and colander for making noodles
2 mixing bowls - 1 large & 1 medium
1 small bowl for microwaving butter or small pan/pot
Liquid measuring cup
Measuring cup(s) for solids
Measuring spoons
Spatula
Large spoon and fork for mixing
Knife (for cutting butter)
Plastic bag or waxed paper and rolling pin for crushing cornflakes
Preparation
For step-by-step directions, including photographs, click here.