The sweet-and-salty combination is always a hit with me. Even as I try to watch my salt intake, I have a special place in my heart for salty oat cookies.
There used to be a bakery near my house that had a wonderful version. Every once in a while I would treat myself to one and usually finish eating it before I got home. Then the bakery changed their recipe, and the cookies, while still good, were not supreme. About a year ago, the bakery closed and salty oat cookies receded into my taste memories.
Although oatmeal cookies are a dime a dozen, the salty oat variety are not so common, at least around here. With an "out of sight, out of mind" mentality, I thought I was done with them. But recently, a craving for them came roaring into my consciousness and nothing I could do would shake that incredible need for a salty oat cookie.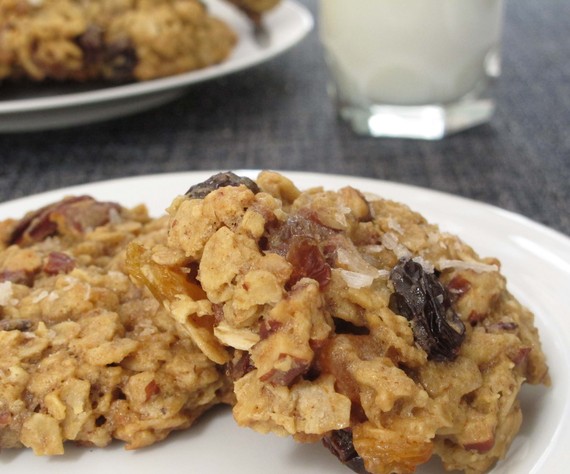 So I headed into my kitchen to create my own version. I consulted plenty of oatmeal cookie recipes, including one for salty oats. None seemed quite right, but I began to build on a few themes I found:
J. Kenji Lᅢᄈpez-Alt of Serious Eats, a great source of cooking ideas and information, suggested using large grained salt for the salty component and adding it halfway through baking. I used his technique with Maldon sea salt.
Shirley Corriher, in her fabulous book Bakewise, confirmed my impression that the recipe was "regular" oatmeal cookies on the top of the Quaker Oats canister is pretty damn good and she pointed out that roasting nuts, especially if you coat them in butter while still hot, enhances their flavor. I followed her suggestion and liked the results.
The resulting salty oat cookie is fragrant and chewy. Filled with nuts, raisins and oats, it comes out of the oven soft and firms up as it cools. I used less little salt in the batter than most oatmeal cookie recipes and only 1/8 teaspoon of Maldon salt (or less) on the top, so I'm not feeling too guilty about these. (Lᅢᄈpez-Alt topped his salty oat cookies with 1/4-1/2 teaspoon of large grained salt -- way too much in my opinion.) The Maldon variety of sea salt is large and irregular, on the top, so the cookies don't taste too salty, but when a bite has a big flake, you can really taste it. More common varieties of coarse sea salt work fine too.ᅡᅠ
For comparison, here is a photo of 4 types of salt. From left to right they are: table salt; Diamond brand kosher salt: Maldon sea salt: and Whole Foods (365 brand) coarse sea salt.

For my husband, who is not a fan of salty stuff, I made a batch of the cookies without the salt topping and added one large chocolate chip so he could tell which ones were his. He liked them that way just fine; you could use this recipe as a template for non-salty oatmeal cookies, perhaps with another 1/4 teaspoon of salt in the batter and substituting chocolate chips for some or all of the raisins.
Servings: About 30 cookies, each 2 1/2 - 3 inches wide.ᅡᅠCost: $5-6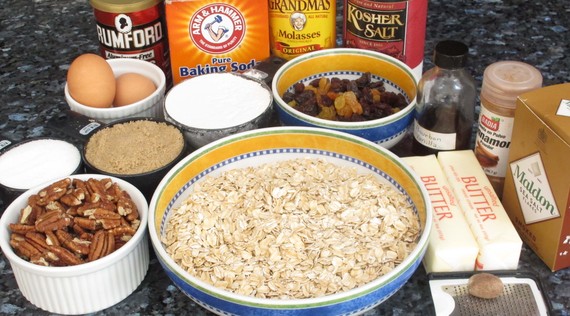 1/2 cup (1 stick) + 6 tablespoons butter (unsalted)
3/4 cup light brown sugar, firmly packed
1/2 cup of white (granulated) sugar
1 tablespoon unsulfured molasses
2 eggs at room temperature
1 teaspoon vanilla
1 cup all-purpose flour
1/2 teaspoon baking soda
1/2 teaspoon baking powder
1/2 teaspoon cinnamon
1/8-1/4 teaspoon ground nutmeg (I ground my own, but store-bought is fine.)
1/2 teaspoon kosher salt
3 cups old-fashioned rolled oats
1 cup raisins soaked in hot water or hot juice (to plump them)
1 cup chopped nuts, roasted (I used a heaping cup of chopped pecans)
Coarse sea salt or Maldon sea salt for topping
Cookie sheet/pans with silicone mats or parchment
1 large bowl
3 small bowls
Knife
Large fork
Whisk
Cutting board and knife or wooden bowl and chopper (for nuts)
Measuring cups
Measuring spoons
Rubber or silicone spatula
Metal spatula
Wire rack
For step-by-step directions, including photos, click here.