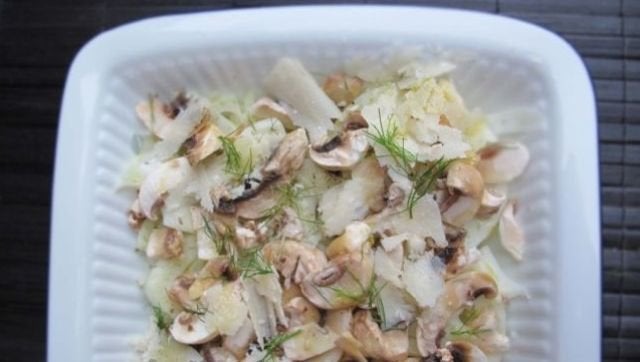 If you've never tasted fennel, put it on your bucket list.ᅡᅠ My mom taught me to love it and I've passed that favor along to my kids.ᅡᅠ Of course, they'll also tell you that fennel can be controversial.ᅡᅠ I used to put raw fennel in their school lunch bags some days instead of carrots or celery. When I did, other kids grimaced, thinking it was raw onion.ᅡᅠ Maybe it looked that way to them, but fennel tastes more like Good 'N Plenty candy than onion.ᅡᅠ And to prove it, my kids would try to get their classmates to taste it with their eyes closed and name the flavor.ᅡᅠ Those who were brave enough to try were amazed.
ᅡᅠ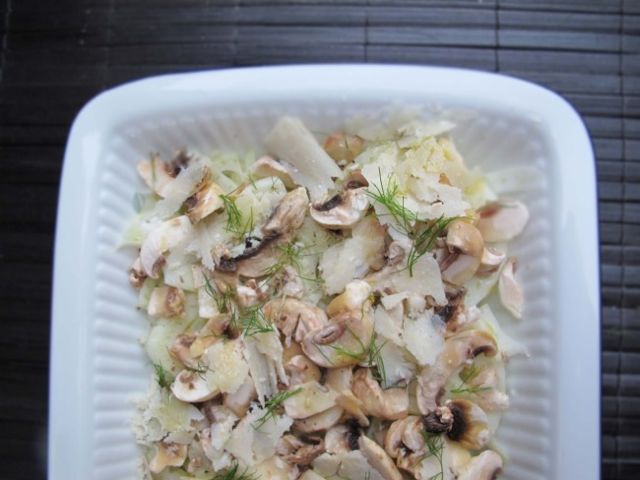 Fennel is great adult food too.ᅡᅠ Crunchy and tasty, slices are a nice addition to a raw vegetable platter.ᅡᅠ Braised (cooked in liquid), fennel goes mild and becomes almost sweet.ᅡᅠ It is marvelous baked in cheese sauce and its beautiful leaves or fronds are wonderful spread over baked or poached fish instead of parsley or dill.ᅡᅠ It is even delicious in soup, cut up with lots of others vegetables and simmered.ᅡᅠ And I love its seeds too; they are among my five favorite spices.
What is fennel? A perennial vegetable, fennel is a member of the carrot (technically the Apiaceae or Umbelliferae) family, along with anise, dill, parsley, caraway and coriander.ᅡᅠᅡᅠ It is native to southern Europe and the Mediterranean area, but is now also grown in the United States and elsewhere.ᅡᅠ The most surprising fact I've learned about fennel is that it is an ingredient of absinthe, an alcoholic drink popular in 19th century France.
This past August, I celebrated Julia Child's 100th birthday with a visit to the grand re-opening of her kitchen, an exhibit at the Smithsonian Museum of American History. Clips of her old TV shows, playing on a screen across from the kitchen, mesmerized me.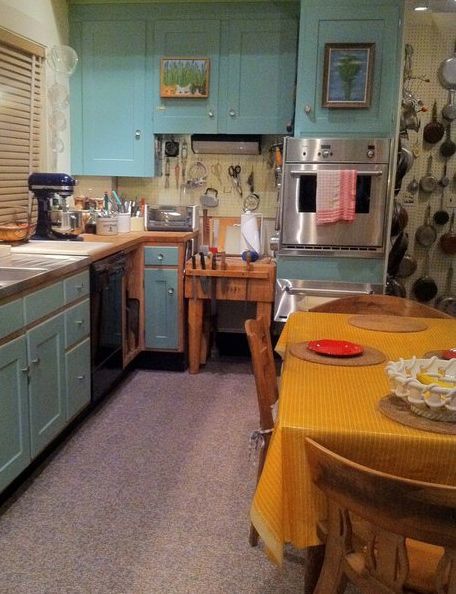 I watched several of the segments and was delighted by one featuring Julia Child and Alice Waters, founder of the famed California restaurant Chez Panisse, making Alice's shaved fennel salad.ᅡᅠ So delighted that I decided to try it, based on what I'd seen in the clip.ᅡᅠ It was simple -- and quick.This dish takes fennel in a direction that I had never tried before. When thinly cut or shaved, raw fennel retains its crunch and the licorice taste, but those qualities become more delicate.ᅡᅠ The Julia Child-Alice Waters clip did not provide any proportions and that's fine -- it's a "dash of this and a sprinkle of that" type recipe.ᅡᅠ I served it with grilled chicken sausages, sautᅢᄅed vegetables and a loaf of good bread. The version below is based on what I saw in that video clip -- the explanations and proportions are my own.
Shaved Fennel Salad

Servings - 3-4 as a side saladᅡᅠᅡᅠ Cost - $6-7
Ingredients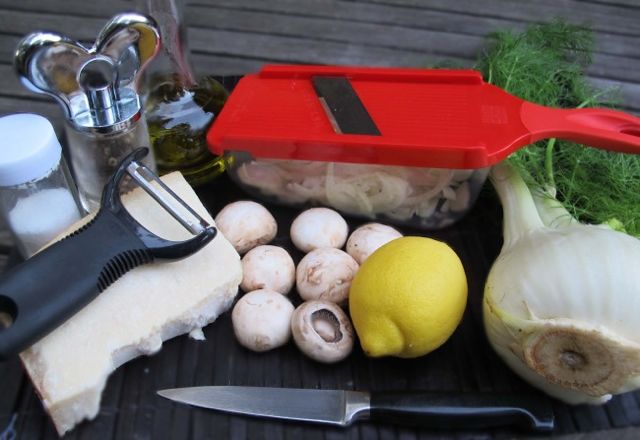 1 bulb of fennel
10 or so clean, fresh white or small Portabella mushroom caps (no stems)
Small amount of good quality Parmesan cheese in a block, preferably Parmigiano-Reggiano
Extra virgin olive oil
Salt (preferably kosher or sea salt) and pepper to taste
Juice of half a freshly squeezed lemon
Equipment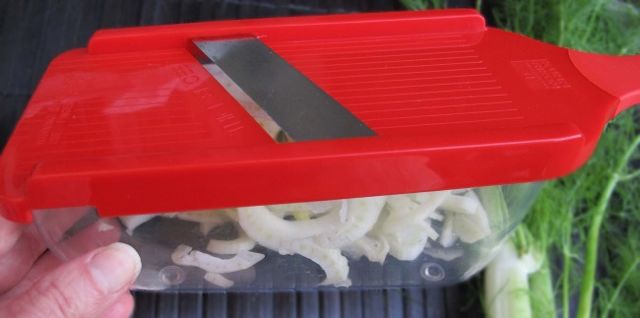 Mandoline (a grater that makes thin slices) or a knife and cutting board
Vegetable peeler
Small knife
Serving dish with low sides
Preparation
For step-by-step directions, including photographs, click here.