I'm no fan of green cupcakes or green beer. And the only green eggs I like are the Dr. Seuss kind -- in a book. I prefer my corned beef without cabbage and though I love the tin that McCann's oatmeal comes in, actually I don't love the cereal. 
All this has no impact on how much I love St Patrick's Day. The holiday is sacred around our house; the Irish half of the family roots are proudly displayed and touted. I'm doing my part -- by baking soda bread from a family recipe. I might even hoist a Harp (or more than one), though not while I'm measuring ingredients for a batch of Sister Mary's Soda Bread.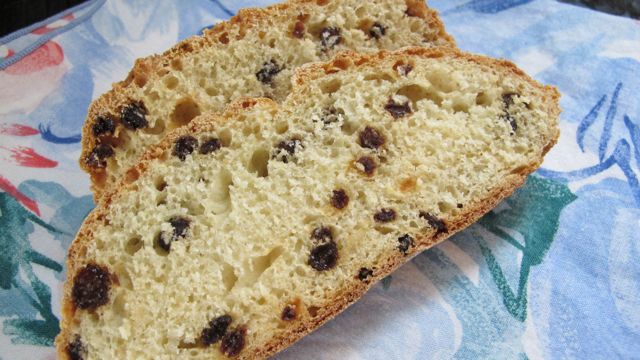 Cousin Pat must have gotten an A in penmanship (as we used to call it), as you can see.  Do they still teach cursive script in elementary school?  They should, so people can pass down special recipes like this one on lovely cards instead of emails.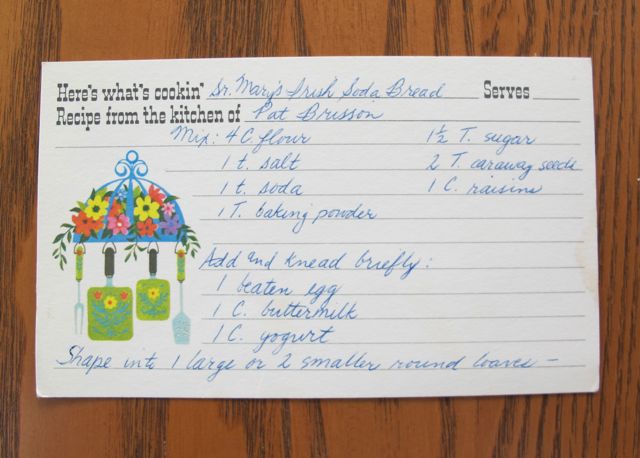 This soda bread is for our daughter, Eleanor, who will be carb loading soon for the Rock 'N Roll Half Marathon on St. Patrick's Day.  As I made the loaves, I couldn't help thinking of my late mother-in-law.  I think she would have gotten a kick out of her Jewish daughter-in-law using her niece's recipe (from a nun) to make soda bread for the next generation.
Sister Mary's Irish Soda Bread (adapted)
Servings - 1 large or 2 smaller loaves  
Cost - $6.54 for 1 large/2 smaller loaves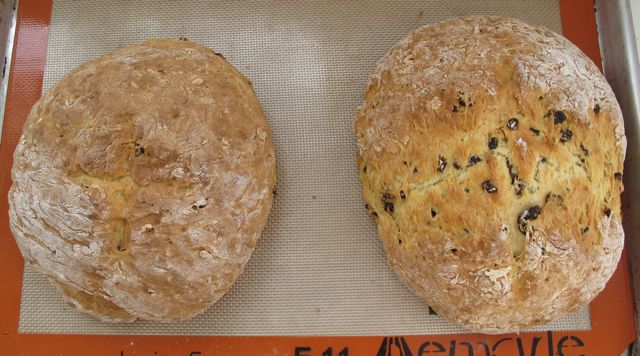 Note: I've upped the sugar from 1 tablespoon to 4, switched from raisins to currants and used "Buttermilk Blend" instead of liquid buttermilk.  Also, my favorite Irish guy doesn't like caraway, so I halved the amount and included it in only 1 of the 2 small loaves made from this recipe.  
My version is below.
Ingredients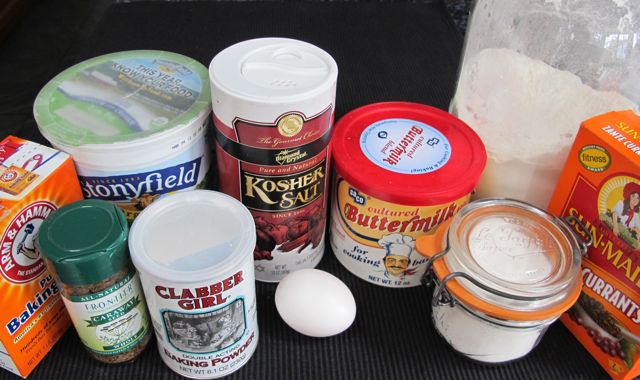 4 cups all purpose flour + extra for hands and board when shaping dough
1 teaspoon salt
1 teaspoon baking soda
1 tablespoon baking powder
¼ cup (4 tablespoons) sugar
2 tablespoon caraway seeds (optional)
1 cup currants
1 egg, beaten
1 cup buttermilk (or 4 tablespoons of Buttermilk Blend + 1 cup water)
1 cup yogurt
Equipment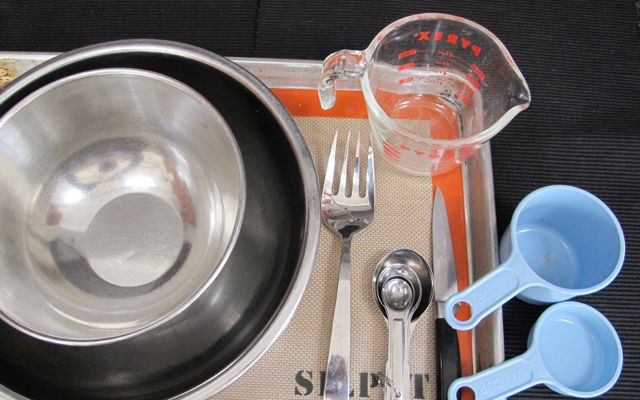 Measuring cup for liquid(s)
Measuring cups for solids
Measuring spoons
Large fork for mixing
Large bowl for dry ingredients
Small bowl for liquid ingredients
Small knife
Cookie sheet with parchment or silicone mat, or greased and floured
For step-by-step directions, including pictures, click here.