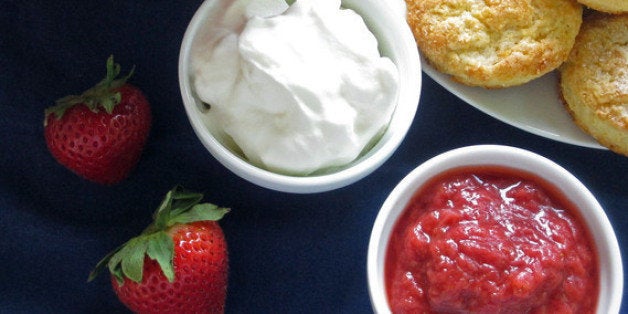 Strawberries are among the great joys of summer. Their fragrance and juice are an almost heavenly pleasure. As the 17th century English writer William Butler said, "Doubtless God could have made a better berry, but doubtless God never did."
Still, I was a latecomer to strawberry shortcake. Of course, that could be on account of my memories of that dessert growing up in the Mad Men era. During a childhood in which grilled cheese sandwiches were made of Kraft American "pasteurized prepared cheese product" on white bread with margarine, "homemade" strawberry shortcake was grocery store pound cake or one made from a mix, topped with horrid whipped stuff that was definitely not heavy cream. The shortcake did have one saving grace -- strawberries, but they were in short supply and buried under an avalanche of processed ingredients.
Luckily for me, times have changed. I learned to bake and can't remember the last time I had whipped whatever-it-is from a can. Now my strawberry shortcake is a berry bonanza. Beginning with a biscuit and topped with real whipped cream, it has strawberries everywhere and no artificial anything.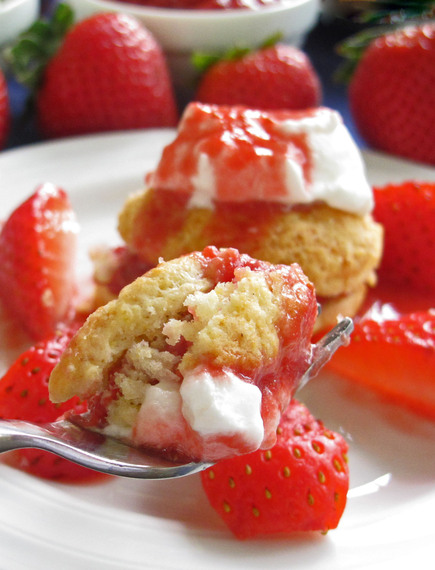 I had been thinking about making shortcake recently, as strawberries come into season. Placed at the front of grocery stores and farmers markets in my neighborhood, they greet me like old friends, beckoning me to buy, dream, and bake.ᅡᅠ
Coincidentally, Driscoll's (the leading U.S. supplier of fresh berries), invited me to a Google hang-out with one of my culinary heroes, noted cookbook author and baker Dorie Greenspan,ᅡᅠto talk about strawberries, shortcake, and baking tips.ᅡᅠThe event was fun and Dorie had loads of tips on baking in general and specifically on how to make her Double-Strawberry and Rose Shortcakes.
When I realized that her entire recipe uses less than 1/2 cup of sugar for 12 servings, I was sold. Although I don't demonize sugar and I'm not going to stop making desserts or blogging about them, I have been looking for ways to cut down on my sugar intake. Her recipe seemed like a good way to enjoy strawberry shortcake without going into sugar shock. My adaptation stays true to that basic principle.
The basic recipe has more steps than most of mine do, but it doesn't require special skill and you can freeze any biscuits you don't use; just defrost them and pop them into the oven at 350 degrees to warm them up before serving.
The secret to this shortcake is the rose water in the strawberry compote, sauce and the whipping cream. (Dorie's version called for pure rose extract, which I couldn't find.) The brand I used is Lebanese and comes from a food store that carries Middle Eastern specialties. If you can find rose water, do use it. Trust me, in the small quantities used in this recipe, it adds a hint of flavor and an exquisite aroma without overpowering the dessert. And despite what you might think if you take a huge whiff when you open the rose water bottle, the dessert most definitely does not smell like perfume.ᅡᅠ
Triple Strawberry Shortcakes
Servings - 12-15 small shortcakesᅡᅠᅡᅠ Cost: $8-9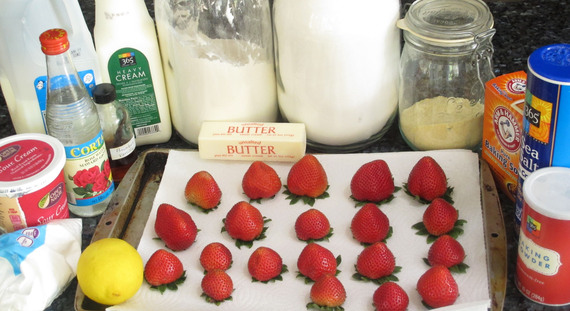 Strawberry Compote and Sauce
3/4 pound (12 ounces/about 3 cups) strawberries, hulled and chopped
1ᅡᄑ tablespoons granulated (white) sugar
1 teaspoon rosewater
Lemon-Buttermilk Biscuits
About 2 1/2 tablespoons granulated sugar
1 lemon (zest and 3/4 tablespoon/2ᅡᄐ teaspoons of juice)
1 1/2 cups all-purpose flour + extra for dusting dough
1/2 cup yellow cornmeal
1 tablespoon baking powder
1/4 teaspoon baking soda
1/2 teaspoon fine sea salt or table salt
3/4 cup/6 ounces whole milk (or 5 1/3 ounces skim mixed with 2/3 ounce of heavy cream, i.e. roughly a 90/10 ratio of skim milk to heavy cream to create whole milk.)
6 tablespoons (3/4 of a stick) of very cold butterᅡᅠ
1 cup very cold heavy cream
2 tablespoons confectioners' sugar sifted
1 teaspoon vanilla extract
1 teaspoon rosewater
1 tablespoon sour cream
Cutting board
Knife
Small pan
Spoon
5 bowls -1 very small, 1 small, 2 medium and 1 large
Zester
Small plate
Measuring cups for liquid and solids
Measuring spoons
Small strainer
Large fork
2" biscuit cutter or round cookie cutter
2 cookie sheets and parchment or silicone mat
Silicone mat for counter (optional)
Ruler (If you're like me and don't trust yourself to eyeball ᅡᄑ".)
Cooling racks
Whisk
Hand-held or stand mixer
Spatula
For step-by-step directions, including photographs, click here.