I'm not a vegetarian, by a long shot. I enjoy poultry and beef too much to give them up completely. But I am trying to consciously cut down on my meat consumption. As a result, I've become more interested in developing main course recipes that use little or no meat.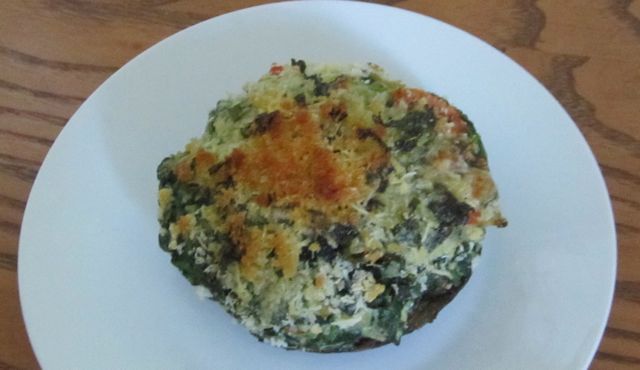 These stuffed mushrooms are vegetarian, but if you're a meat-lover, don't let that fact scare you. They are filling enough to be a main dish and tasty enough that you won't miss the meat. Or, you can always use them as a side dish with a simple chicken cutlet or piece of baked, poached or broiled fish.
The spinach and cheese that form the basis for the stuffing are a great combination and a healthy way to get calcium and vitamins A and C. Also, the tomatoes included in the stuffing help you absorb the iron in the spinach.
This recipe uses a toaster oven, but you can use a regular oven if you prefer. In that event, you'll need a small cookie sheet or pan, preferably with low sides.
Stuffed Portabella mushroom caps - 2 servings. Total cost $9.20 (less than $5 per serving)
Ingredients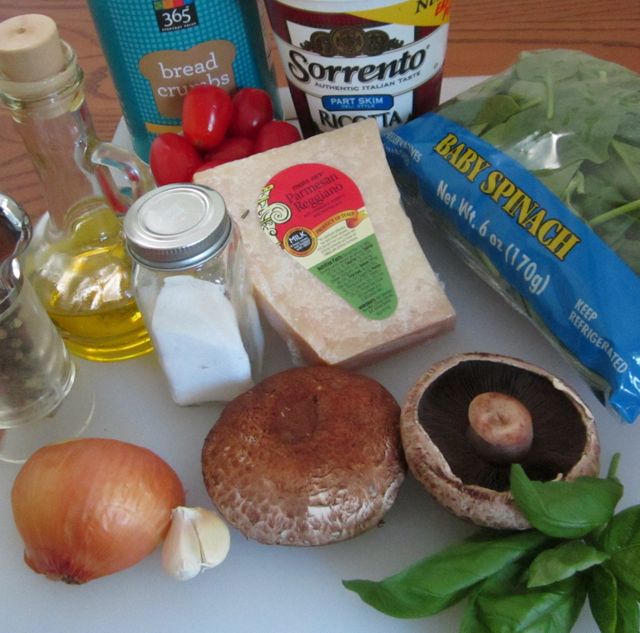 There is no standard size for large portabella mushroom caps - packages usually contain 2 or 3.
2 large portabella mushroom caps (large enough to stuff)
2 cloves garlic
½ medium onion (about ⅓ cup)
3 tablespoons olive oil
6 ounces fresh baby spinach (smaller, more tender leaves than regular)
2 tablespoons ricotta cheese (soft cheese, like cottage cheese but no water or lumps)
½ cup tomatoes, chopped (about 6 cherry tomatoes or 8-10 grape tomatoes)
1-2 tablespoons chopped basil
Salt & pepper to taste
¼ cup bread crumbs (I prefer Panko, Japanese-style bread crumbs)
¼ cup shredded or grated Parmesan cheese
Equipment (besides toaster oven with its own tray)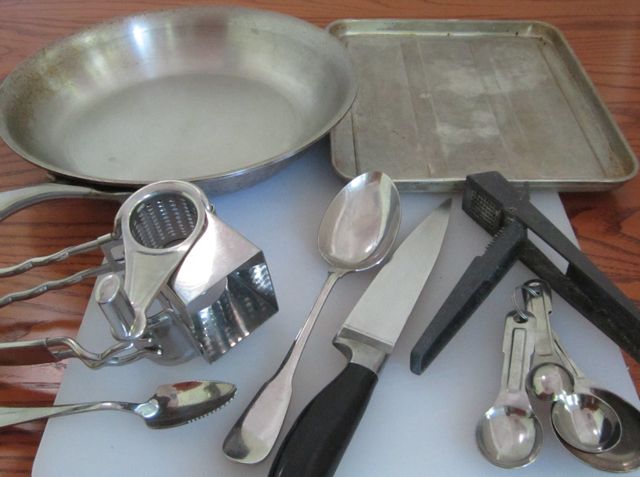 Cutting board
Knife
Small spoon - I used a grapefruit spoon (with a serrated edge, handy for cutting out the inside of the mushroom caps)
Large spoon
Garlic press
Measuring cups
Measuring spoons
Medium-large pan
Cheese grater or shredder
For step-by-step directions, including pictures, click here.