Co-Authored by Audrey Ariss, Director of Research and Design, Center for Open Data Enterprise
Open data - free, publicly available data - is being leveraged by 1500+ organizations in 87 countries across all sectors of the economy.
When you look up the weather forecast, use an app to plan your commute, or check an online ratings site to find a local doctor, you're using open data. Open data - free public data, typically provided by governments, that anyone can use without restrictions - has become an integral part of our daily lives. It provides citizens, businesses, and nonprofits with critical information to make more informed decisions. This data can be found on government data portals or websites such as the United States' Data.gov or the World Bank's data site Data.WorldBank.org.
The use of open data across industries and types of organizations is broad and varied. From an entrepreneur in Ghana providing crop data to rural farmers, to a blogger discovering parking ticket errors in NYC, to a comedy news show using financial data to find inconsistencies in the Miss America scholarship fund, open data is being utilized across all sectors of the economy as a powerful free resource.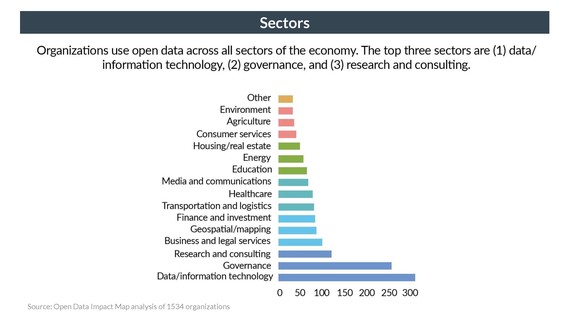 In May 2015, the Center for Open Data Enterprise and the Open Data for Development (OD4D) Network launched the Open Data Impact Map - a public database of organizations using open data - to better understand the growing trends in different countries and sectors. Over the past year, dozens of organizations and researchers across six continents have contributed examples to the Impact Map database, which includes information on the organizations that use open data, the types of data they use, and how they apply it. We are now pleased to release the first report of findings from the Map based on 1534 use cases from 87 countries.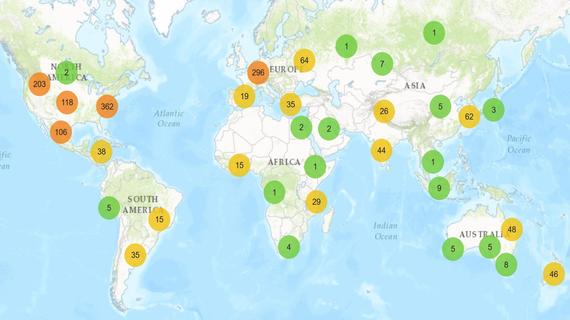 Our analysis of the Impact Map data has found the most common types of data used across sectors and regions are government operations (e.g. budgets, spending, elections, procurement data), geospatial (e.g. GPS data, satellite imagery), and demographic and social (e.g. census data).
Additionally, we found that organizations use open data in four main ways:
We hope that the Impact Map can serve as a tool to help data providers and data users alike find the best uses for this public resource. The Impact Map is growing daily as we add new examples for analysis. We welcome your input, ideas, and insights to help develop the Map and its findings.
Read the full report: http://opendataenterprise.org/map/reports/May2016Report.pdf
Contact the Center for Open Data Enterprise: map@odenterprise.org