I think I understand why Rywka Lipszyc's diary of life in the Lodz ghetto stops cold on April 12, 1944, in the middle of a sentence, even though she had months to go before being deported to Auschwitz.
It was not because she fell ill or ran out of ink. It was because they made her lie.
The 14-year old Polish girl had documented the harrowing experiences of her Jewish community under Nazi control in compellingly honest, soul-baring teenaged prose beginning October 3, 1943. She described the details of their struggle to survive as slave laborers, and her own existential journey as an orphan clinging not only to life but to her humanity. Each entry like a heartbeat: intimate, emotionally naked -- and true.
And on April 12, starving like everyone else, she notes that prisoners in the ghetto born in 1926 or 1927 were being allowed to report for a longer work detail that would yield extra food rations. Rywka was born in 1929.
"I'm glad about this turn of events," she writes, "because I was born in 1927, but actually..."

Then she stops. And never writes another word.
This is my theory: they brought her to her spiritual knees. In her own diary, that repository of identity and personal truth, she had cunningly adjusted the date of her own birth as if to provide evidence of her age when she applied for this job. And here I imagine the realization yawning open in her, like the silence of sudden deafness, of the futility not only of the lie, but of words themselves.
Interpretation is inevitable in regards to this wartime artifact, which is shrouded in mystery. It has taken an extraordinary journey to public light. The diary, which Rywka took with her when deported to the camp, was rescued by a Soviet medic, Zinaida Berezovskaya, who passed it on to her descendents. Her granddaughter Anastasia Shangina-Berezovskaya, an immigrant to San Francisco in 1991, sought the right institutions to authenticate, translate and preserve it.
The book, titled The Diary of Rywka Lipszyc, was reverently published in March 2014 in partnership with Lehrhaus Judaica, by San Francisco's Jewish Family and Children's Services, whose Holocaust Center now guards the original as the greatest treasure of their 12,000 volume library.
Morgan Blum, Director of Education at the JFCS Holocaust Center, speculates that "what might have happened, is that when they were stripped of their possessions at Auschwitz, one of the sonnerkommandos buried the diary for safekeeping."
Prisoners at the camp blew up Crematorium 3 in the final days of the war, which might have brought the diary to the surface to be found amidst the rubble, in remarkably legible condition.
The published diary includes contextualizing essays by scholars Alexandra Zapruder and Fred Rosenbaum, among others. Judy Janec, director of the Holocaust Library at the JFCS until 2013, describes how the effort to identify the author led them to seek information about her fate. They learned that at the end of the war Rywka made the Nazi "death march" to Bergen-Belsen, which, incredibly, she survived. She landed in a Red Cross hospital, where the trace ends. While her cousins were sent to Sweden to recover and then emigrated to Israel, neither a death certificate nor records of Rywka's release from the hospital have yet been found.
But the words of a girl trapped in the greatest catastrophe of her times allow readers to 'touch' the experience like no other narrative. She talks about her friends, family, mentors, chores, her boredom, her dreams, her longings -- even the weather. In March 29, 1944, she wrote,
"The only thing that's encouraging me ... is the hope that it won't always be like this and that I'm still young. Maybe I'll grow up to be somebody and then I'll be able to do something. Because I am Jewish, I believe and hope. I hope that this "hope" has some strong foundation. God, make the time go faster."
"The way she writes is beautiful, devout and full of life and faith," says Blum. "People are pulled in by voices, and Rywka brings a personal level to the facts of the war. Young people studying the Holocaust can imagine walking in her shoes."
Yedida Kanfer, JFCS Coordinator of Education Services, describes this work as "at least as important as the Diary of Anne Frank."
And while the ultimate fate of Lipszyc is unknown, she says, people comment that she lives on in her diary. "In a sense," she opined, "I would almost prefer that it stays that way."
Rywka may or may not have come to the end of words on April 12, 1944. But she made it clear that she wanted her diary to be read by the world, says Blum.
"So she is, in the end, having her deepest wish fulfilled."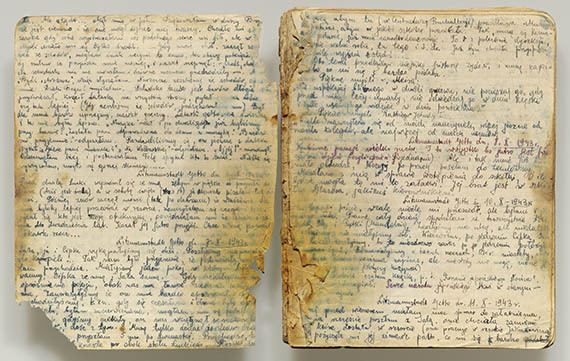 This article was originally published in www.3200Stories.org.