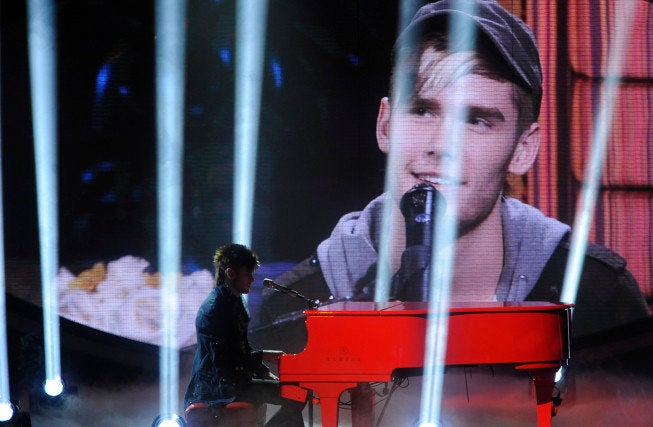 This week's "American Idol" saw the contestants tackling the music of Billy Joel, regardless of the fact that before tonight, the majority of them probably wouldn't have been able to name more than one of the artist's songs without hitting Wikipedia first.
In my mind, the show's stubborn insistence on clinging to theme nights based on "classics" like The Beatles and Elvis -- who, while groundbreaking and inspirational in terms of their impact on music as a whole, generally have no bearing on today's charts -- is what really hobbles "Idol" as a hit-making series. These artists aren't going to be singing songs that were released 20 years before they were born in their own careers, so why force them to run the gamut of styles and arrangements that are the antithesis of their identities as vocalists now? All it seems to do is highlight irrelevant weaknesses that have no impact on the kind of albums they'd release, since no artist strays outside the genres that they're most comfortable with once they get a record deal anyway.
But I digress ... since applying logic to "Idol" is like trying to teach a fish to ride a bicycle, let's get to the Top 10 performers and their sometimes ill-advised attempts to take on the hits of The Piano Man.
DeAndre Brackensick: "Only The Good Die Young"
I'm still of the opinion that DeAndre is aggressively average overall, especially when you take his falsetto out of the game, but this performance was one of his least irritating yet -- mostly because he relied on his modal register without unnecessarily pushing into his falsetto (which often sounds too nasal for my taste). It was an upbeat song, which was a smart choice to open the show, although DeAndre's decision to bounce cheerily across the stage clearly didn't do his voice any favors. His enunciation was poor (worse than Heejun's this week) but he mostly stayed in tune and seemed to be having a good time with the song without thinking too much about it, so that's something?
The judges seemed to be of the same mind, with Randy calling it "okay," and admitting that it didn't wow him. Jennifer praised his "laid-back vibe," and was glad that he managed to also be gravelly and hard when he needed to, while Steven noted, "at first I thought it was a little too happy, but isn't that what the world needs right now?" I thought that was "love, sweet love," but what do I know?
Erika Van Pelt: "New York State of Mind"
Erika has one of the strongest voices in the competition (and a tendency to oversing), which probably means she'll go home this week. Usually, I like her performances, but this week's song, while vocally solid, seemed to have an emotional disconnect. I enjoyed her decision to take the song slowly and allow her notes to breathe, as well as the little kicks and twists she added to the ends of the notes, but she still has the tendency to shout when she could be singing. It was a solid effort, but it didn't give me chills the way I was expecting it to.
Overall, the judges approved of Erika's performance, with Randy reiterating that she's one of the best vocalists in the competition and is capable of singing the phone book, but insisting that she should take more liberties and go all-out on her songs, since she's capable of doing more. Jennifer called it a "beautiful vocal" but also urged her to let loose, while Steven bafflingly told her that she "could've put more character into it" but declared that it still had a lot of personality. Yep.
Joshua Ledet: "She's Got a Way"
Though Joshua has one of the strongest voices in this competition, this week's performance was definitely a dud. He was unfamiliar with the song and seemingly uncomfortable with the arrangement, and though he's vocally assured enough to pull out a competent rendition, there was undoubtedly a missing spark here. I know I should've been moved by the song, since he usually has such an emotive voice, but I didn't feel that connection here any more than I did with Erika.
The judges were also unmoved, although a little too gushy to offer up an entirely honest critique. Jennifer said, "I feel stupid to say anything negative because you sing so crazy, but ... I just needed you to feel more for the lyrics and what you were saying. You were singing it but you weren't singing it." All true. Steven disagreed, telling Joshua that he sang his life into it, while Randy decided that both of his fellow judges were right but in the end, "you made it your own."
Skylar Laine: "Shameless"
Apparently I've become crotchety and intolerant in my old age, because I found Skylar's giddiness over P. Diddy (Diddiness?) completely cringe-inducing, especially when she asked for his autograph. But that's just me, and it has nothing to do with her singing, which was ... serviceable. She had some pitch problems in the beginning of the song, which seemed exacerbated by her decision to walk around the stage, like she lost all of her strength when she tried to multitask. She hit her stride when she reached the chorus, finally allowing her to belt the notes the way she does best, and I do enjoy the raspy gravel in her tone. If Skylar had kept up the intensity from the choruses in the verses, I think it would've been stronger overall, but it wasn't the worst performance of the night.
Randy noted that the key was a little low for her and was pitchy in the front of the song, but called it "pretty good" as it went on. Jennifer praised her for being "fearless" and attacking every song, while Steven liked that she sang the choruses with conviction.
Elise Testone: "Vienna"
I may be a little biased, since Vienna is one of my favorite songs of all time, but if anything, that made my standards a little higher for Elise's performance, and she blew my expectations out of the water. It was a soft, nuanced, pitch-perfect rendition, one that showcased both her bluesy lower register and distinctive raspiness, while still imbuing the song with emotion. Her control was admirable, her phrasing was flawless, and I'll be playing it on iTunes for weeks to come.
Steven called it "fantastic ... brilliant ... beautiful" while Jennifer was pleased that the audience got to see her true personality for the first time. Randy gushed that she had finally had a moment and noted that the run she did at the end was so brilliant, no singer could've done it apart from her. I swear, if she's in the bottom three this week, I'm going to be very mad at America.
Phillip Phillips: "Moving Out"
There's something admirable about Phillip Phillips and his complete disregard for every piece of advice the mentors tried to give him; Jimmy Iovine and P. Diddy told him not to use his guitar -- since they wanted to push him out of his comfort zone -- and he turned up on stage with his guitar. Style instructor Tommy Hilfiger told him not to wear grey, and he turned up on stage wearing grey on grey shirts. At least the guy knows who he is as an artist, and that confidence paid off for him this week. Whether or not you have patience for Phillip is probably largely dependent on whether you like his style of music, because he seems staunchly opposed to trying anything new or sounding any different week-to-week, no matter the genre or theme. Personally, I find his husky, graveled twitching a little too affected, and it's not the sort of music I'd want to hear over the course of a whole album, but since he hasn't been eliminated yet, I'm assuming someone does. His voice had some interesting flavors on this song and I like how raw and husky he can go, but again, there was nothing really new here.
The judges are clearly all in the "Phillip is a musical genius" camp, because Jennifer called it "a perfect rendition of that song," while Steven noted he was glad that Phil wore grey (and then threw him his scarf -- which he then threw into the pit of clawing girls who probably tore each other to shreds for it), and Randy called him "an unbelievably talented artist."
Hollie Cavanagh: "Honesty"
Hollie has become known for tackling powerhouse songs (and her bizarre American-English accent) but unlike Jessica Sanchez, she's not quite polished or natural enough at it yet. She was occasionally pitchy on this song, and seemed to be overthinking it in parts and allowing the song to overwhelm her, which also proved to be Shannon Magrane's downfall -- although Hollie is a much more accomplished vocalist than Shannon. Unusually, she seemed both nasal and pitchy in the early parts of the performance, and considering Tommy Hilfiger wanted her to look young and fresh, her choice of a pantsuit was completely baffling, since it made her look nearer 40 than 20.
"Tonight, you were a bit pitchy," Steven noted, also deciding that she was overthinking the performance. Jennifer cautioned that she needed to know and be sure of every note if she wanted to continue tackling such big songs, and Randy agreed, but praised her singing on the choruses, which were definitely stronger than the verses.
Heejun Han: "My Life"
At this point, I feel like we're watching Heejun conduct some kind of social experiment on America in general and the judges in particular, while the judges are still being vaguely racist and not really getting his humor at all. It's all somewhat awkward, and I'm wondering if Heejun is just over the whole experience and is pretty much doing this all for kicks now, since it's fairly obvious he's not going to win. He turned up to rehearsal in shorts and a shirt with his name on it, and it all got weirder from there, with his ballad morphing into the up-tempo "My Life," which featured him strolling around the stage and getting up-close and personal with the judges, but not doing much actual singing. He was enunciating far better than he ever has, and hit some sweet, longer runs at the end of the song, but overall, it was far from a vocal showcase.
Jennifer said, "I'm glad you brought a little fun to tonight," but noted that he probably didn't hit the notes the way he wanted to because of his running around, while Randy agreed that it was nice to see him having a good time. Steven seemed a little more aware of what Heejun was trying to do (which wasn't to sound good), cannily asking, "are you happy you took the piss out of that song?" He also warned that "the music industry will kick your ass -- you gotta try and take it more serious." I'm not holding my breath for that.
Jessica Sanchez: "Everybody Has a Dream"
There's very little to critique about Jessica -- which the judges noted too -- since she's just so confident (perhaps a little over-confident) and so polished every week. She rarely, if ever, hits a bum note, and the performance was measured, polished and very pretty to listen to. Though she has a tendency to oversing and overdo the vibrato, it was still a masterclass in how to own a song, although I felt like it was missing the conviction of Elise's performance, and didn't have that emotional undercurrent.
"You've gone way past my judging," Steven told her. "When they were giving out vocal chords, you were soooo at the front of the line." Jennifer gushed that "that song was written for you -- that was a defining moment," while Randy called it "flawless" and "perfection."
Colton Dixon: "Piano Man"
Billy Joel's style didn't suit all of the competitors this week, but he certainly fit Colton like a glove. Though I think the alt-rocker has a tendency to pitch too nasal and whiny in his upper register, "Piano Man" suited his rhythm and allowed him to put his own twist on the song. He took his time with it and seemed completely comfortable throughout the performance, and though it's a tricky number to pull off, Colton's arrangement gave it a more modern sound that worked to his advantage, allowing him to hit some impressive runs and showcase his range. I didn't quite get "GOOSIES," I did get chills.
Jennifer, of course, "had goosies from head to toe from the minute you started," and Steven said (somewhat incomprehensibly) "your choice of chords when your voice resolved was stunning." Randy praised, "you gave a very sensitive, touching, moving performance ... just making it so simple made it different."
Who do you think was the best performer on Billy Joel night, and who is in danger of going home? Weigh in below!
"American Idol" airs Wednesdays and Thursdays at 8 p.m. ET on Fox.