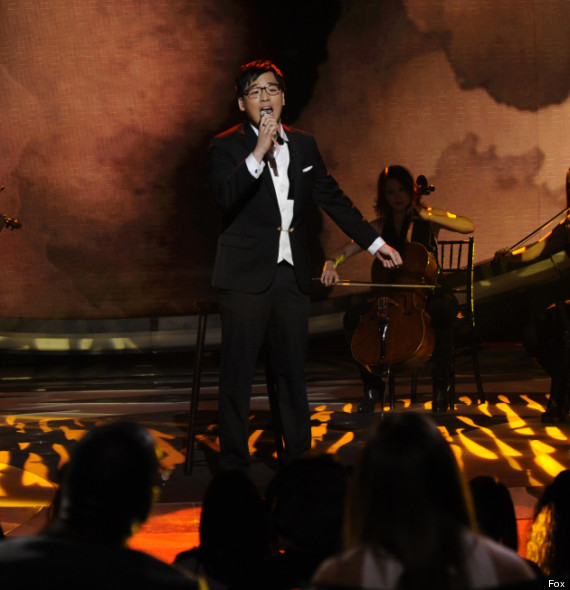 We've had multiple weeks focusing on whittling down our finalists into final finalists and no-really-this-is-actually-the-final-group-performance finalists, but this week's "American Idol" finally felt like the real deal, with the Top 13 tackling the legendary songs of Whitney Houston and Stevie Wonder. Mary J. Blige was on hand to offer vocal coaching with Jimmy Iovine, and though it seemed like a few of the contestants actually left their best performances in the practice room with the mentors, there were still a number of impressive vocals from both the boys and the girls (mainly Jessica Sanchez).
In a weird twist, it was revealed that Thursday's elimination would focus solely on the one male and one female artist with the lowest votes, rather than the three bottom contestants regardless of gender. But in the meantime, here's a rundown of the night's performances.
Joshua Ledet: "I Wish"
I'm not sure why the guys were forced to do Stevie and the girls Whitney; if you have a theme, the least the producers could do would be to allow the contestants to switch things up, especially since Whitney's songs are so much more technically challenging. Because of this, the girls seemed handicapped from the get-go, and yet, still managed to pull out far more spectacular performances, with the exception of Joshua Ledet. We're used to hearing him tackle ballads that showcase his impressive range, but he performed admirably on this up-tempo number. His voice is perfectly suited to Stevie, with an engaging huskiness that allowed him to growl his way through the song before breaking out the high, pure notes that have become one of his strongest assets in the competition. He stayed mostly in time, although there were a few points where he seemed to be overthinking the performance rather than letting loose and enjoying it.
The judges are all in love with Joshua and it showed in their critiques. Randy told him, "You wore it out," and praised the run he demonstrated at the end of the song. Jennifer enthused that she could "feel the music" through what he was singing and Steven simply said that he "nailed it."
Elise Testone: "I'm Your Baby Tonight"
As one of the contest's powerhouse singers, Elise seemed to be perfectly suited to Whitney's style on paper -- but in practice, she fell a little flat. That was partially because Jimmy and Mary changed her song from "The Greatest Love of All" to a number she wasn't familiar with, and that uncertainty showed in her performance. Her timing was off from the start, and the strange, slowed-down arrangement didn't do her any favors, since it sounded like she was rushing against the song and then trying to rein herself back. She has a beautiful, raspy quality to her voice that few others can match, but the song didn't allow her to showcase that to the degree that "Greatest Love" might've.
The judges felt her hesitance too with all three of them acknowledging that it wasn't Elise's best performance. "You have an amazing voice ... I just don't think this was your best," Jennifer observed. "There were timing issues, you felt a little unsure." Steven praised the character in her voice, but agreed that this performance didn't "pop," while Randy noted that it seemed like she was "boxing with the song" instead of going with the melody.
Jermaine Jones: "Knocks Me Off My Feet"
I hope Jermaine sticks around for many weeks to come, mostly because his voice is so unique and so unlike anything currently on the market. Every performance is a breath of fresh air. Whether that will make him completely unsellable in the industry remains to be seen, but it's interesting to see how that deep, soulful voice can interpret a familiar song. Once again, I thought the timing seemed off when he first began -- I'm not sure if it's a problem with the band or the arrangement or just the contestants trying to find their footing -- but he recovered much more quickly than Elise did. While his singing always seems effortless, there's definitely a disconnect between that technically accomplished voice and Jermaine's stage presence, and he wasn't all that exciting to watch from a performance standpoint. He seemed uncomfortable on stage, and certainly didn't surrender to the music with his whole body the way some of his contemporaries do; I hope he's given the chance to gain some confidence and really let loose.
Jennifer also noticed Jermaine's lack of emotion, imploring him to connect with the words and the song and encouraging him to sing to someone -- preferably her -- in order to really imbue it with meaning. Steven said the song fit Jermaine like "an Armani suit," while Randy admitted that he enjoyed the verses but not the chorus, because Jermaine changed up the melody. He gave Jermaine some surprisingly lucid advice, telling him not to try so hard to sound different, since his bass tone does the work for him.
Erika Van Pelt: "I Believe in You and Me"
This performance seemed surprisingly subdued after her rockier numbers in recent weeks, but the controlled pace did allow Erika to showcase more of the impressive runs and trills that she can pull out so effortlessly. Plus, it allowed her to demonstrate some much-needed tenderness and the kind of emotional connection that was missing from Jermaine's performance. She sounded a little pitchy in the first verse, but by the time she hit the chorus, she had clearly found her groove, putting her own mark on the song so as not to sound like cheap Whitney karaoke. Her last note was pure magic.
She gave Jennifer "goosies!" which is pretty much the highest honor that can be bestowed on an "Idol" singer, short of a Grammy. Randy praised her "amazing voice and unbelievable tone," telling her that she could sing anything, and Steven just gushed that she sounded "perfect" and "beautiful."
Colton Dixon: "Lately"
Whether you love or hate Colton's indie-alt-rock routine (which is a little too self-aware for my taste) he certainly has a clear idea of who he wants to be as an artist, and he's already well-packaged as a good looking, young, white dude who can play instruments and make girls swoon. In short, he's basically guaranteed to win. He has a tendency to sing through his nose, which the judges all seem to ignore, but this performance was very Colton. It was distinctive, and proved to be an original take that put a new twist on the Stevie song without massacring it, which is all the "Idol" contestants can really hope for at this stage. He demonstrated great control and ended on a beautiful high note that probably gave Jennifer goosies too, but there were certainly a few pitch issues throughout.
Steven seemed to be even less cognizant than usual, because he once again settled for saying the performance was "beautiful" (just focus on the paycheck, Tyler). Jennifer agreed it was great, but Randy thankfully pointed out that "technically ... it wasn't picture perfect; there were some notes that were flat." He added that Colton seemed to be weaker when he sang soft and low. But apparently, the "last eight bars" were flawless.
Shannon Magrane: "I Have Nothing"
If anyone was stand-out bad this week, it was poor statuesque Shannon, who pretty much missed all her marks on the iconic song. She actually seemed to perform quite well for Jimmy and Mary in rehearsal, but only after Mary cautioned her to stop running for the big note and concentrate on the entire song instead. She pretty much ignored that advice, because the performance was pitchy throughout and her nerves had clearly gotten the best of her, causing her to bail out of almost every high note she attempted. She threw in a few pretty runs, and when she was in her comfort zone, it was a serviceable performance, but her trepidation was noticeable.
"I think the thinking got the best of you on that one," Jennifer told her, reinforcing Mary's advice not to just rush or let the song overwhelm her, just to tell the story in future. "You kind of crashed and burned on the turnaround," Steven agreed. Randy admitted: "I could feel everything you'd go for, you didn't quite hit it. It wasn't great tonight."
Deandre Brackensick: "Master Blaster"
I'm not familiar with this Stevie song, which might've worked in Deandre's favor. I feel like the show is pushing very hard for him to win, knowing that he's attractive and already makes the girls crazy (but he isn't white, so his winning would still break their troubling white boy streak). This was by far his best performance, which was energetic and cheerful, and the crowd seemed very engaged by him. His timing seemed solid, although his enunciation left much to be desired. And even though he's pretty, I don't think he has the personality to really make him a star.
Steven dug the way he owned the stage, while Jennifer said he has "rhythm," "soul" and he knows "how to perform." Randy agreed, saying he and Jennifer didn't want it to end.
Skylar Laine: "Where Do Broken Hearts Go"
Another contestant who sounded much sweeter in rehearsal, Skylar nonetheless pulled off another powerhouse performance this week. The slower tempo allowed her to take her time and really showcase her vocal control in a way we haven't seen from her in a while; she let the notes blossom, demonstrating a purity and sweetness that fit well with her signature country twang. She grew a little shaky in the chorus, but the clarity in her last note gave me chills.
"You gave us our biggest moment of the night -- that was amazing," Jennifer said of her high note. She did point out, however, that Skylar's front part of the song sounded "nasally." Steven disagreed, saying the front part was perfect, and at the end, she "nailed it." Randy declared that even though she was a country girl, she could sing any song. And "that was hot, yo, what."
Heejun Han: "All in Love is Fair"
I still feel like Heejun is mostly in the competition because he amuses people at this point -- his understandable problems with enunciation probably mean that he's not going to be a bankable recording artist without considerable vocal training. But you can't deny how compelling that gorgeous tone in his voice is. He never rushes through the songs, always taking his time and allowing the notes to stretch out with a trembling vibrato. This week was a solid effort, if not entirely spectacular.
The judges were practically ecstatic after his performance, with Jennifer simply saying, "I love you ... I love you," Steven dubbing it "fantastic," and Randy admitting that while "it wasn't perfect ... it was really good."
Hollie Cavanagh: "All the Man that I Need"
After last week's incredible rendition of "Reflection," Hollie had a lot to live up to this week. But even though it wasn't quite as unexpected, I feel like this performance was far more technically accomplished, and consistently strong from beginning to end. Her confidence certainly gave me goosies, as did her ability to belt on the big notes and hold back in the softer moments. It still wasn't perfect, but she has a natural vibrato and seems to resist the urge to oversing, unlike some of the other contestants. Once again, it was probably the stand-out of the night until Jessica came along.
"Dude, you nailed it," Randy gushed, impressed with her bravery in tackling such big songs. Jennifer started to say "you're the one," presumably to beat -- predicting that they might have a two-girl finale for the first time since Season 3 (I'm sadly not holding my breath). Steven praised her for "nailing it every time" with her recent performances.
Jeremy Rosado: "Ribbon in the Sky"
Certainly the wildcard pick I disagreed with most, I hate that the judges seem to insist on heaping Jeremy with praise simply because he's "sensitive" and "vulnerable" and "has a big heart." If "Idol" was a personality show instead of a talent contest, his presence might be more forgivable, but to me, he generally sounds timid, whiny and forgettable -- and moreso with this song than any of those he's sung previously. Being perennially on the verge of tears does not justify an extended stay in a singing competition. You could certainly sense his nervousness throughout this performance, which swerved too close to nasal for my liking.
"Beautiful voice," Steven said meaninglessly, while Jennifer said she loved hearing his interpretations of songs. If by "interpretations" she means "how bland you can make them," then sure. Randy, who has apparently elected himself the half-hearted voice of reason this week, told him that it wasn't his best performance, and that the song "needed more swag" to make it believable.
Jessica Sanchez: "I Will Always Love You"
Only one voice in this competition could possibly have done Whitney's most iconic song justice, and despite how overplayed it is, Jessica really did nail it. It's not really comparable to Whitney's version or Jennifer Hudson's recent Grammy tribute, but it was nuanced, confident and composed, with a number of beautiful runs and achingly pure high notes. She always tends to oversing and overdo the vibrato where it's not necessary -- and Jimmy and Mary attempted to warn her against that in rehearsal, apparently to no avail -- but it's a small criticism when the performance was so accomplished.
The judges were on their feet and Jennifer and Steven both had tears in their eyes as the audience applauded; Jessica seemed just as surprised that she'd pulled it off as the rest of the audience did. Randy, master of the understatement, called her one of the best performances of the night, the competition and the whole country. Jennifer just gushed how amazing she was and Steven insisted she'd just made 40 million people cry. (I'm not sure who taught him math, but sure.) Jessica is undoubtedly the one to beat in the competition, and if one of the whiny boys beats her, there really is no justice in the world.
Phillip Phillips: "Superstition"
Jessica is always a tough act to follow, but I don't think this particular song was really an accurate indicator of Phillip's talent anyway. He gave it an interesting rock twist, jamming with his guitar on stage, but he seemed to get drowned out by the backing music in numerous places, which didn't do him any favors. He seemed to growl and shout more than he sang, but I do appreciate that he, like Colton, is staying true to his style and his instincts as an artist, and I agree with the judges that the competition needs him to stick around to add that original flavor.
"You drive your own car in your own lane and I love it," Randy babbled, apparently trying to update the "marches to the beat of his own drum" idiom? Steven noted that he's a very interesting character, and Jennifer praised him for taking the song and making it his own.
Who was your favorite performance of the night, and which singers do you think are most in danger of elimination? Share your predictions below!
"American Idol" airs Wednesdays and Thursdays at 8 p.m. EST on Fox.