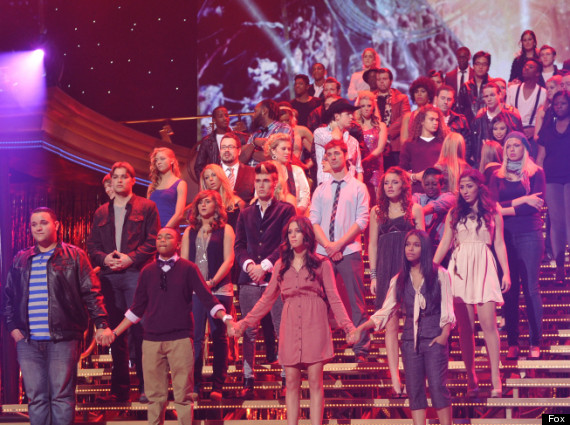 Another week, another wholly unnecessary, post-audition audition episode of "American Idol," because the judges are apparently unqualified to accurately measure talent until they've heard a contestant sing at least eight times in four different venues. Everything that was revealed in this episode could've been covered in a five minute montage, but the producers have a two-hour timeslot and they're determined to make you sit through every monotonous minute, gosh darn it!
Since I am not nearly as sadistic as the creators of "American Idol," all you really need to know is included in the handy list of survivors and lucky escapees below. I suggest you save your DVR space and just drop in for the last five minutes of the Feb. 23 episode, when the show will roll out its annual "Ridiculous Dancing Montage" that will remind you of the Top 24 in one manageable, filler-free chunk.
The first 14 contestants to make it to the live rounds were:
Jen Hirsch -- The winery worker we first met in Galveston, who was one of many to wow the crowd with a bluesy rendition of "Georgia on My Mind" in Hollywood.
Creighton Fraker -- Jen's fellow group member, the "starving artist" from New York. His quirky tone won't be everyone's cup of tea, but he's certainly been a standout of the audition rounds.
Joshua Ledet -- A soulful crooner who was basically a non-entity during the initial auditions, but quickly differentiated himself from the masses during Hollywood Week.
Haley Johnson -- This peppy blonde is one of many with a strong voice, but not really enough personality to separate her from the crowd this season. Great belter, though.
Elise Testone -- She nailed "It's A Man's World" for her final performance, and her husky tone and sweet runs should help her progress to the Top 12.
Reed Grimm -- Though he's not a member of the Fantastic Four, he's certainly pulled off several super performances; especially his a cappella-turned-drum performance of "Georgia."
Erika Van Pelt -- One of the strongest female voices in the competition, with a tone eerily reminiscent of Pink, the mobile DJ was an easy yes -- though the judges did say that she didn't do as well as they'd hoped throughout Hollywood and Vegas.
Chelsea Sorrell -- The first of several indistinguishable country crooners; from what I recall, Chelsea was a solid enough singer, but likely to be canon fodder in the live rounds since she hasn't been all that memorable thus far.
Baylie Brown -- Another country girl, with the added cachet of having had far more screen-time than Chelsea, due to the fact that she first auditioned back in Season 6, which is apparently super impressive. She mangled Rascal Flatts' "Here Comes Goodbye" in her final audition, but in spite of that, the judges gave her a pass.
Heejun Han -- Best known for his deadpan zingers and rivalry with Richie "The Cowboy" Law (who was thankfully sent home), long-suffering Heejun has always been one of J.Lo's favorites and acquitted himself beautifully in his final song. His hilarious response to Ryan Seacrest's "What are you sweating?" ("Mostly water") was possibly the high point of the episode. Yes, it was one of those nights.
Jessica Sanchez -- I don't remember this sweet 16-year-old at all, but her final performance of "The Prayer" was beautifully controlled and had a sweet, natural purity that literally gave me chills. She wants to succeed so that she can support her family since they're broke from supporting her musical ambitions. No pressure.
Phillip Phillips -- This season's Casey Abrams, which is only a good thing if you liked last season's Casey Abrams. He's graveled and seems to have a great grasp of who he wants to be as an artist, but I predict he'll be even more divisive than Creighton.

Colton Dixon -- The reluctant brother who hijacked his sister's audition after the judges bullied him into performing. He's still far too affected for me, but he's unique and confident. Plus, he's white, male and can play and instrument, so he'll probably win. He tried to make up for stealing his sister's thunder by dedicating his final song to her, but things got awkward again when she told him to ask the judges to put her through next year. Yeah, that sibling rivalry isn't going away any time soon.
Brielle Von Hugel -- Teen diva with a suffocating stage mom. She performed a mid-tempo version of "Killing Me Softly" for her final audition, which was interesting. I think she thinks she's better than she actually is, not sure she'll make the Top 12.
And, in an attempt to fabricate drama from a completely pedestrian episode, the show ended on a "cliffhanger" with proud daddy Adam Brock left in limbo until the next episode -- though I can't fathom him being sent home, especially after his rousing performance of "Georgia" in Hollywood.
We mostly lost a few faceless nobodies who hadn't been given any exposure during the audition rounds, and I didn't even catch their names, but there were a couple of surprises. The consistently fantastic Lauren Gray was eliminated, despite her commercial-skewing, Kelly Clarkson-meets-Adele sound. She had great range and a lot of personality, so I wouldn't be surprised if she was brought back as a wildcard (or are we not doing that this year?) but it's somewhat baffling that she was let go in the first place. And despite the catchy name, Neco Starr was also sent home, which made more sense since his last performance sounded nasal and whiny.
On Feb. 23, the 10 remaining members of the Top 24 will be revealed, and thankfully, next week, we can finally get on with the actual singing competition. Were you surprised by any of the judges' decisions?
"American Idol" airs Wednesdays and Thursdays at 8 p.m. EST on Fox. Next week, "Idol" will also air on Tuesday (2/28) at 8 p.m. as the semifinalist boys perform.