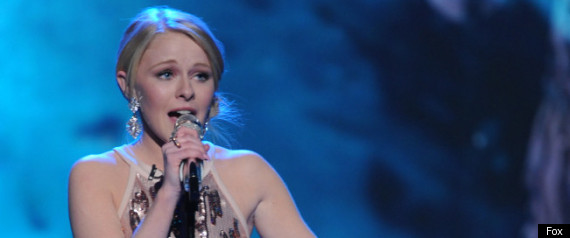 After two nights of diverse performances from the boys and the girls (in terms of both style and quality), "American Idol" has finally revealed its Top 13 finalists, comprised of five guys, five ladies and three wildcard picks, one from each judge.
Did your favorites make the cut, or did America show them the door? After 33 million votes cast over the two nights, we've got the full, undiluted list below -- all juice, no pulp.
The Boys:
Phillip Phillips -- Jimmy Iovine, chairman of Interscope Records, admitted that he would "sign him on the spot."
Joshua Ledet -- "This Joshua is the real deal," Jimmy enthused. "I'm really looking forward to working with him."
Heejun Han -- Apparently, Jimmy doesn't get Heejun's comedy, but he made it through to the top 10 nonetheless: "This guy completely confuses me ... sort of a good voice -- this isn't 'American Comedian,' it's "American Idol.'"
Colton Dixon -- After a cruel fake-out from Ryan, Colton made the Top 10. Jimmy called him "really talented, probably one of the most talented kids on the show ... He's got to take it slow, pace himself, and he could really win this thing."
Jermaine Jones -- Thank God it was Jermaine and not terrible, pitchy Eben. Jimmy showed real confidence in Jermaine, noting, "what a beautiful voice, I could listen to a whole album of that voice. I'm rooting for him."
The Girls:
Jessica Sanchez -- Jimmy said she has "talent from A-Z, I'd sign her on the spot tonight. If anyone's in pole position, it's Jessica."
Hollie Cavanagh -- After her powerhouse performance of "Reflection," Jimmy said, "Little girl, big voice; give her the right material and she could do some real damage in this game."
Shannon Magrane -- Jimmy praised the statuesque 16-year-old for her "really good voice [and] great poise."
Skylar Laine -- After rocking out, country-style, with "Stay With Me," Jimmy said of Skylar, "she blends soul with country, has a lot of stage presence -- I would've voted for her."
Elise Testone -- Her standout take on Adele's "One and Only" hit all the right notes for Jimmy: "She has a lot of character -- I'd like to see her singing some of her own stuff. She has to hold on to that voice."
The Wildcards:
Erika Van Pelt -- One of Jimmy's favorites, she nevertheless had to sing for survival, pulling out all the stops with a raw, raspy rendition of "Edge of Glory." Jimmy said: "I like this girl, she has music in her blood. She has great restraint, something this show needs more of, not less ... She can go all the way."
Jeremy Rosado -- Openly weeping in relief, one of Jennifer Lopez's favorites secured his place with his take on Carrie Underwood's "I Know You Won't." I thought it was kind of nasal and seemed a little too cabaret, but it obviously struck a chord with the judges.
Deandre Brackensick -- With a pretty falsetto and a prettier face (although not much in the way of personality), Deandre took the final spot thanks to his warbling rendition of "Georgia on My Mind."
The three other contenders who were chosen to be wildcards but didn't make the cut were Brielle Von Hugel, who massacred Adele's "Someone Like You" by oversinging; Jen Hirsch, who pulled out all the stops with "Oh! Darling"; and Reed Grimm, who pretty much wasted his opportunity by loading his performance of "Use Me" with far too much scatting and wailing, distracting from the pure, high notes and graveled huskiness he's capable of nailing.
Next week, the guys will perform the music of Stevie Wonder, while the girls will tackle the songs of Whitney Houston, all of them mentored by Mary J. Blige. Are you pleased with the Top 13? I approved right up until the wildcards, since I would've much preferred to see Hallie Day and Jen Hirsch progress over Jeremy and Deandre, who, let's face it, haven't really got a chance of winning the competition. Weigh in with your reactions below!
'American Idol' airs Wednesdays and Thursdays at 8 p.m. EST on Fox.