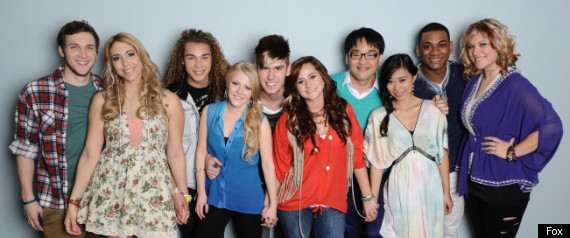 After a hit-and-miss night of Billy Joel performances, "American Idol" said goodbye to another contestant Thursday night. The hour was pumped up by a somnambulant performance from Lana Del Rey and a bluesy return for "Idol" alum Haley Reinhart, as well as the prerequisite (cringe-worthy) Ford music video and a rendition of "Happy Birthday" in Steven Tyler's honor. But enough of the fluff -- let's get to the latest elimination.
The next contestant to leave the competition is ...
Erika Van Pelt
Joining her in the bottom three were Heejun Han and DeAndre Brackensick. But once again, despite Heejun's horrendous performance the night before, the voting public chose to eliminate a female vocalist over a male. There's no real logic to it, aside from the fact that Erika's Save Me rendition of "I Believe In You and Me" was too low for her and decidedly pitchy, so the judges declined to use their save on her.
Jimmy Iovine was likely beside himself over the decision, having noted that after last night's performance of "New York State of Mind," Erika deserved to be "at the top of the batch," while noting that Heejun "came out and disrespected the whole process" with his showboating on "My Life." Still, if "Idol" was truly anything more than a popularity contest, it probably wouldn't have lasted this long, would it?
Do you think that Erika deserved to go home, or did the voters (and judges) make a mistake in refusing to keep her?
"American Idol" airs Wednesdays and Thursdays at 8 p.m. ET on Fox.