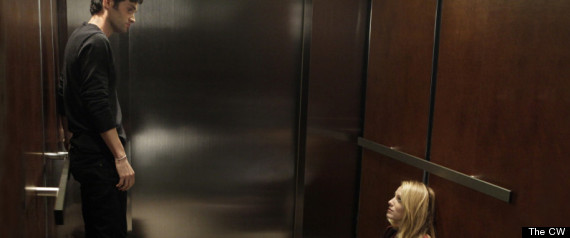 Note: Do not read on if you have not seen Season 6, Episode 6 of The CW's "Gossip Girl," titled "Where The Vile Things Are."
The episode titles for this season of "Gossip Girl" truly are the gifts that keep on giving, because this week's installment certainly answered the lingering question of where the vile things are: all over our screens.
"Vile" was also the perfect catch-up for any viewer who has suffered a blunt force head trauma over the past six years and forgotten everything that's happened up to this point (lucky you). Not only were all of the characters talking like robots with no semblance of inflection or personality, they were all doing their best to remind us about things that occurred as recently as last week -- as well as all their previous hook-ups and break-ups -- because everyone's obviously starting to get a little bit confused.
Blair and her mother spent the entire episode pointing out that Blair has a DARK SIDE and a LIGHT SIDE, like GRACE JONES and GRACE KELLY (they're opposites because one of them is black and one is white and they dress differently, but they're both called Grace. See?) and that she has spent the last five seasons being torn between these two extremes like a well-dressed chew toy between two possessive poodles. Oh, so that's the reason for her baffling characterization. Thanks for the enlightenment, "Gossip Girl."
When Blair wasn't arguing with her mother about her sexual preferences (yes, that really happened), she was inexplicably stalking Dan to a chocolate shop to yell at him for ruining her career, then threatening to fly in Vanessa (oh yes, we remember her) to do ... something unspecified to him that would make him rue the day he ever wrote disparaging articles about Blair in Vanity Fair. Take that, Humphrey! Dan, in another fit of stellar scriptwriting, pointed out that Blair was bullying him over an article claiming that she was a bully, and sauntered off with his chest hair blowing in the wind, leaving Blair and the audience blinking in confusion and wondering where the last three minutes (or five years) of our lives went.
Nate, meanwhile, needed to remind Serena that "you're really vulnerable right now after Steven broke up with you," (a direct quote) because no matter what her sex tape-derived emotions might've been telling her to the contrary, Dan was no longer the "high school kid you fell in love with" and that she needed to resist her feelings for him. In case you were unaware, this is how normal human beings have conversations with friends they last spoke to yesterday. In between doling out unsolicited dating advice, Nate was helping Chuck to track down some incriminating evidence that would help them incarcerate Bart once and for all -- evidence which happened to be noticeably taped to the back of a priceless work of art but went unnoticed right up until Ivy and Rufus bought said painting in an impromptu auction to spite Lily.
Alas, your eyes did not deceive you; there was a whole boring subplot involving money and paintings and things taped to the back of them that took up a good third of the episode, and it involved Ivy, Lily and Rufus -- three of the most boring characters ever to grace our abused screens. All you need to know is that Ivy currently has the evidence, Chuck, Bart and Lily want the evidence, Ivy is still making super obvious phone calls to some mystery partner because she doesn't actually love Rufus at all, and I just slipped into a coma.
Other questionable life choices this week involved Serena and Dan making gooey eyes at each other all episode long, flirting over coffee and billiards and broken elevators, and yes, making out with each other before the end of the hour. Never mind that they'd spent all of "Vile" reminiscing about how awful they were to each other in the past, laughing fondly over all the terrible things they'd said and done ... Revisiting such merry memories is a favorite pastime on the Upper East Side, in between Vespa rides and reheating your own sloppy seconds, just FYI. Then Eleanor ignored Blair's avowed bipolar tendencies and agreed to give her one more chance to run Waldorf Designs after Blair decided to embrace her Grace Jones side and unleash her inner bitch. She devised a line based on her Constance school uniform that would, in theory, make all the other bratty teenage wannabe Queen B types want to emulate her all over again. Never mind that she's shown dubious fashion sense and tried to alienate every single business contact she's made this season, it's still a very wise plan to entrust a multimillion dollar corporation into her oh-so responsible hands. What could possibly go wrong?
For an episode that didn't feature any of Sage and her particular brand of Pinocchio acting, "Vile" seemed spectacularly inept -- and not just because all the characters were talking with the depth and wit of that terribly-written chick from "Fifty Shades of Grey" (everything I know, I learned from this). We know that Blair's characterization has been uneven at best this year, but between her childish tantrum at Dan, her awkward capitulation to her mother and the petulant blackmailing of Nelly Yuki, it's rare to see a character who has been so thoroughly cannibalized just to suit the unimaginative whims of one episode's incomprehensible plotting. If I were Leighton Meester, I'd be stuffing pins into wax effigies of the entire writing staff by this point, but I'm guessing she's just mentally counting her paychecks and going to her happy place every time she's in front of a camera.
And don't even get me started on the fact that everyone apparently got dressed in the dark or lost a battle with an electrical socket while doing their hair this week.
Just keep telling yourself, guys, "only four more episodes to go."
"Gossip Girl" airs Mondays at 9 p.m. ET on The CW.
What did you think of "Where The Vile Things Are?" Weigh in below!