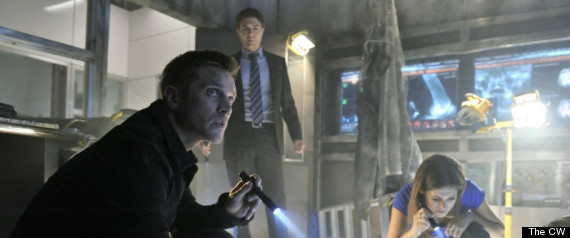 Note: Do not read on if you have not seen Season 3, Episode 5 of The CW's "Nikita," titled "The Sword's Edge."
Even after a two-week break and a shift into a new (old) timeslot, "Nikita" didn't miss a beat with this week's stellar installment, proving that the creative team hasn't lost the magic formula that made Season 2 (and the first few episodes of Season 3) so epic. It's hard to believe we're only on Episode 5 when so much has happened since the premiere, and "The Sword's Edge" seemed like a particularly meaty episode.
Most importantly, Ryan finally came clean with the team about the President's threat towards Division, admitting that one wrong move (or public embarrassment) would result in total annihilation. It's a pity that Fletch felt compelled to hide the truth from them (and thus damage their trust in him) in the first place, but it was a conversation that the gang sorely needed to have, and I'm thrilled that the show didn't drag out that secret unnecessarily. "Nikita" has never been afraid to go full-throttle with its plotlines, which is one of the things I love most about the series.
As much as I miss Ryan and Nikita's earlier dynamic (and I do find myself longing for that simple sweetness quite often this season, admittedly), it's also surprisingly satisfying to see the pair go toe-to-toe, and Maggie Q did a great job conveying our heroine's frustration and fury over being left in the dark. And yet, Nikita never holds a grudge, and as disappointed as she clearly was with Ryan's reticence, she was graceful in moving beyond it and trying to find a solution to keep the lights on at Division.
That change of heart was thanks, in large part, to Owen, and his own graceful handling of the Division agent (Carl) who spent most of the episode trying to assassinate him. That confrontation could so easily have ended in a fight and another disposable Division agent dead, but the impact was much more powerful with both Owen and Carl demonstrating that they could move beyond violence and rage. Devon Sawa got a lot of great moments in this episode (and it's great to see him being utilized in such an organic way) but that scene was probably my favorite moment of the episode. Kudos to the actor who played Carl (Damon Runyan) too, because that role could've been completely throwaway in the hands of a lesser actor, but I found his performance raw and surprisingly compelling. I hope we'll see him pop up again.
I'm also guessing that all of the fans of the (heretofore unexplored) Owen and Alex pairing were left satisfied by this episode. There was an undeniable spark of chemistry between the two, despite Alex's initial mistrust, and the two even bonded over their tattoos! I'm sad to say this -- since I've grown to love Sean and his dynamic with Alex -- but the show certainly seems to have found a better way to integrate Owen into the team this season than Sean, who works when it comes to ass kicking but definitely isn't tied in with the mythology in any meaningful way this year.
I hope the writers will find uses for both guys, but right now, Sean's a little bit too much of a floater, so he needs to be anchored down. (That's not a criticism of this week's episode, though, since Sean didn't appear and there was too much else going on to really feel his absence.)
"The Sword's Edge" also provided us with a healthy batch of memorable Mikita moments, my two favorites being Nikita's reluctance to let Michael leave for two weeks, since they haven't been apart since they got engaged, and Michael's warning to Ryan to leave Nikita be, "for your own safety."
The Markov story had enough twists to keep me engaged, and his failsafe plan to release an incriminating video damning Division if he failed to check in with his security team was a smart addition. Things were tied up a little too easily with the video's eventual deletion and Markov's staged death, but with only 42 minutes to conclude a mission, it seems churlish to nitpick those points when we're probably all far more invested in the character dynamics than the spy specifics. I will say, Division really needs to fix its surveillance cameras in a more timely manner, so that Alex wouldn't need to go rushing down to the medical lab to find out who was accessing forbidden files in the event of a breach. They're never going to catch the mole being that lazy!
It's good that the writers found a way to take the Cryptograph out of commission, though, lest that handy macguffin make things too easy for Birkhoff. Our tech guru did manage to show off a couple of new toys this week; I loved Nikita's use of a stealthy glider to sneak onto the roof, and that polymer mask is another ingenious idea.
Between Albert Kim's smart, measured plotting and Kenneth Fink's cinematic direction (I especially liked the bead of sweat we saw trickle down Carl's face during Alex's interrogation) "The Sword's Edge" was yet another compelling hour, and next week's episode looks set to up the ante even further.
"Nikita" airs Fridays at 8 p.m. ET on The CW.
What did you think of "The Sword's Edge"? Did you like Alex and Owen's partnership? Do you think Ryan is still fit to lead Division? Weigh in below!
PHOTO GALLERY
Nikita Season 3