Note: Do not read on if you have not seen Season 2, Episode 3 of ABC's "Once Upon a Time," titled "Lady of the Lake."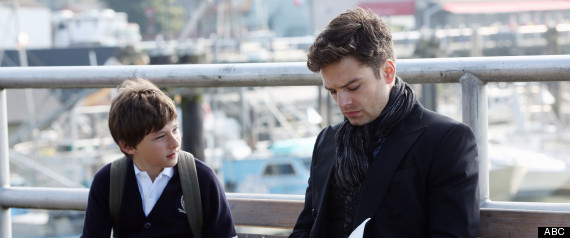 This week's "Once Upon a Time" was fairly ambitious in scope, attempting to tell stories in Fairytale Land both past and present, as well as chronicling Henry and Charming's Project Scorpion in Storybrooke. Toss in a sweet subplot involving Jefferson and his attempt to reconnect with his daughter, and it made for an action-packed hour.
Because of that, the plot felt a little rushed and overly convenient in places -- I didn't quite feel the sadness I was supposed to feel at the passing of Charming's mother, for example -- but other moments packed an emotional wallop.
I've appreciated the writers' efforts to slowly chart Emma's evolution from an emotionally-stunted loner to the vital heart of a living, breathing family, and that growth has been measured and believable thus far. She and Snow have understandably experienced some growing pains during their transition from friends to relatives, and we got a real sense of Emma's frustration about being relegated from Mary-Margaret's equal to Snow's responsibility in "Lady of the Lake."
Since the two are around equal in age, it's obvious that Emma's still struggling with the surreality of being mothered by her former friend, but their shared moment in her nursery was utterly heartbreaking. Watching Emma grow into someone who is prepared to allow herself to be loved is a beautiful arc for the show, and both Ginnifer Goodwin and Jennifer Morrison nailed that emotional moment.
Ever since early Season 1, Goodwin has demonstrated herself to be the show's MVP, and it's wonderful to watch her convey such depths of emotion with just a simple look, such as her tearful glance around Emma's ruined nursery, the embodiment of all her shattered dreams for their family. It's heartbreaking to think about how much time Snow, Charming and Emma have lost, because even though they're together now, they missed out on sharing Emma's childhood and all those memorable first moments -- I'll admit I become a blubbering mess every time I think about it for too long.
Though Emma and Snow's journey to recover the magic wardrobe failed to take them home, it at least brought them closer to Mulan and Aurora -- although only one of them is currently making herself useful. Aurora has somewhat of a thankless task at present, but hopefully by spending time with Snow, she'll learn how to be a kickass princess in her own right.
As we might've guessed from the title (torn straight from Arthurian legend), this episode also introduced us to the noble knight Lancelot, with the writers giving a nod to the character's history by noting that he was raised beside a lake. In the Fairytale Land that was, he made himself useful by performing a quickie wedding for Snow and Charming before Charming's mother expired, and by slipping a little enchanted water in Snow's wedding chalice to undo King George's curse and allow her to have children.
While it was fairly obvious how events were going to transpire with Charming's mom and the single drop of lake water that could only save one of the women, it was a satisfying enough way to illustrate the themes of sacrifice and a parent's unconditional love, which reverberated throughout the episode.
The enduring bonds between Charming and his mother, Emma and Snow, Emma and Henry, and Jefferson and Grace stood in stark contrast to the episode's darker, more controlling parents, George and Cora. Even Regina ended up looking good by comparison, since she dropped everything for the possibility of having lunch with Henry, and allowed Charming to go and retrieve him from the vault rather than storming down there herself to reprimand him. (Really, though, Charming couldn't let them explore the place more before escorting Henry out?)
I hope Cora was bluffing and that Lancelot isn't actually dead, since Sinqua Walls proved to be a compelling and charismatic presence on screen, even in a relatively short appearance.
The episode wrung more than a few tears out of me, first with Emma and Snow's tearful moment in the nursery, and then with Jefferson's long-awaited reunion with Grace. Sebastian Stan is such a joy to watch and Jefferson is such a rich character that I hope we'll be seeing more of him this season, if his role in the "Captain America" sequel doesn't keep him too busy.
For every good parenting decision we see on the show, Cora and George seem determined to provide ample bad ones, and it seems Cora may still have a way to reach Storybrooke without the wardrobe itself, if the magic ash she collected was any indication. Meanwhile, George is on the loose in Storybrooke and was last seen stalking Charming and Henry as they practiced swordfighting, so that can't bode well. I'm mostly just excited to get our first introduction to Captain Hook next week, which looks to bring Rumple and Belle back to the fore.
"Once Upon a Time" airs Sundays at 8 p.m. ET on ABC.
What did you think of "Lady of the Lake"? Weigh in below!