I have a skeleton in my closet: everything is a mess. The closet -- not me.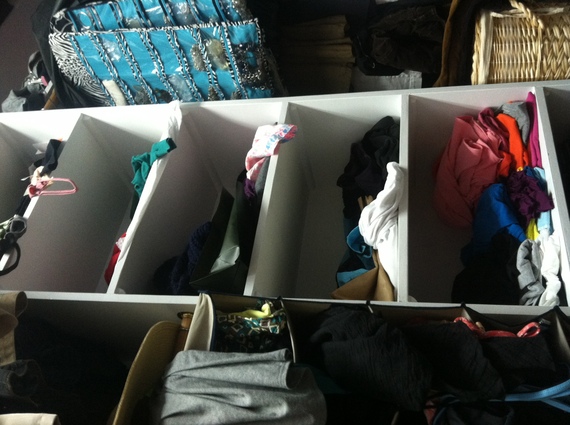 Even though my home is clean, organized and functional and I am addicted to home-organizing television shows, clutter-conquering advice books (Peter Walsh) and magazine cover stories (ones that promise to make piles of stuff disappear in 5 minutes or less), I worry I'm on the road to Hoarder-dom. Scarves, shoes and socks mingle on the same shelves as purses and pants. Ever since I moved from NYC to the suburbs and my closet real estate increased, I've kept the door tightly closed worried that others would get the wrong idea about me as a parent or wife or boss if he or she glimpsed inside the unorganized space.
And even though I know where everything is and I take special pride in my vast accessories collection, I'm always striving for a perfectly organized, colored-coded, California-Closeted space. I'm hung up (unlike my skirts!) on why my twins' closets are the "AFTER" shot but my closet is a perpetual "BEFORE"...
So when Clinical Psychologist, author of You Are What You Wear and Closetologist, Dr. Jennifer Baumgartner agreed to give me some closet-therapy, I threw open the door and welcomed her inside. She promised to take a look at my closet and tell me what the space really says about me both in and out of the closet. Having worked in fashion and trained as a psychologist, Dr B. created the Psychology of Dress concept to explore the relationship between our internal and external lives and blogs about it over at Psychology Today.

Our appointment started with a photo shoot -- I spent a Friday afternoon in my closet paparazzi style -- taking photos that revealed my dirty little secret (along with a dirty pile of laundry).
I was more than a little anxious to hear Dr. B's diagnosis. Would she call in the cast of Hoarders? Medicate me? Laugh? Or worst-case scenario: show up at my door with big black trash-bags?
Ultimately, my motivation to get rid of years of cumulative closet-anxiety gave me the courage to get my diagnosis.
To my utter surprise and delight, Dr. B didn't suggest a closet makeover, trash bags or an intervention. Instead her Psychology of Dress / Closet Diagnosis both liberated and relieved me. I'm what she calls a *Free-Styler: I express myself (with ease) based on the environment and mood, and I do what I love both inside and outside of the closet. (*All true.)
Best of all: my deep dark closet secret revealed an insight I didn't expect -- my system is my personal life-style paradigm: it may not look it, but I am super-organized (in my closet and in all other aspects of my life) but in my own way. "Free-stylers" like me tend to be more fluid and go with the flow both in and out of the closet. So true and spot-on (Shout not needed!) -- I really trust my instincts and go with my gut as an entrepreneur, special needs parent and individual.
I'm so thankful to finally come out of my closet, leave the door wide open, and invite folks inside! Now the only thing hanging over my head is my handbag collection!