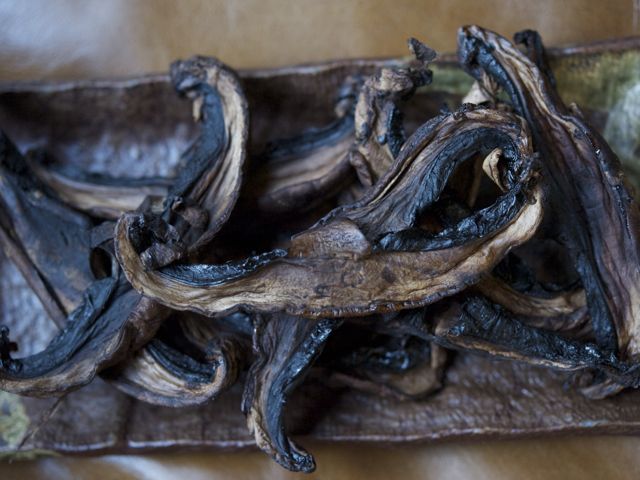 I'm about to pick a major bone, so if you're not in the mood -- and I'm not talking about steak for dinner -- turn away now. There's been a media pig pile on Paula Deen this week and I've got to get in my licks. It's not just that she has consistently used her Food TV show to promote unhealthy (and foul) food and been a longtime paid shill for industrial-meat giant Smithfield (whose inexcusably raised products may fall in line with studies that claim meat raises the risk of diabetes), but now she's a spokesperson for Novo Nordisk's diabetes treatment Victoza (the 2010 FDA approval of which came amidst powerful evidence of a link to thyroid cancer), after disclosing that she was diagnosed with the disease three years ago. I find this all so deeply disturbing. And then I read a review by Nigella Lawson on the Piglet, Food52's wonderful Tournament of Cookbooks, where she writes about being suspicious of Heidi Swanson's excellent Super Natural Every Day "because I always fear a certain smuggery, and words like 'my natural kitchen' set off the alarm bells." How have we come to this place where natural and healthy are deemed "smug," and doughnut burgers for breakfast are the order of the day? As I used to say in junior high, gag me with a fork. I think you know where I stand on all this. Bacon and kale are both welcome in my kitchen...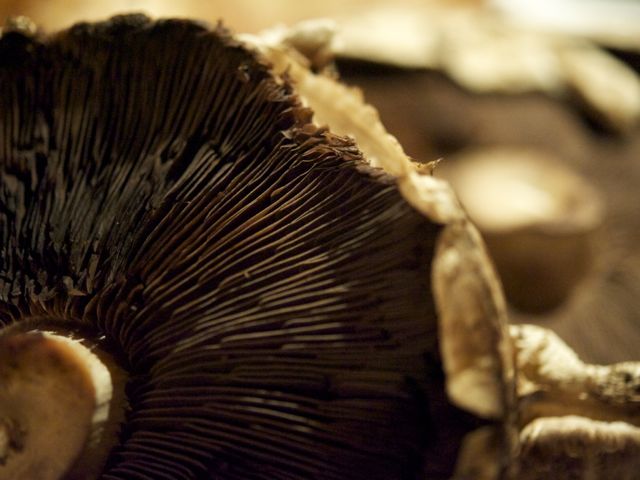 ...as is my fabulous new dehydrator, a Christmas gift from my husband, who knew I had been coveting one for some time. (How's that for a segue?) It's yet another way of preserving food, something I am increasingly interested in as the apocalypse approaches. Kidding. Sort of. People have been using this method since antiquity; think jerky, figs, tomatoes, chiles, salt cod, etc. It essentially removes the water content, which inhibits the growth of microorganisms and hinders decay. Dehydrated foods retain a great deal of their nutritional value so, at the risk of sounding smug, I'll point out that they are quite healthy. I'm looking forward to using my new machine to make fruit leathers, vegetable chips, even yogurt.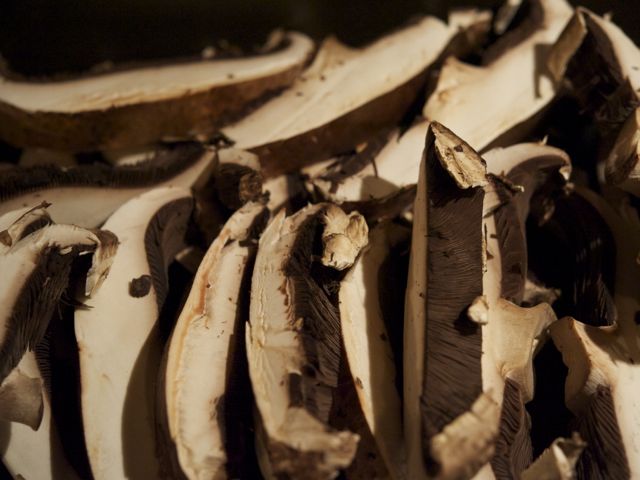 I read about a portobello mushroom jerky made by this company, but apparently it's been discontinued. Not to be deterred, I decided to attempt my own. Mushrooms are inherently meaty and also rather sponge-like, so they absorb flavors well. Don't have a dehydrator? You can try making this using the lowest setting on your oven. Maybe prop the door open with a wooden spoon. Just watch carefully so the mushrooms don't crisp up. You want the texture to be dense and leathery, with the right tooth-tugging chew. The slices will shrink as they dry, so cut them about three-quarters of an inch thick. Incidentally (she said smugly), mushrooms are low in fat, relatively high in protein, and full of vitamins and minerals. If you'd like to find out more about the wonderful world of fungi, listen to this fascinating interview on Fresh Air with botanist Nicholas Money.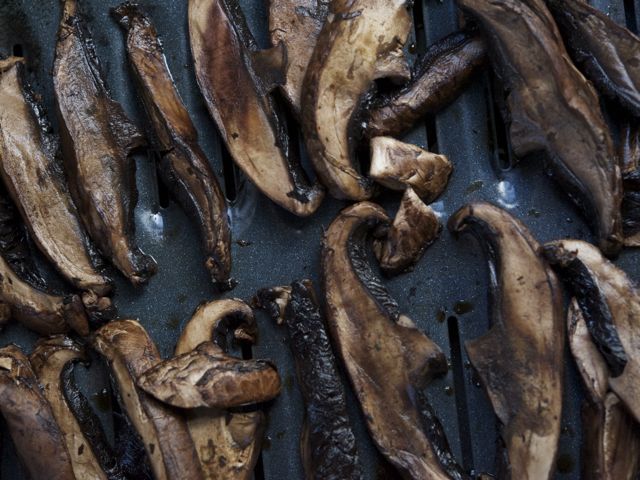 I made a tangy marinade with maple syrup, tamari and pimentón, but you can play around with any flavors you like. Assertive ones work best, as does a combination of sweet-tart-salty-spicy. I love Dickson's beef jerky made with an addictive mix of star anise and red chile, and may try recreating that next time. When using meat, lean is best as fat turns rancid more quickly (see: Paula Deen). It turns out that this is a really satisfying snack! The texture is addictive. Too bad it's so fucking healthy. How uncool. Paula and Nigella would not approve. I guess in a pinch you can always stick it between a couple of doughnuts and call it breakfast.
The recipe for my portobello mushroom jerky is here.
*Photos by gluttonforlife