By Laura Simpson and Rodney Collins, Regional Director EMEA, McCann Truth Central
We've all done it. Stood before a bathroom cabinet not our own and peeked inside. Sure, we've done it to borrow a couple dabs of toothpaste. But there's no point in denying that we've also done it on a few occasions simply to gather a few clues about the identity of the cabinet's owner. From hair removal creams to hemorrhoid treatments, our cabinets are the home to revealing products that provide a glimpse into our personal lives and priorities. It's not surprising that half of us (48 percent) say we would be offended if someone had a peek inside without our knowledge.*
Our photographic essay, "Around the World in 80 Cabinets," allows you to peek inside bathroom cabinets around the world, from Australia to Uzbekistan. Each of the cabinets are distinct in their contents, but you'll also notice that there are shared principles for the bathroom cabinet the world over, whether that cabinet is curated on a shelf, a ledge, a drawer, a rack, a cupboard, a box or in a suitcase. We catalogued cabinets in all these variations and asked the owners a series of questions. Herein, we offer a teaser of what we found.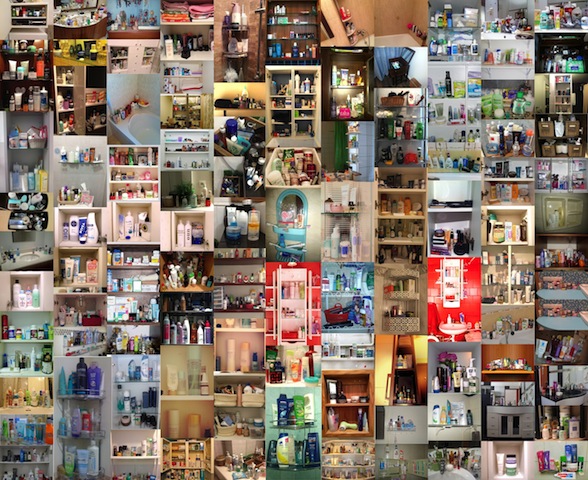 Predictably, all the bathroom cabinets we captured were stocked with at least one dental tool, one type of soap, and one type of moisturizing ointment. With these three items to hand, we are able to perform the fundamental rituals of personal care: scrub, cleanse, anoint. We all know what it is like to go without performing these actions for an extended length of time and many people talked about the products in their cabinets as the things they "couldn't live without." Indeed, one woman described her cabinet as something which helps her "feel human again."
Despite near universality, bathroom cabinets are also largely personal spaces that are created by individuals who alone know the logic of their layout. If you awoke and found one of these cabinets in place of your own, chances are you'd manage to accomplish the essentials of your care regime, but you'll also need to be a bit flexible in just about every other regard. What does a stock of three tubs of Nivea Soft suggest? What factors might precipitate the choice of a Hello Kitty storage case? For whom would six different types of facial lotion make sense?
Every cabinet tells a story. For example, in our cabinet from Norway you might notice a little love note written by the cabinet's owner to her boyfriend on the day of a job interview. The note reads "Looking Good!" Or in our cabinet from France, the female owner explained that her cabinet contained an unusual product, a magical elixir created by her young son (a pot where he had mixed together ointments and potions and lotions that he'd found around the house).
Whereas some products have a magical and display-worthy character, there are other products that we are less keen to display. When asked about which products they were most embarrassed about, men pointed to acne-control creams and women pointed to tampons and sanitary towels. But, in all bathroom cabinets photographed, we detect a desire and a belief in positive change, whereby both men and women clearly project their hopes onto a variety of products.
In fact, cabinet owners were often "proud" about their face cream, body cream and hair care products. Here brand visibility is desired and positively regarded. And frequently, behind the brand name stands a product with remarkable provenance, for example, precious oils or a luxurious lotion, or simply a family tradition or an unparalleled formula.
Seeking the human truths that lurk behind the looking glass, or on the edge of the bathtub, leads to a rich treasure trove of insights whether you're a voyeur, marketer or simply a bathroom anthropologist. Pioneering brands, companies and industry professionals in health, wellness and beauty would also do well to notice what the looking glass reflects: we invite you to take a peek.
*This essay is based on findings drawn from two separate global studies by our team at McCann Truth Central: The Truth about Beauty (2012) and The Truth about Wellness (2013). We prepared our visual anthropology of bathroom cabinets for The Truth about Wellness. For details on methodology, respondent base, and executive summaries of the studies please visit: www.truthcentral.mccann.com.
For more by Laura Simpson, click here.
For more on personal health, click here.