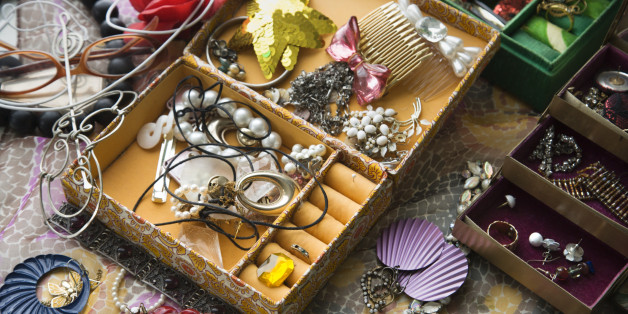 Sometimes when I'm shopping, I admit that I make a purchase I don't need or shouldn't buy because it's something that I will pass on to my daughter. Some of the favorite items I own are not new, but things that my mom or grandmother passed down to me. I have some beautiful scarves that my grandma brought back from Italy decades ago that she has since gifted to me and are irreplaceable. Many of my favorite jewelry pieces have been cherished family heirlooms in this way. I always think how cool it will be when Gigi's a teen or young woman and she has the same items that were once mine. I know firsthand how special it can be, and how special being given such things can be. It doesn't matter if you're a mom or a dad, or have a daughter or son. Receiving something that meant something to a parent, grandparent or other relative is special. So I sometimes make purchases I don't necessarily need because I know I'll be filling a page in my daughter's memory book. Granted, this might be part of some kind of shopping mind game somewhere within myself, but I love the idea of generations of family holding and sharing such items. The idea of her holding dear these pieces, and someday sharing them with her own children, is one of those visions that melts a mom's heart.
Here's a list of things I've received or bought over the years with the thought that Gigi will take them over as part of her fashion or home collection one day, and cherish them as I have. Some are things I think every girl needs. Some are frivolous but fun and girly, and something special for her to grow into. I've also included ideas for dads, and parents with boys.
1. A favorite handbag -- I received a Chanel bag as a gift. I rarely use it so I can keep it in pristine shape for when it is passed on to my daughter. But any favorite handbag your daughter remembers you carrying would be a great choice to save for him or her. It does not have to be designer. For moms with boys, consider a travel piece instead such as a favorite, well-made carry on suitcase, all-purpose bag or if you're a working mom, business card case. Dads with daughters, don't be afraid to buy a special handbag for her that you tuck away for when she's older. She will love the gesture even if you never carried it yourself!
2. Unusual and fun pieces of jewelry -- I collect jewelry and have over the years received and bought quite a few pieces. Gigi loves to look through the drawers of my jewelry armoire and hear stories of where pieces were found. One day it will be fun for her to wear these pieces and remember the tales of their origin. These items do not have to be expensive! Just things that you yourself as a mom wore and loved, or that may have been gifted to you, etc. Dads can pass cuff links and watches on to their son, but don't be surprised that those who have daughters might also take an interest! Mens watches and other items are always en vogue, and your daughter will love to have a piece you loved. Moms with sons, look for a necklace or pendant that is unisex to give to your son. In Italian culture, a gold horn, cross pendants,and many other items are worn by both men and women.
3. Your own special collector favorites -- I have a thing for solid perfume compacts. Certain fragrance designers create some fun compacts occasionally, but these pieces don't come out often. So when I see something, I like to add it to my collection knowing that she will love to have these quirky little compacts on her vanity one day. For other moms, or dads, whatever trinkets, collectors items or what not you enjoy are perfect. I've heard of parents who collect items from various states, others love natural stones, whatever yours might be. Keep it in mind for passing on to your son or daughter later.
4. Fine jewelry -- Every little girl needs pearls for her wedding day, or some other beautiful piece of fine jewelry -- it does not matter how large or small. My daughter was blessed to get a set that my mom created for her -- I admit I am jealous of how beautiful they are and want to pass along a heirloom family trend in reverse on this item! For boys or girls, any nice, quality or special jewelry piece, watch, etc. that you may have or received can be very special. I know moms who have passed their jewelry items on to their sons' wives when they do not have a daughter, and certainly, pieces can always be gifted with the intent that they be made into a special, custom item if too masculine or feminine for your child.
5. A beautiful vase -- I know it sounds odd, but I have some vases that I use over and over when I get flowers. Gigi has good memories of seeing them displayed and relates them to memories of holidays, birthdays or other special occasions that call for flowers . She will long cherish using one of these great vases when she gets flowers of her own. If vases aren't your thing, or you don't think your child would want to receive something of this nature, any decor item that has a value to you can be a keepsake he or she will someday recall family memories from in their own home.
6. A special blanket -- I'm kind of obsessed with blankets and have amassed a collection over the years. So when Gigi was a baby, you can imagine this has only grown. When she grew, I couldn't part with her blankets, so I took the bundle to a local quilting store and had them made into a large quilt with all of the pieces. It has a special patch with a little poem about the blankets. She absolutely adores this item, and so do I. It will be a blanket she keeps for a lifetime, hands down to her own child some day, or even inspires her to use her baby's blankets for a quilt as well. Even something that wasn't intended for your child during his or her infancy can be special and cherished later on.
7. Fun, quirky fashion pieces -- Occasionally I see an item in the store that I think is gorgeous, but truly impractical. This is when my 'hmm, Gigl will love this' theory comes into play. I have some unusual hats, a shawl of faux fur trimmed in animal print, some great metallic scarves, sparkling beaded headpieces and other items. Yep, they sound unnecessary, but what fun she will have when she pulls these out in 15 years and adds them to an outfit! They'll be filled with fun stories of when her mom bought them, the various stage of life she was in at the time and how she loves it. For a son, sports items, cool t-shirts, interesting baseball and other hats can be just as beloved.
8. A gorgeous, awesome frame -- Look for something special and unique, and if you have to, splurge a little on it. Pick it out together with your son or daughter and put a favorite picture of the two of you together in it. When Gigi's a big girl, that frame and picture we picked together will be priceless, and this goes for your kids, too! You can tuck a little handwritten note behind the picture and backing with the date, special words, or a message so that when he or she has it years later they will always be fond of it.
BEFORE YOU GO
PHOTO GALLERY
Stylish Celebrity Moms and Daughters