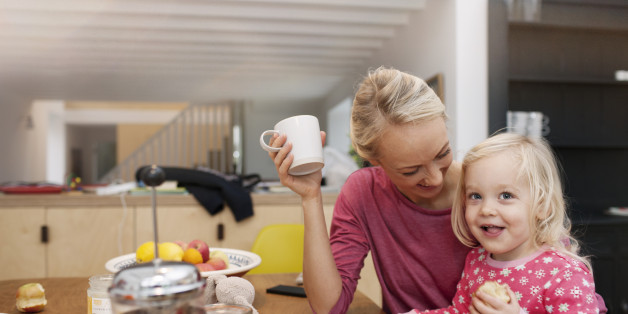 Since I stopped working outside the home, I am fortunate enough to spend every day with my daughter. Our days consist of a lot of running around. Gigi is 10 and like a lot of kids, aside from school and study time she's also involved in a range of activities -- competitive ice skating, softball, horseback riding and being an alter server at church. Even if your kid isn't in a lot of activities, there's still the juggle of friend time, play time, sleepovers, school work and all the duties that go into parenting. I'm not complaining but after all the running around, we BOTH need some good mother-daughter time. Even though we are together through all of the daily grind, I still feel it's important to carve out some special time where we can just hang out or do something fun together.
I try to plan a mother-daughter day or night a few times a month. We don't even need to leave the house; there are plenty of activities you can do together without a lot of effort. You would be surprised at how different our chats are during on these "dates." I feel like my daughter and I talk more openly than was I able to as a child to begin with, but when you're having a specific mother-daughter time together it just creates an atmosphere, a kind of "girl bond" that allows an open flow unlike your daily conversation. I've heard all of the 4th grade stories and happenings you can imagine. I am thankful to have the ability to keep an eye and pulse on what's going on in my daughter's world. She dishes about fashion, boys, friend drama, shares her future hopes and what bothers her. It's like a mini girl's night in that I can then also share perspective, ideas or advice with her on how she can navigate the things that matter to her. I'm happy to have this open forum with her, and that she feels comfortable enough to tell me stuff so when the issues at school switch from who was mean at recess to things of a more serious nature as she grows, we will already have this established open door of communication. She won't have to be afraid to ask or tell me things. It's scary to be a parent of any child in this day and age, we have so many challenges to overcome to raise our kids in a safe, healthy environment. Giving Gigi special time with me, as well the time she spends with her dad, has also been another way to make her feel secure in a world where kids can often be exposed to some pretty scary stuff. While we may not always side with what she wants or wants to do, our making extra time for her seems to help her know that her parents are here for her.
Gigi and I love a lot of the same things so planning mom/Gigi time together is pretty easy. If we stay in, we hop on the couch together, share a big bowl of popcorn and watch our favorite TV shows, do art or make a craft. We also do things like mani/pedis and dinner, dinner and a movie or shopping and lunch. When there are special shows or happenings in town, like ice shows or Cirque Du Soleil, I try to be sure to get tickets to go together. We've also gone to concerts together, and I'm happy that as she gets older her musical tastes are getting closer to mine. We had a great time seeing Pink last year and Gigi's counting the days to Katy Perry this August. But again, I can't stress enough that it's not about the event so much as the time together. She is just as happy when we stay home and snuggle, watch TV or just hang out together. That's the thing about this special time together. She looks forward to it all week. Even though we are still together daily, it's the anticipation of our special night or day that makes it so exciting for her.
I also try to get her as involved as possible in the planning by letting her choose what we do, such as whether we'll do art or a movie or where we'll have dinner. She loves participating and being part of this aspect and while she tends to pick the same things repeatedly, she feels like a big shot making some of our decisions. This also helps her to develop planning, decision-making and other skills in many ways. It's a fun way to make her learn that she has to often make choices and decisions, including those that might involve or affect other people. Spending girl time teachers your daughter how to forge relationships with women, which will be important as she enters high school, college and later on, the workforce. It's an important way for kids to learn how to socialize and how to act in different social settings. They feel more grown up when it's just the two of you, a different experience than when they're with friends of having time with dad. It's just two girlfriends out having a great time.
As I mentioned previously, mother-daughter time can also be an easy way to make sure that all is right in their world no matter what age they are. Of course there are times when I am exhausted, or the last thing I want to do is spend another hour on the go. In those instances, we make our time together low-key and at home -- just the two of us watching movies or cooking together -- and it works just as well. Or if we are pressed for time, simply taking a walk together or kicking back with her for a half hour once she's gone to bed can also do the trick.
So get out your datebook and plan a little time together, just the two of you. Let them help you plan it. If there's one thing I've learned about raising a child, life moves fast and they're not small long. I hope no matter how old my baby gets she always makes time for our special time together, not just because it's my favorite part of any week, but long after she's grown up I want her to always know mom is here, loves to be with her and is always happy to listen.
check out more fun on http://www.justmeandgi.com