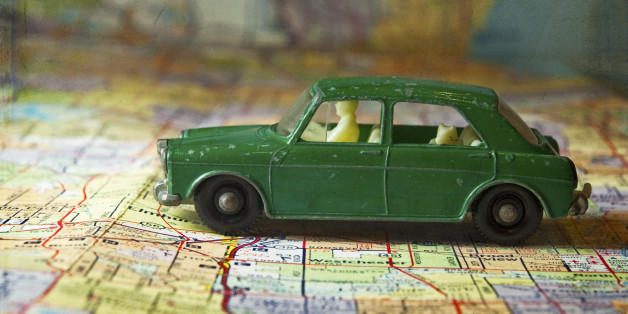 My daughter and I love to travel. We love short road trips, but we also enjoy a long adventure. We like the quickness of flying, but we also enjoy taking our time and driving to our destination. This way, we can enjoy the new things we discover along the way.
We have driven to Florida many times and we actually have favorite stores we stop at along our route. We know that we need to time ourselves to hit the Louisville area during mall hours because it is home not only to Churchill Downs, but to our favorite Von Maur. Down in Atlanta, we have some favorite shops we like to get off the highway and visit and of course we have several must stop locations when hunger strikes. My daughter likes the idea of checking out caves along the way or driving through the mountains in Tennessee.
It's funny how much my daughter has learned about routes and maps through our travels. Taking the extra time to drive on a trip versus flying gives you a lot of talk time. When you travel with your daughter, you forge a new kind of bond. A fun girls' trip can provide hours of yapping that you may not find time for at home in the normal hustle and bustle of your days. She shared a lot of new stories with me on our travels.
We recently traveled to Florida for a funeral. We had not traveled with my mom for awhile. Though I see my mom regularly and talk to her mostly daily, being on a trip with her and spending 24/7 with her was a good reminder that she may be at age that she needs more help and attention. She was definitely not as agile as she once was on our travels, and had a hard time keeping up with us on small walks to and from hotel. I noticed other issues that when we are at home I don;t have the opportunity to see. She had trouble doing things that I don't see her do everyday like shower etc. She couldn't handle the heat of Florida like she once did. Though these things seem sad and make me worry that my mom is getting to that age where she isn't as mobile and sharp as she once was, I'm glad we traveled together to make me aware of her limitations. I will be sure to keep up on her more on things like her diet and how active she is. I noticed she ate very poorly the whole trip. At home, I'm not in her house all day to monitor her meals. Traveling with her for seven days made it clear she isn't making the healthiest choices for her age. As a result of our travels, I now realize that I need to monitor her better and remind her to include more fruits and water into her routine and less donuts. We had some disagreements on the trip when I scolded her about her eating habits and how her activity level had declined since I last traveled with her. She was upset with my delivery but when we returned home she agreed that she needed to make some changes. Now that i saw her routine first hand I can be sure to check up daily and be sure that shes making healthier choices. My daughter got to see the interaction of mom and daughter in reverse.
As parents age, our roles shift and we sometimes need to become the ones doing the parenting to them. Traveling together gave me the opportunity to know things were different and that my mom needs more help that she wont ask for. It also provided us some fun and stories that we will all remember until our next chance to travel together again. It also gave me the important reminder to take the time to enjoy trips with your mom and kids while you can. When moms and daughters travel together the jokes are sillier , the food is yummier and the memories last a lifetime.