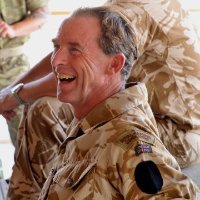 This gentleman could be Jim Hutton or Buster Howes or Sean Brady. Who is he, really?
Let me begin by verbally saluting all of the military personnel that protect our country every day. I sincerely appreciate everything that you do to allow the rest of us living in the United States to sleep soundly at night. There is no greater act of service than to protect those you do not know while leaving your own loved ones behind. I firmly believe that.
This is the reason why the need to write this blog actually disgusts me, especially as I like to think that human beings are generally 'good'. And yet, we all know that there are some of us who are not. What you might fail to realize, however, is just how many of those who fall dramatically short of being good engage in the act of stealing the identities of our brave military personnel every day -- right off of their personal Facebook pages while these brave folks are away at service. The intent is to impersonate the men (and women) in uniform in hopes of wooing lonely hearts so as to eventually get into their wallets. Needless-to-say, there are reasons why Facebook warns against friending those you don't know. However, 'uniforms' can seem safe and enticing to many. I'm here to remind you how unsafe and expensive khaki can be (other than at GAP).
I promise you, generals have more things to do with their time, especially while overseas, than find a love interest back home. So stick to a few golden rules if ever one of these military Romeos comes a knockin':
1. Keep the door shut;
2. If you do open it, keep your lips tight and your wallet shut;
3. 'Google Search' ALL photos of uniformed individuals;
4. Realize that Facebook pages that run short on content, tend to run long on deception;
5. Spelling errors are telltale signs that there is a hacker in your midst;
6. Boise, Idaho, and similar places are top choices for these impersonators to hale from;
7. The Facebook Team is your friend so don't hesitate to report these occurrences;
8. Last but not least - again, I say - "Keep the door shut." It IS the best rule of thumb.
As our U.S. military are putting their lives on the line for us, we should try to help protect them to whatever degree we can too. This applies to identity theft and fraud. Avoid it. Report it. And in that same vain, help them to carry out their mission of protecting the rest of us from harm by increasing the awareness around certain photos or names that have shown themselves to be false. Financial loss can be just as severe, sometimes, as physical pain.
The long and short of it...say NO to Military Romeos on Facebook. The distance thing rarely works anyway. Let someone you can actually touch sweep you off of your feet. It's more realistic, satisfying, and safer!