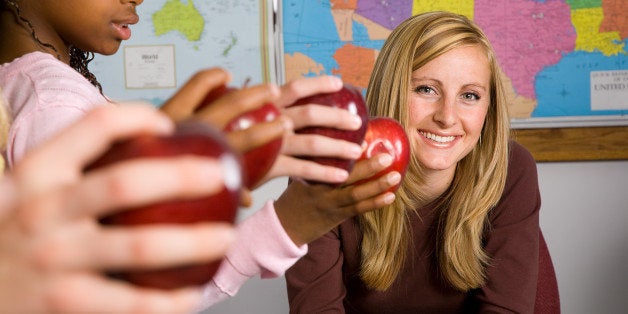 Well, it's that time of year again, folks -- the time of year when parents grapple with what to get their children's teachers in appreciation for their year-long service as educators and babysitters. It's a practice that confounds many as we all look for the perfect gift -- collectively or otherwise -- to express the proper gratitude. And yet, even though the ante keeps climbing due to parents' incessant concern over looking cheap or ungrateful in the eyes of other parents, I've often wondered whether or not our good intentions or competitive spirit are all in vain or, at least, fraught with error. Certainly, buying your child's teacher a gift certificate for a mani-pedi might be something you, yourself, would like given you lived in this woman's shoes, but what is to say this particular teacher likes having her nails done or feet touched? Misguided intentions -- more often than not -- make for hollow victories.
As I have had the great privilege lately of speaking with numerous mom bloggers due to a unique media project I'm collaborating on, I decided to ask one of those mom bloggers -- who also happens to be a teacher -- if us, parents, have had it all wrong when venturing into the realm of teacher gift-giving. And, indeed, my suspicions were correct. We parents have had it wrong and, I believe, the suggestions Kathryn Trainor offers through her blog "Fuggs and Foach" in response to this grand faux pas not only make a lot of sense, but also reap enormous rewards for everyone involved... including the children we both care about.
A must-read, Kathy's post "Rant From A Teacher" will not only make you laugh, but offers great insight into the "do's and don'ts" of end-of-the-year gift giving. The following suggestions comprise her "do's" list -- straight from her blog itself:
Here is the list of items every teacher wants and of often never gets:
A note or small letter about how the teacher made you feel. A note on what their work did for them. (I cannot stress this was the most mentioned, appreciated, and wanted item as I talk to my teacher friends on the playground.)

A gift card. (COFFEE; a school-supply store; Wal-Mart, Target or supermarket)

Something they need or really like that has been identified on a teacher wishlist or classroom need list from the beginning of the year (pens, makers, tape, etc.)
As teachers spend -- from their own pockets -- an average of $500 dollars per teacher per year to pay for school supplies our kids would not enjoy otherwise, I think Kathy's suggestions offer brilliant options to consider. Not only do they simplify the entire process, but they solve a multitude of issues in one fell swoop. Leave it to a teacher to give us all a lesson in proper gift giving... right!
In my opinion, it's time we parents got back to using our heads in the entire matter and move to a smarter outcome, don't you think? Let's buy teachers what they actually want and forever put the burden of "guessing" to rest. No one wins when we guess wrong. And the last thing your child's teacher needs is yet another space waster in the form of a blue piggy bank which has no reason for being except to remind her of how much she really wanted that Walmart gift card.
You are welcome to post additional suggestions or comments below. Similarly, if you are a mom blogger who would like me to know about your blog, post that too.