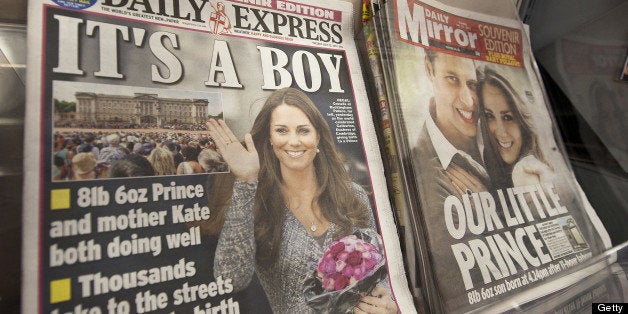 When a baby is born, there are actually two stages to the birthing process. The first delivers the baby. The second delivers the "after birth" -- tangible evidence of all of the hard work the mother's body has performed to ensure the baby reaches its fullest potential prior to being released from its mother's care. It's the "work" underlying the "hope" that every new baby brings to the world... a means of the body doing its job in "parenting" prior to the child's parents doing theirs.
Once that child is born, however, the mother's body dispels of this responsibility rather quickly, placing it squarely in mom and dad's hands to continue the work and carry forth the hope. And it's then that a whole new phase of birthing takes place -- the outcome of which relying heavily upon the choices both parents make in the creation of the environment they provide for the child to grow up in.
This week The Duke and Duchess of Cambridge join millions of parents in the latter phase of parenting, one which will necessitate very active roles in ensuring their child fulfills their personal hopes as well as the hopes of an entire country and world... no small task for certain. I have a feeling, though, that the Duke and Duchess will do just fine in their new roles as parents as neither of them seems to shy away from hard work or responsibility and they certainly have proven themselves to be respectful and loving towards each other and the monarch. In this particular case, hope and children have been given a very strong foundation in which to make history beyond just their obvious destiny.
This is not always the case unfortunately, as many children are born to parents who fail to realize what "parenting" truly means, misconstruing a nourishing environment for one that offers ease and lacks the vital nutrients essential for children and hope to flourish. If any couple had the means of which to fall into this trapping, it would be The Duke and Duchess of Cambridge. And yet, I hardly doubt this will occur.
"Parenting" is hard work folks and it's never ending! You can't avoid it, buy yourself out of it or camouflage what happens if you don't take it seriously. The big picture just won't let you do so and it will punish you gravely if you try... not to mention your children. We've all seen this, whether it be in our own backyards or in the tabloids as many notable names' children make us privy to the failings that celebrity cast down upon their families. Their tales of suicide, alcoholism, drug abuse, violent behavior, and criminal offenses are quite sad and reflective of priorities gone awry.
The word "parent" isn't just a title granted us when "one and one make" three. It requires us to be grownups all the time and at the expense of ourselves if necessary. To accept reality, make the best of every circumstance, grab hold of happiness, find strength when we can barely stand, and cling to our own hope so that our children may learn to cling to theirs. It implores sticking to the plan Mother Nature set forth upon conception so that we may craft the optimum environment for our child to grow. The process is clear and stands as a guiding light in the face of many pertinent choices we will make down the line.
It's not easy, but when done properly, it's worth every painstaking moment. What better way to live a life than to bring hope into the world in the form of a child. I'm sure the Duke and Duchess of Cambridge are saying something very similar to this right about now as their little bundle captivates them prior to captivating the world. There may be many hard days of work to come but as Mother Nature has already proven to them, hard work pays off.
In this case... it brought forth a future king! Congratulations to the Royal Family and all of England!