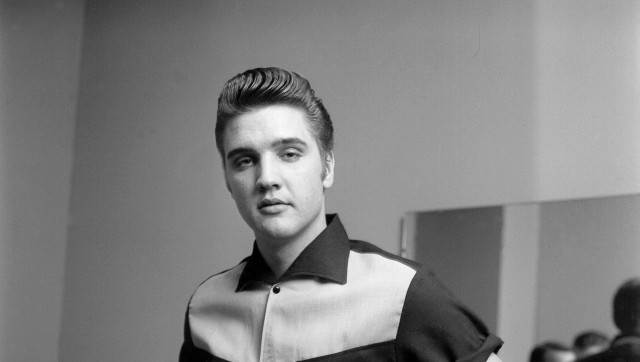 Entertainment memorabilia is a market in which some of the most iconic and valuable pieces are often made from the most modest and inexpensive materials: the "Rosebud" sled from Citizen Kane (painted wood), the Maltese Falcon (lead) or the ruby slippers (silk, leather and sequins), to name a few. Unlike many other markets, which require a certain level of connoisseurship to appreciate the subtle differences that separate a $300 chair from a $3,000 chair, the pop-culture market has an almost intuitive and relatable mass appeal. You don't have to be a collector of pop culture to understand why a costume worn by Bette Davis during her Academy Award-winning performance in Jezebel (Warner Brothers, 1938) is worth more than a costume she wore in the film Connecting Rooms (Hemdale Film, 1970).
The entertainment market can be more volatile than most because it's often driven by the emotional enthusiasm of fans. It can be difficult to predict the changing tastes of the listening and viewing public, and anticipate shifts in popularity within the market. It can take decades for some franchises to gain the momentum required to achieve the coveted "cult" status, while overnight sensations gain sudden market popularity and then fade away into obscurity. Riding the waves of this capricious market can be daunting for first-time collectors.
The market for collecting pop culture at auction is relatively new and has been around for only decades, unlike the auction market for books whose age can be measured in centuries. As with most markets, there are generational shifts and changes, but in the world of pop-culture memorabilia it seems that some entertainers are destined to reign supreme for the foreseeable future: Elvis Presley, The Beatles and Marilyn Monroe among others. Despite the fact that the entertainment memorabilia market is a relative newcomer in the industry, there have already been hundreds of sales featuring thousands of items from pop culture titans. I'm always pleasantly surprised by how many great things are still out there waiting to be discovered in attics and basements.
On my travels with Antiques Roadshow, I met Jeanette from Myrtle Beach, South Carolina. Jeanette had the good fortune to befriend a lesser-known actor by the name of Ralph Roberts. Ralph Roberts may not be a household name, but he worked closely with, and later became a massage therapist and close confidant of, an actress by the name of Marilyn Monroe. During their friendship, it was Mr. Roberts who drove Monroe to gather her belongings from the Connecticut home she once shared with former husband Arthur Miller. This well-documented journey ended with the starlet gifting a pair of trunks full of belongings to Roberts. Among those belongings were a few chandelier crystals strung on a heart-shaped piece of wire that Mr. Roberts one day decided Jeanette should have. Their value to Jeanette is priceless because they remind her of her friend who passed away in 1999. At auction, I would expect the crystals, otherwise worth less than $20, to bring $2,000 to $3,000 because of their association with Monroe. You can see Jeanette's story on Antiques Roadshow on Monday, February 25.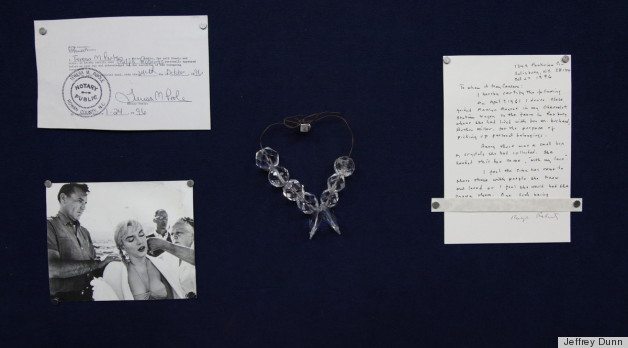 Last summer I also met Bonnie in Rapid City, South Dakota. She had her treasure stowed away in a safety deposit box rather than an attic. Bonnie's husband, Jim, was a Major in the Army, stationed in Munich, Germany in March of 1959. Elvis Presley happened to be stationed in Germany at the same time and, when he needed an extended three-day pass, it was Jim who had the power to grant the king of rock n' roll his leave. As Bonnie tells it, Jim did a bit of bartering with "the King" and agreed to grant the pass if he would sign another pass and a piece of paper for Jim to keep as mementos. Having a verifiable Elvis autograph with a solid provenance and back-story is good, having one on a military document, which firmly supplies a place and date for the signature is great. Better still, Elvis signed the pass using his middle initial "Elvis A. Presley," it is associated with his military service, and it was obtained the same year he met Priscilla Presley, also in Germany. All of these factors combined to elevate this signature above your average autograph to a value of $3,000 to $5,000 at auction. You can see Bonnie's story on Antiques Roadshow on Monday, April 22.
Perhaps the luckiest person I have ever met at Antiques Roadshow is Leslie, who came to the Corpus Christi, Texas event. In the 1960s, Leslie was just like hundreds of thousands of girls: a Beatles fanatic dreaming of meeting the Fab Four. Unlike most other girls, Leslie made it happen. She became the president of a New York Beatles' fan club and then moved to London the same year "She's Leaving Home" was released (the irony was not lost on her). Leslie succeeded in gaining entry to the private homes of not one, but all four Beatles. During her visit with Paul McCartney, she met with him in his garden where he offered an impromptu reading from Leslie's copy of John Lennon's latest book of poetry. Leslie had already met John, who signed this book for her. I can only speak for myself, but I would imagine that most people would be so befuddled in the presence of one of the Beatles that they would not have the presence of mind to document the encounter. Leslie not only made an audio recording of the reading, but she also took photographs to document the moment. Because of the solid documentation supporting the authenticity of Leslie's book autographed by John Lennon, I appraised it at $3,000 to 5,000 at auction. (You can see Leslie's appraisal online at PBS.)
Not all of the most popular-entertainment collectibles come from the lives and careers of individual celebrities. Some entertainment franchises also dominate the marketplace. Theresa, who came to the Seattle Antiques Roadshow event, is the daughter of a nuclear physicist. In the 1960s Theresa's father was contacted by none other than Star Trek-creator Gene Roddenberry to get his thoughts on the initial treatment for the series. It is widely known that Roddenberry reached out to professionals in the scientific community to act as technical advisors on the historic series. Theresa said that her father was too much of a stickler for hard science to overlook some of the liberties that Roddenberry took in creating the television series he initially dubbed the Wagon Train to the Stars. Her father may not have had much faith in the series, but thankfully he kept all of his correspondence and documents for us to enjoy. At auction, I conservatively expect the group of documents could sell for between $4,000 to $6,000. You can see Theresa's story on Antiques Roadshow on Monday, May 20.
None of these people I have mentioned had to pay a cent for their collectible treasures. Each of them has an emotional attachment to the items because of the personal memories they elicit. While not all of us are lucky enough to have known someone who once outranked Elvis Presley in the military, there is a lesson in all of these stories. If you are going to spend money on collecting entertainment memorabilia, buy something that makes you smile.
When I hear people say that they bought something as an investment I always cringe. While it may seem a safe bet to assume that the market for the most popular celebrities and franchises have the greatest chance of appreciating in value over time, there are no guarantees. You should do your homework and fully research a piece before purchasing. Beware of people with wonderful stories who can't support those stories with documentation. You may have absolute faith in a person's story, and believe every word they say, but without documentation, should you ever decide to sell in the future, you will have an impossible time convincing potential buyers that the stories are true. Ralph Roberts, who gifted the Marilyn Monroe crystals to Jeanette, actually typed up the story of the exchange in his own words and had it notarized so that if anyone doubted Jeanette, she would have documentation to back up her story long after he was gone.
Do your research, buy smart and buy things that make you happy. The best-case scenario is that you have a great piece that you love and it goes up in value substantially. If you buy what you love, the worst-case scenario is that the piece loses value but you own something you truly enjoy having around.
Click through our slideshow to see photos of these great finds.
PHOTO GALLERY
Pop Culture Collections
Have something to say? Check out HuffPost Home on Twitter, Facebook, Pinterest, Tumblr and Instagram.
**
Do you have a home story idea or tip? Email us at homesubmissions@huffingtonpost.com. (PR pitches sent to this address will be ignored.)