On Sunday, July 16, the U.S. women's soccer team lost a close World Cup final to a talented group from Japan, spurring overwhelming fan and media interest: more than 13 million U.S. viewers, mass news coverage, and an unprecedented volume of messages per second on Twitter. While some may argue that these indicators herald the arrival of women's sports, I think we can more accurately say that the spotlight is finally catching up with the incredible show women have been putting on for the better part of the last century.
In 1999, when the U.S. women last earned a spot in the World Cup final, winning the tournament, professional women's sports were often treated as a novelty by the general public and the media. The WNBA was in its infancy, having tipped off in June 1997, and as our players suited up for their third season, no one could decide if women starring in a high-profile basketball league heralded the arrival of women's professional sports or represented something far less significant.
As the league celebrates its 15th season in 2011, the answer is clear: the WNBA is firmly entrenched on the global sports landscape. Games are broadcast in more than 200 countries and territories and on ABC and ESPN2 domestically, the league trends strongly on Twitter on game nights, and the WNBA has become the destination for the most talented female basketball players in the world.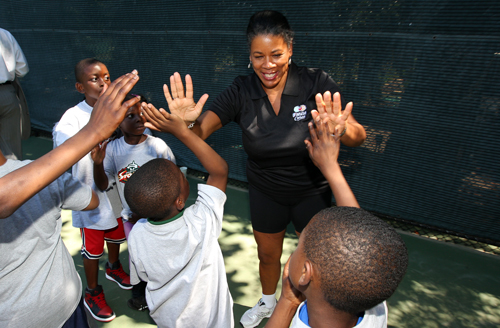 When the league's best players gathered for the WNBA All-Star Game in San Antonio this past Saturday, it marked the second time in a week that a globally broadcast sporting event starred women athletes. And as anyone who tuned in to the event can attest, these are not watered-down versions of men's sports; these are high-intensity competitions, played by top-flight athletes putting on an exhilarating showcase of skill and teamwork.
On the eve of the 40-year anniversary of Title IX legislation -- which, among other things, guarantees women and girls equal access to the many benefits of athletics -- we can count these two marquee events as proof that women are now part of the athletic mainstream.
Just ask the talented WNBA Draft class of 2011, who universally cite WNBA pioneers such as Lisa Leslie when asked for their influences and inspirations. While the league's inaugural class had no such role models to point to, girls growing up today have Tamika Catchings and Diana Taurasi and Sue Bird and Maya Moore -- dynamic, talented women who excel on the court, give back to their communities, and, perhaps most important, prove that the realm of professional sports -- and, by extension, other high-profile professions -- is not exclusive to men.
Of course, there is plenty of room for growth, and three months into my tenure as WNBA president, we are moving aggressively to engage fans in new ways. The league is thriving, and it is doing so in a culture that is becoming more and more accustomed to seeing women kick and dribble for a living, and is less and less likely to ask us to justify our existence.